I have probably written many odes to salmon…the pink fish as Rengoni and Agastya call it. We have had it fried, baked, curried and in a variety of other ways… But, the love affair is far from over. All four of us still gleam with happiness whenever it is served at the table, and it is done so very often.
Although, the main reason for our salmon overdose is usually the health benefits attached to it- salmon is low in calories and saturated fat, yet high in protein, and a unique type of health-promoting fat, the omega-3 essential fatty acids – the fact that it's taste is also enjoyed by us makes it all the better. So, no screwing up of faces to eat something only because it is healthy

In my quest to serve it up in different ways, I made the following dish of poached salmon in a chunky white sauce. The creamy and slightly indulgent sauce went quite well with the subtle fish. Along with some roast potatoes and some fresh salad, it made for a nice and filling weekend lunch.
What's needed-
5 salmon steaks
3-4 whole peppercorns
1 large onion, finely chopped
2 cloves of garlic,finely chopped
1 carrot, finely chopped
2-3 handfuls of peas
1 and 1/2 tblsp of butter
3 C of milk
1 tblsp dried parsley
3 bay leaves
a pinch of crushed red chillies(more or less)
1/2 C of plain flour
salt and plenty of freshly ground pepper
How to-
Poach the fish steaks in salty water with a bay leaf and the whole peppercorns, till the fish is cooked. Discard the bay leaf, peppercorns, drain the liquid and keep aside.
Pre heat the oven at 250 deg C.
Melt the butter in a pan.
add the onion, garlic,bay leaves,carrots and peas and stir fry over medium heat for 4-5 minutes..
Add the salt, freshly ground pepper and crushed red chillies, parsley and stir well.
Add the milk and bring to a boil.
Gradually add the flour, constantly whisking to avoid forming lumps.
Keep stirring over medium heat till the mixture thickens and remove from heat.
In a baking tray, spread some of the chunky sauce and arrange the fish over it, covering them with the rest of the sauce.
Place the tray in the centre of the pre heated oven and bake for a few minutes or till the fish is heated through.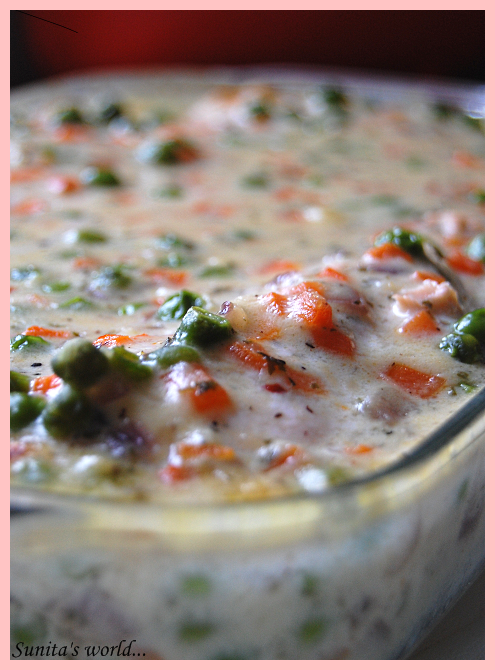 That's it! The fish is now ready to be served and enjoyed!
Update-
Just to let you know that there seems to be a problem with my feeds being updated at 'Taste of India'…while it is being fixed, please feel free to refer to my side bar and subscribe in your favourite feed or by email, to receive my updated posts.