Hmmm, it's the middle of the night. The kids are in bed, and Dinesh is far away (in India) …yes, he's on a one week trip (am I jealous or what!)…but probably I'm missing him more than being envious!
You see, for the last nearly four years, we have been really lucky and, of course, a bit spoilt as well; due to the fact that all four of us have been always together…haven't been apart for a single day! Now the empty place at the dinner table seems to be a little…well, empty. Although he left just yesterday,and for only a week, the kids too have started asking as to when their dad's returning home. Can you imagine, they were discussing about his homecoming and Rengoni even suggested that I bake a cake to welcome him back!
So, while Dinesh is in India in the midst of a large number of loved ones (okay, okay! I admit, I'm jealous…and with a capital 'J'), I'm clicking away on the laptop, rummaging through my pictures and came upon the following prune and nut bread.
I had made it quite some time ago, but had forgotten to post it and the pictures have been gathering dust since. So here it is…
What's needed-

2 C whole wheat flour
1 C porridge oats +1 tblsp extra for topping
1 and 1/2 C stoned and dried prunes, and chopped
1C cashew nuts, chopped
1 C dark muscovado or other dark brown sugar
2 tsp baking powder
3/4 tsp salt
2C of hot water
4 and a 1/2 tblsp olive oil
How to-
Pre heat the oven at 180 deg C and grease and flour an 8 inch loaf pan.
Place the prunes and the oil together in a bowl and pour the water. Set aside.
In another bowl, mix together the flour, oats (1C), baking powder, sugar, salt and nuts till well combined.
Pour the prune mixture into the flour one. Mix well till the dry ingredients are moistened.
Spoon the mixture into the prepared loaf pan and smooth the top.
Sprinkle the tblsp of oats on the top and bake in the centre of the pre heated oven for approximately an hour or till a skewer inserted comes out clean.
Great for breakfast or for tea times…drizzle with honey or butter it up; have a slice on it's own or with a cuppa…this tastes great. Figs or dates would also go well with this instead of the prunes.
There! Talking about baking has made me feel better already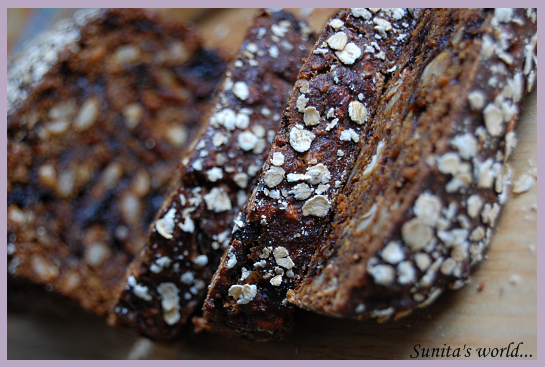 Yaaawwn…now I better get some sleep before the little mites are awake

And oh! Please do not forget to cook up something with cloves for this month's Think spice…think cloves. This month it is being hosted over at Gretchen's. The deadline is the 25th of April.