Before I say anything else, I have to thank you all for supporting me while I took life's roller coaster ride. Your support made the ride so much more bearable. I am really glad to be back amongst you.
Regarding food, summer's bounty is still very evident in our household. A short trip to the local farmers market means returning with a  load of fresh, colourful and juicy, fruity delights. There is quite a lot of red around the house; enough to be cooked/baked with too. This time, a few juicy plums made their way into a simple bread and plum pudding. This pudding made for a wonderful dessert for us. It is simple to make, not overtly sweet and full of seasonal fruity goodness.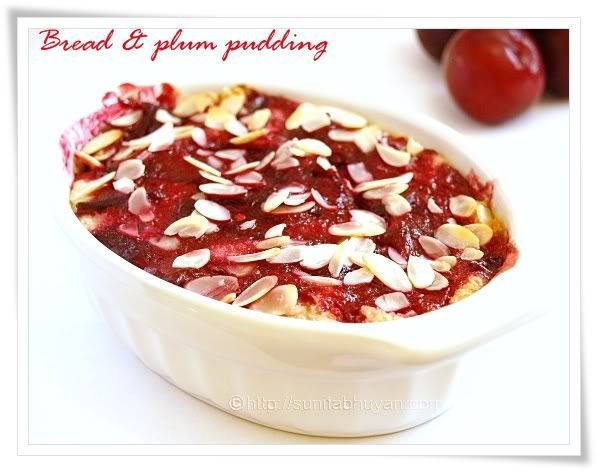 What's needed-
7 slices of thin wholemeal bread, the crusts removed or kept( I removed), and then quartered
2 tblsp of honey
4-5 tblsp of almond slivers
1 and 1/4 C of milk
*plum sauce
*For the plum sauce-
5 medium sized, ripe plums, stoned and chopped
4 tblsp of honey
1/2 tsp crushed red chillies
How to-
Mix together all the ingredients for plum sauce in a small saucepan and place over low heat. Stir well, cover and cook till the juices flow and the fruit softens (about 10-11 minutes). Stir frequently. Keep aside to cool. Update- I forgot to add how seriously good the sauce was. Rengoni and I had to force ourselves to stop licking the spoon…shh, our little girlie secret
Pre heat the oven at 180 deg C.
Mix together the milk and honey (2tblsp).
Dip 1/3 of the pieces of bread and arrange at the bottom of a shallow baking dish. Top this with 1/3 of the plum sauce, followed by 1/3 of the almond slivers.
Repeat step 4 till all the bread, plum sauce and almonds have been used up. Pour in any remaining milk.
Place the dish in the centre of the pre heated oven and bake for about 40-45 minutes or till hot and bubbly.
Serve warm or chilled with some cream.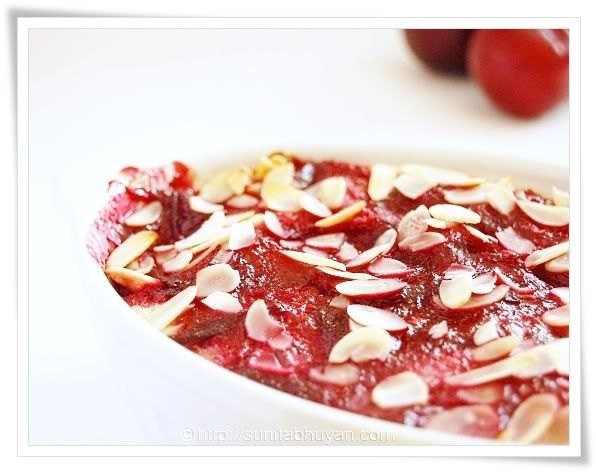 We enjoyed the pudding with some single cream and it was delish.
The pudding was mildly sweet, the fruity sauce added to the beauty and to the taste.
We loved every bit of it. The fruit added it's charm and the nuts added a light crunch. Simple delight- this is exactly what it was.