Yes, it all started with one ripe banana which would otherwise have made it's way to the bin very soon. Looking for ways to make use of it, I rummaged the pantry to search for things to complement it. So that's when the dessicated coconut was taken out. As for the rest of the ingredients, I added them as I went along.
The following coconut and banana cupcakes were made yesterday and I can't wait to share this with you.
Well, although this is yet another simple recipe, the reason for my enthusiasm is that it's just one of those creations that I am very happy about. The ingredients complemented each other perfectly.
Here's how I made them…
What's needed-
1 egg
3 tblsp of dark brown sugar
4 tbsp milk
1 very ripe banana, mashed
4 tblsp of oil
1 tsp vanilla essence
1 C wholeheat flour
1 and 1/2 tsp baking powder
a pinch of salt
3/4 tsp ground nutmeg
1/2 C dessicated coconut and a little extra for topping
How to-
Pre heat the oven at 180 deg C and line a muffin tray ( this recipe makes 7-8 cupcakes)
In a bowl, whisk together the egg, sugar, milk, banana, oil and vanilla( it doesn't matter if little lumps of banana are left behind).
In another bowl, mix together the flour, coconut (1/2 C), salt, baking powder and nutmeg.
Tip the flour mixture into tyhe egg mixture and gently fold in.
Spoon the mixture into the cupcake cases to fil them 3/4 of the way.
Sprinkle the rest of the coconut over the tops.
Place the tray in the centre of the pre-heated oven nd bake for approximately 20 minutes or till a toothpick inserted through the centre comes out clean.
Cool in the tray for a few minutes and then transfer to a cooling rack to cool completely before storing in airtight containers.
The results were soft, spongy and moist cupcakes, with a light crumb, not too sweet, with the coconuts adding a nice bite and the nutmeg adding that extra flavour. The kids loved it as well. I'm really so pleased with this…literally beaming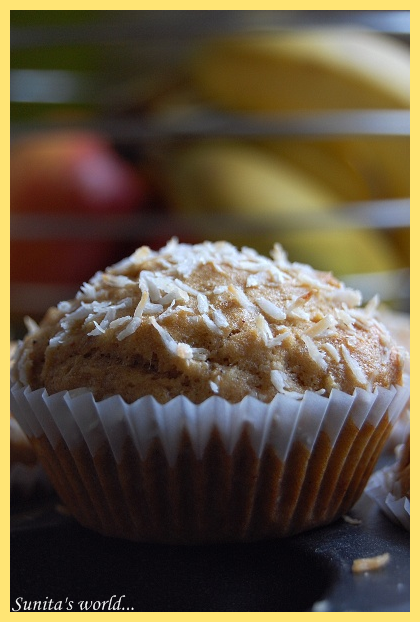 Enjoy and have a great weekend