As most of us know, this month, Bengali cuisine is in the limelight and is the cuisine to be celebrated as part of RCI.
My earliest association of Bengal and Bengalis is our PE teacher in school (Mr. Ganguli)….we always thought he brought 'roshogullas' in his lunch box every day !!
My ma has always been a fan of everything Bengali…could rattle of all the author's names and probably has read a gazilion of books in this language; knows the name of every Bengali movie of her day, as well as most of the songs. We used to tease her how she must have been a Bengali in her previous life

But I must admit, and a bit sadly, that inspite of so much exposure, I did not care to learn.
I did have quite a few Bengali friends, but they were all born and brought up in Assam, and were probably, in some ways, more Assamese than I was

When I started working, I met a few more , with the same story.
Then I got married…and within seven months we were living in Kolkata. Oh! How I wished I had learnt the language earlier…I had so many chances and now it was too late. I was worried to go shopping on my own…didn't know what to ask for; not that Dinesh was any better, but as he came a month earlier, he had a little advantage

Of course, in Kolkata, we also had a very good family friend…Debashish was like a younger brother to Dinesh…and Kaku and Kakima( uncle and aunt) were the kindest souls one could possibly come across….their home, for us ,was 'a home away from home'. How we looked forward to the spread in their house…lapped up so eagerly by us. But, they lived very far from where we did, and, me being pregnant, and kaku not being in the best of health, did not help the situation at all.
And then I met Anima…I have already weaved eulogies in her praise in an earlier post …remember this?..that's the same lady. She was the one who translated words for me and I gradually gained confidence and was conversing and haggling with great gusto

…so much that someone once asked Dinesh…'Bangali bou ta kothai pelen' (where did you get the Bengali bride)…my Bengali's a bit rusty now, so please forgive me, Sandeepa, if I had got it wrong. But that comment was, for me, a great achievement in itself

And of course, later that year, Rengoni came into our lives, followed a year later by Agastya. I had a difficult pregnancy with Agastya…but Dr. Roy, my gynaecologist was like a godsend…offering us all the support we needed,morally as well, right from day one. On one occasion, he even came and drove me to the hospital in an emergency, since Dinesh was attending a meeting and could not be reached ,as his cell phone had to be switched off. We are still in contact with Dr Roy and his family…such a kind, fatherly soul.
I also remember Sabita Dhar , our German tutor, when me and Dinesh took a crash course in German at the Max Muellar institute in Kolkata…well, I just went a little beyond the Guten Morgen and the Guten tag, as I had to stop going due to my second pregnancy complications. But, yes, she was quite a character…so full of life.
As I came in contact with Bengal and it's culture, I was really amazed as to how similar it was to our's(Assamese). Of course, I knew it for a fact, but to witness it is an entirely different thing. For one, the script is exactly the same, save for one tiny variation in a letter. Durga puja, which is the main religious festival is something I grew up with….the same atmosphere…the same rituals, and of course, the same food…khichuri (khisiri), labra, beguni bhaja(bengena bhaja/bhaji), followed by payesh(payash) or at times mishti doi….and, of course, the great love for fish.
Sometimes, I simply can't believe that we lived in Kolkata for only a year and a half; so much had happened in those one and a half years…met so many wonderful people, tasted great food, became fluent in the language ( though a bit rusty now)…and most important of all, became a mum twice, the second time , managing to touch death's door and return. But I survived, and here I am , writing odes to this lovely place and all those lovely people…there are many many more, and though I have not been able to mention each one of them here, they are still in my heart…all those kindly faces that have left an indelible impression.
Such sweet memories demand something sweet. And so sweet it is…none other than mishti doi (sweetened yogurt), the ever popular Bengali dessert.
It is prepared by boiling milk until it is slightly thickened, adding a sweetening agent, such as sugar, gur (jaggery) or khajuri gur (date molasses), and allowing the milk to ferment overnight. Earthenware is always used as the container as the gradual evaporation of water through its porous walls not only further thickens the yoghurt, but also produces the right temperature for the growth of the culture. Very often the yoghurt is delicately seasoned with a hint of elaichi (cardamoms) for fragrance (more here)
I loved the little earthen pots in which they used to be served in. I have never made them before though. I came across this recipe and followed it….making very slight modifications. From my experience at watching yogurts being set at home, I do remember that warm weather helped. But as we are still a little far away from summer here,( well, we had snowfall last week ). So, I pre heated the oven, then switched it off , and let the yogurt set inside it. This worked beautifully, and I think it speeded up the process as well, inspite of my apprehensions.

What's needed-
1 litre full cream milk
1 1/2 cups sugar
2-3 tbsp water
3/4 tbsp curd (I used plain yoghurt)
1 tsp crushed cardamom seeds( not in the original recipe)
How to-
Put the milk to boil with 1 cup sugar.
Bring to boil and further simmer for 7-8 minutes.
Meanwhile put remaining sugar in a heavy saucepan.
Heat on high, stirring continuously, till brown like caramel.
Add water and stir well (watch out for the spluttering) till boil is resumed.
Add to the boiling milk (the spluttering again) and stir well along with the crushed cardamom.
Boil for a further 5-7 minutes.
Cool till warm. Add yogurt and whisk .
Either pour into individual cups or a single vessel ( I poured them into ramekins ).
Cover with lids or lid ( I covered the ramekins tightly with bits of foil).
Keep in a warm, dark, dry place (eg. a kitchen cupboard) till set. (I pre heated the oven at 180 deg C, then switched it off, arranged the ramekins on a large roasting tray and placed the tray in the centre of the oven. Took me approximately 2 hours. If the oven becomes too cool, take the tray out, reheat the oven, switch it off and return the tray. )
The taste was quite good, better than I imagined…next time, I would just reduce the sugar a teeny bit. I served it chilled, which I feel is the best way to have it. It also firms up more on chilling. All in all , a nice and sweet dessert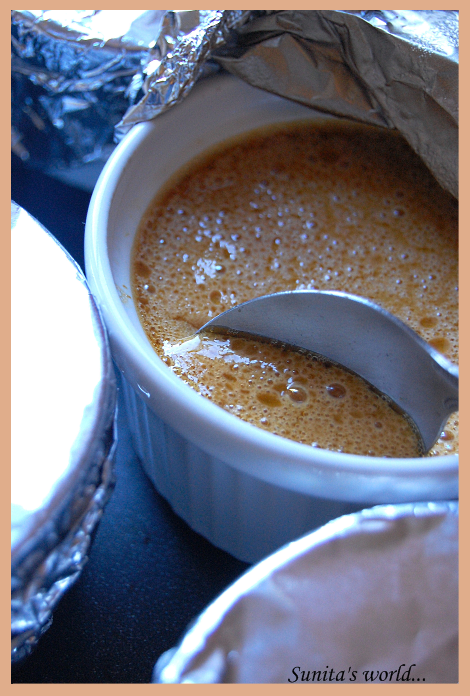 It is a common belief among the local folks that any assignment taken after eating the Mishti Doi would be successful…all the more reason to make it

This, of course, goes to dear Sandeepa who is hosting RCI this month, an event started by Lakshmi. This month's theme is Bengal.
update-
Natun basarar subheshya (new year wishes)
Today (14th April) also marks the start of our Assamese new year along with many other Indian states. We celebrate it as Bohag bihu. I wish all my readers a very happy and prosperous new year.
Read more about our Bihu in this post.