The following recipes are for a really fun meal that the kids and I had. It was the day the hubby had left for India a couple of weeks ago (yes, he's long been back). It was getting late in the evening and I hadn't ventured into the kitchen yet; but when there are two small, hungry mouths to be fed, brooding will definitely not do. So I put together this quick meal which consisted of baked carrot sticks and potato wedges, salmon bites and a fresh salad.
What's needed-
For the carrot and potato wedges-
6-7 medium sized potatoes, cut into wedges
1 carrot, cut into sticks (approximately 2 and 1/2 inches)
a handful of cashewnuts (optional)
1 tblsp roasted and ground cumin
1/2 tsp turmeric powder
1 and 1/2 tblsp each of dried rosemary and sage
salt and pepper to taste
extra virgin olive oil to drizzle
for the salmon-
2 salmon fillets, cut into bite sized pieces
tomato ketchup, enough to mix in with the fish
freshly ground pepper
How to-
Pre heat the oven at 250 deg C.
Boil the carrots and potatoes tilll done 3/4 of the way.
Mix with the rest of the ingredients in a roasting tray in a single layer with enough olive oil drizzled over them.
Place the tray on the top rack of the pre heated ven and bake for 20-25 minutes or till nicely browned and cooked completely.
Remove the potatoes and carrots and in the same tray add the salmon mixed with the ketchup and seasoned with freshly ground pepper (there's going to be enough salt from the ketchup)
Twirl the pan around to coat the fish with the remaining herbs and oil in the pan.
Return the tray to the top rack of the oven and bake for a further 10 – 12 minutes or till cooked.
That's it! I dressed them up to make it more presentable and threw in a fresh salad. To add to the fun, I gave them toothpicks to pick up the food, arranging some of them like mini kebabs …needless to say, both Rengoni and Agastya were overjoyed.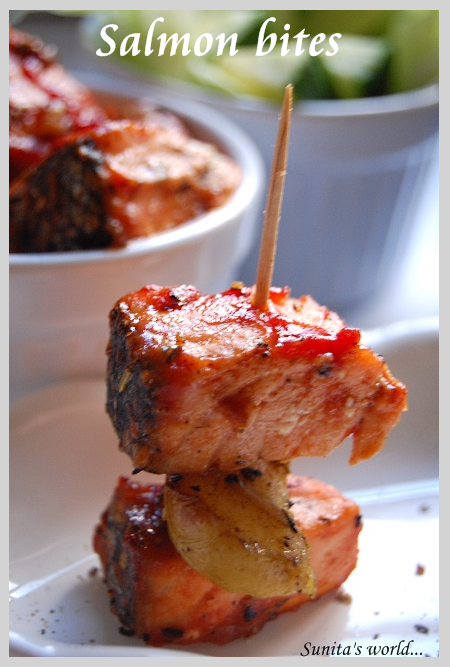 It was indeed a fun meal and all three of us enjoyed it. We needed something to perk us up and this meal definitely did that. It was a pleasure to see the li'l ones faces light up and remain so throughout the meal, and yes, demanding for more of the same in the next few days

It was a nice feeling to see them relish it… and of course, I did as well

Enjoy and have a great weekend!!