I have been saving my pack of urid dal for ages with an end to make dosas. The days have flown by, but the dosas are nowhere to be seen…I mean in my kitchen only; for there has been a recent sprouting of dosas in the blogosphere.
So, over the weekend, the packet was taken out and along with some methi/fenugreek leaves and a few other ingredients, I made some fritters instead.
This was the first time I made anything with urid dal and I was really glad I made them…the fritters were as crisp as ever and we couldn't stop at a few…yes, the healthy tag and the expanding waistline did take a back seat during it all, but, so what…a bit of indulgence never did anyone any harm ( sniff! sniff! smell the self justification?).
Here's how they were made-
What's needed-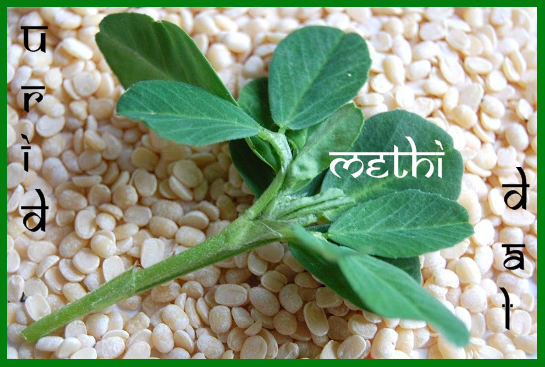 4-5 handfuls of urid/urad dal, washed and soaked in slightly warm water for an hour
1 onion (I used red), chopped
a bunch of methi/fenugreek leaves, finely chopped
a small bunch of coriander leaves, chopped
1/2 tsp of turmeric powder
1 tsp baking powder
chopped green chillies(optional)
salt to taste
oil for shallow frying
How to-
Grind the urid dal with a little water to form a thick batter.
Transfer to a bowl and mix in the rest of the ingredients.
Heat the oil for shallow frying in a pan.
Drop tblspn fuls of the batter into the pan and shallow fry till golden and crisp.
Remove with a slotted spoon and place them on kitchen towels to drain the excess oil.
Serve hot on it's own or with ketchup / other condiments.
I loved them on their own…they were really crisp and the methi and coriander added to the taste as well. The li'l princess even asked for them to be made again soon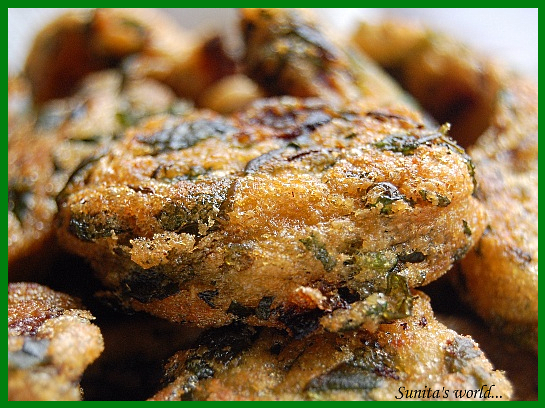 Enjoy!