The sun has hardly made an appearance today and it has been raining on and of. The leaves in the trees are being swayed to and fro by the blustery winds. Step outside and one feels the goosebumps on the skin. The sun,if out at all, seems to be straining to heat up the world. Look closely at the trees, and one can see a few of the leaves starting to change their colour from green to red, golden and orange. Take a walk, and the paths are already being strewn with these multicoloured leaves. The days are getting shorter and one tends to huddle up with the duvet for longer in the morning. All this can only mean one thing- autumn is surely and truly on it's way.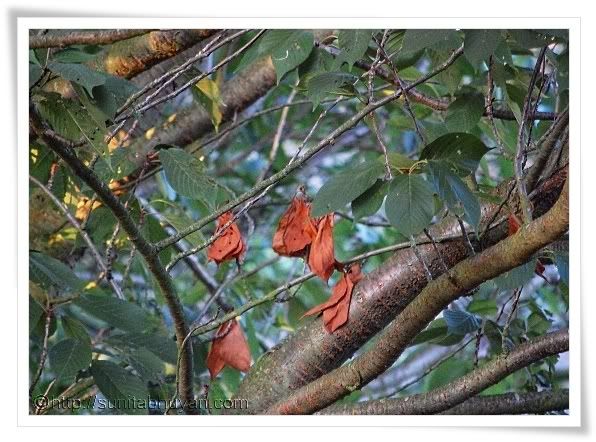 Rengoni and Agastya's summer holidays are also drawing to a close, and they return to school on Thursday…to a new class and a new teacher. It's been a roller coster ride for us, these summer holidays. There have been days when the days seemed darker than usual. But things look much brighter now and we are ready to face the world.
So, last evening, we took out our grill and decided to have a quiet, impromptu barbeque…you know, to make the most of the last few moments of warmth, and before everything is back on schedule. It was nice…just the four of us…Rengoni , Agastya and myself  perched ourselves on a banket while Dinesh got down to business with the grilling.
Earlier, I made incisions on some pieces of chicken and marinated them for a few hours  with yogurt, a few strands of saffron,salt, turmeric, cumin powder, chilli powder- no fixed measurements, just eyeballed the ingredients. The chicken was neither swimming in the marinade, nor was it dry. After placing the chicken pieces on the grill, there was enough left over marinade to baste the chicken pieces as they cooked. I also added a little ghee to the leftover marinade  to baste the chicken.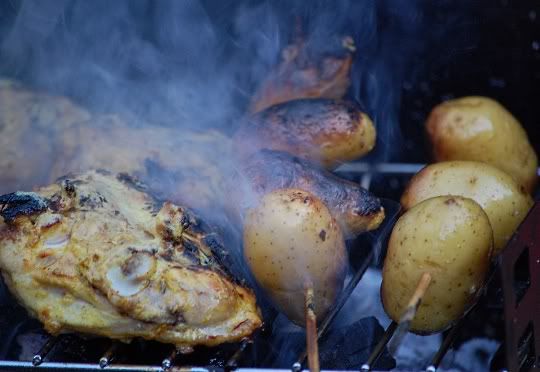 What I did next, brought back many fond memories between me and my deuta ( father). Uruka signifies the eve of Magh Bihu, an Assamese festival marking the end of the harvesting season. On the night of uruka, a grand feast is laid out in every household. Bonfires would also be lit. On that evening, while ma set about preparing the feast, deuta would set about getting the bonfire started. I would wait impatiently for his signal, which would be just a tilt of his head, and I knew, very soon, we would be huddling around the crackling fire, out side, in the cold mid January night .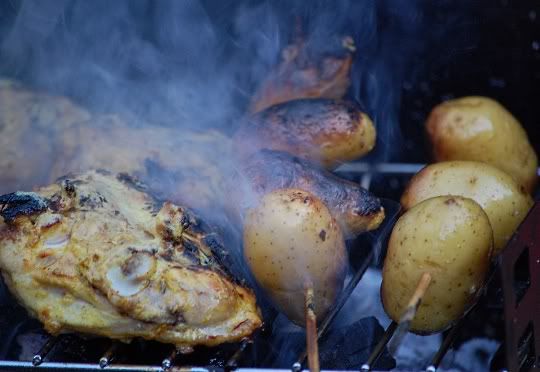 Deuta would throw in a few baby potatoes in the fire and we would wait impatiently for some to be handed around. Oh! How I remember those cold Uruka nights. "Ma e kiman randhi thake, jui puwabole mati anage jua…aru aloo hoise booli koba", Deuta would say with a wink, which translated, would be " Go and fetch your ma, to enjoy the bonfire. How much longer is she going to cook? And tell her that the roasted potatoes are ready". Munching on the poora aloo under the open sky and beside a crackling fire, sharing stories, and without a care in the world, seemed to be the best thing at the time.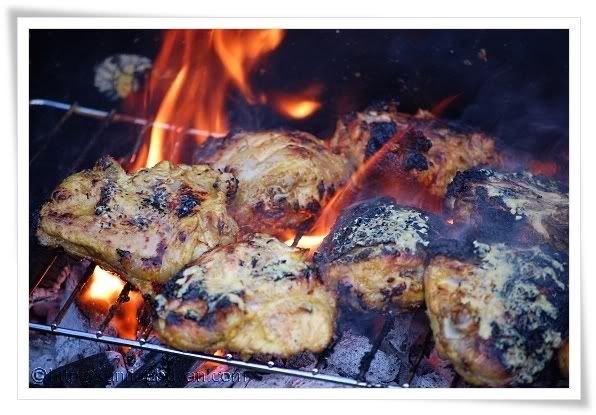 Yesterday, it was not a cold January night, it was not uruka, and there was no bonfire. Deuta had long left for his heavenly abode. What there was, however, was our small grill, heated by the coal underneath, at times bursting into small flames. Rengoni and Agastya walked to and fro from the kitchen, helping to carry the things outdoors. There was the banter of two little children, their mum playing tic tac toe simultaneously with both of them , and the dad, well, the dad was busy with the grill.
And yes, the potatoes- they were there. I poked some small potatoes with a knife and rubbed a little olive oil on them. They were arranged on skewers and were ready to go on the grill. Yes, there was poora aloo yesterday. And there was another deuta handing them out to two impatient kids.
Yes, it felt nice yesterday, probably one of those rare days, when life just seems perfect…touchwood!!