Cloves are the aromatic dried flower buds of a tree in the family Myrtaceae. They are native to Indonesia and used as a spice in cuisines all over the world.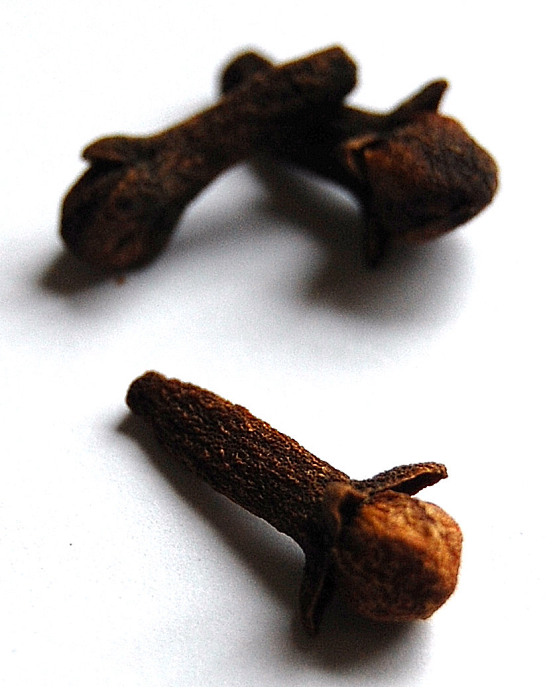 Cloves also have medicinal properties, considered very effective in relieving toothaches and coughs…more info on cloves here.
It has been said that thne Chinese wrote of cloves as early as 400 BC. and there is a record from 200 BC of courtiers keeping cloves in their mouths to avoid offending the emperor while addressing him! Now, why the talk of cloves…well, because dear Gretchen has been asking us to think about it during this month. For the first time since it was started in August of last year, Think spice has been opened to guest hosts…and I'm really overwhelmed at the great response from fellow bloggers. This year's months have been filled up and so is the first month of the next. If any of you want to share the hosting responsibilities, do drop me a mail at sunitas.world@yahoo.co.uk.
Regarding my contribution to this month's event, I have made some chocolate chip cookies infused with ground cloves.

I have never worked with a spice-chocolate combination before, and I'm really glad I did… the cloves – chocolate marriage really worked.
Here's how I did it -
What's needed-
1 C wheat flour
2 and 1/2 tblsp of cocoa powder
1/3 tsp bicarbonate of soda
a handful of white chocolate chips
1 tsp ground cloves (not heaped)
3 tblsp dark brown(preferably muscovado ) sugar
2 tblsp molasses
3 tblsp of oil
1 egg
How to-

Whisk together the flour, cocoa powder, soda, ground cloves and chocolate chips.
In another bowl, whisk together the eggs, oil, sugar and molasses.
Make a well in the centre of the flour mixture and tip in the egg mixture.
Fold in till everything comes together…can use fingertips.
Cover the bowl with plastic wrap and chill for 20 minutes.
Pre heat the oven at 180 deg C and line a baking tray.
Make 14-15 balls from the mixture and place them a little apart on the lined tray. Slightly flatten the balls and with a skewer, press lines , further flattening them (I tried it with the back of a greased fork, but the mixture kept sticking to it).
Place the tray in the centre of the pre heated oven and bake for 12-13 minutes.
Cool on the tray for a minute and then transfer to a rack to cool completely.
There! Crisp, spicy and chocolatey cookies are now ready to be enjoyed

These, of course go all the way to Peru to dear Gretchen as an entry for Think spice…think cloves.
And if you haven't thought about cloves yet, there are still two more days left to do so (by 25th April).