Recently, I have been on a mini cupcake baking spree. Actually, I find the mini cupcakes better than their bigger counterparts. Mini sizes mean that they are perfect for parties and get togethers. Over the past month, I have made  these mini walnut, chocolate and banana cupcakes; then again, for Rengoni's birthday party, more were made.
And then, for a get together, I made more than a hundred of these mini delights in both vanilla and chocolate versions.
The vanilla version of the cupcakes were based on my mini chocolate, walnut and banana cupcakes. The nuts in the batter of these cupcakes was substituted in one batch. In the other, I kept the rest of the ingredients the same as the chocolate version- just deducted the melted chocolate.
The recipe below is of the batch I made that had a nut free batter. Filled with whole wheat flour, oats, banana and honey, and topped with sesame seeds, these made a great addition for the kids lunch boxes ( nut free is important as they are not allowed any form of nuts in their school lunchbox so as not to affect any child allergic to them). These mini bites also form light, healthy snacks.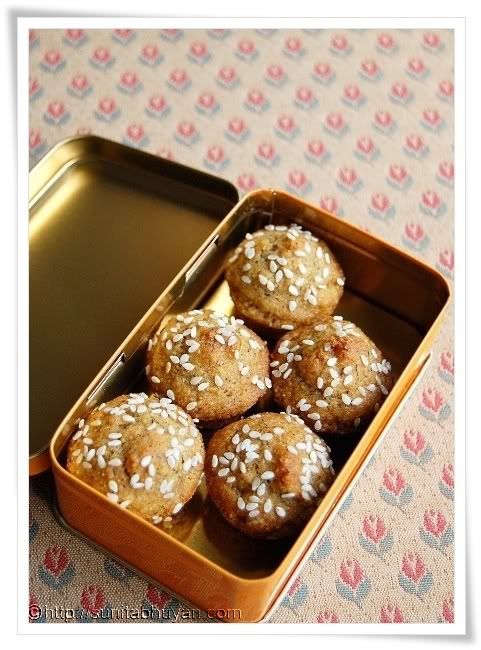 What's needed-
1/2 C whole wheat flour (atta)
3 tblsp oat flakes
3 tblsp coarse cornmeal
3/4 tsp baking powder
1/4 tsp bicarbonate of soda
1 very small banana or 1/2 a big one
3 and 1/2 tblsp of honey
1/2 tsp vanilla essence
3 tblsp of sunflower oil
1/6 C of milk
How to-
Pre heat the oven at 180 deg C .
Blend together the  banana, oil, honey, vanilla and milk and keep aside.
In a bowl, mix together the flour, oats, cornmeal, soda and baking powder.
Make a well in the centre of the flour mixture and tip in the banana mixture. Fold in till everything is just moistened.
Grease ( I used non stick spray) a mini muffin tray ( I used non stick spray).
Fill the moulds 3/4 of the way with the mixture and top with a walnut half. I got more than 20 mini cupcakes; would make about 5 regular cupcakes.
Place the tray in the centre of the pre heated oven and bake for 15-17 minutes or till a toothpick inserted through the centre of the oven comes out clean.
Cool in the tray for a few seconds and remove the muffins to a rack to cool completely.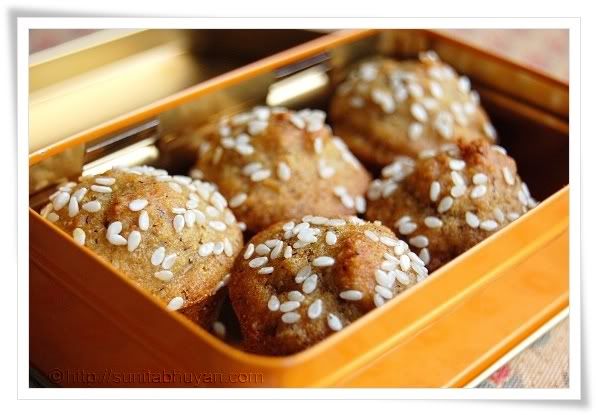 These mini cupcakes are really handy to make. Their small size means that I can make a few and keep changing the flavours frequently. They look pretty too.
Eat them in their simple avatar…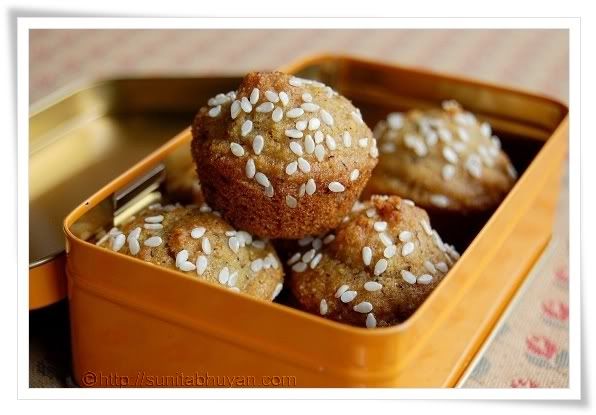 or dress them up for a party!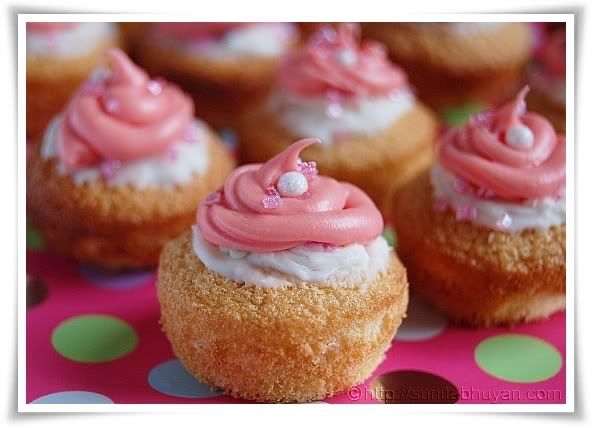 How would you like yours?
Have a great weekend,