Hope all of you have had an enjoyable weekend. The kids were back to school last week and they seem to have settled down well in their new classes, inspite of all their apprehensions about their new teachers

In our parts, the weather seems to be cooling down every day. Although we are ready for a hearty bowl of soup anyday, the cooler weather does make it all the more welcome. And if there is fresh home made bread to go along with it, hmm, now that's very nice, isn't it?
A couple of days ago, I made this hearty and quick salmon and mixed beans soup. Light, subtly spiced and ready in minutes, we really enjoyed it, and yes, with some fresh home made bread.
What's needed-
4 pieces of salmon
1 onion, thinly sliced
3 large cloves of garlic, thinly sliced
1 inch piece of ginger, julienned
2 tblsp olive oil
1 C cooked mixed beans
1/2 C peas
1/2 tsp cumin powder
1/4 tsp turmeric powder
1 tsp of crushed red chillies (more or less)
1/3 tsp paprika
2 cof fish/vegetable stock
1 bay leaf
1 tsp lemon juice
salt to taste
2 tblsps of finely chopped coriander
How to-
Heat the olive oil in a wide pan.
Add the onion, ginger and garlic and cook till the onions soften.
Add the turmeric and cumin powders, crushed red cillies and paprika and mix well.
Pour the stock and bay leaf and bring to a boil. Arrange the salmon pieces in a single file, season with salt, cover and cook for about 5-6 minutes or till the fish is done.
Stir in the lemon juice and coriander, Bring to a boil and remove from heat.
Serve hot on it's own or with some crusty bread.
We loved our bowlfuls of this warm and hearty soup…very comforting.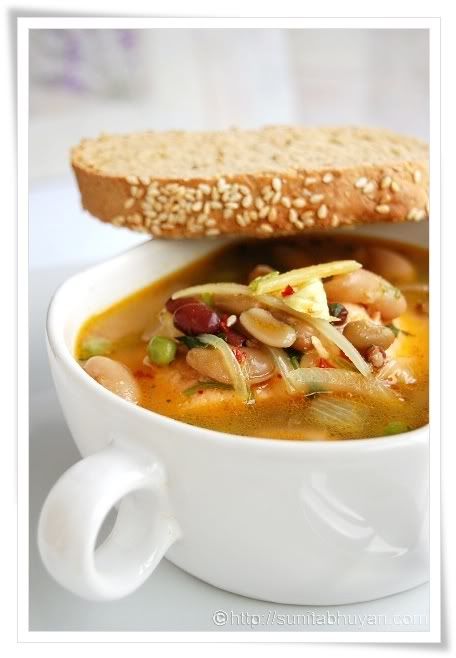 Watch this space- the bread recipe will follow soon

Am sending this bowl of warmth to Lakshmi who is hosting Think Spice for September…the theme is red chillies. If you've spiced up a recipoe with red chillies in any form, go on and send it to her.