Hope all of you have had a great weekend and an equally great start to the week. We had one of the laziest weekends ever…didn't go anywhere, didn't do anything noteworthy, if helping with the kids' home work is considered exciting enough! Yes, we just ate and , as I said, were plain "lazy". But, to be honest, it was quite relaxing, without the worries and deadlines.
I am probably still feeling a bit lazy, but before I stop writing, I better note down the recipe for the spiced and herbed oat bread, that I had promised in an earlier post. This is a very simple recipe. The bread has  a lovely crust and the crumb has a slight heat.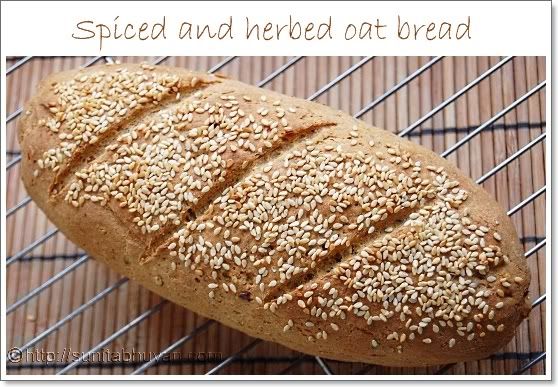 What's needed-
1 and 1/2 C whole wheat flour (atta)
1/2 c oat flakes
1 tsp salt
1 tsp sugar
2 tsp fast action dried yeast
1C warm water ( may need a few tblsps more)
1 tsp crushed red chillies
1 tsp dried oregano
a little coarse cornmeal to dust the baking tray
a few tblsps of sesame seeds for the topping
How to-
In a bowl, whisk together the flour, yeast, oregano, oats, chillies, salt and sugar.
Make a well in the centre of the flour mixture and pour the 1C of warm water. Start to mix and once everything comes together, knead for about 6-7 minutes to form a smooth but firm ball of dough. If the dough appears to be too dry, wet your hands a little and knead the dough.
Place the ball of dough in a greased bowl and toss the dough in it. Cover the bowl loosely with an oiled plastic wrap, and leave to rise till doubled in volume ( about an hour and a half).
Dust a baking tray with the cornmeal.
Punch back the dough and knead for another 4-5 minutes. Shape the dough like in the pictures  and place in the pan.
Brush the top with a little milk and sprinkle the sesame seeds. With a sharp knife, make three diagonal cuts. Cover the pan loosely with another piece of oiled wrap and leave to rise for another hour.
Pre heat the oven at 250 deg C. Place the pan in the centre of the pre heated oven and bake for about 22-23 minutes. Cover the top with a piece of foil ( to avoid over browning) and bake for another 13-15 minutes.
Cool the bread in the pan for a couple of minutes and transfer to a rack to cool completely before slicing.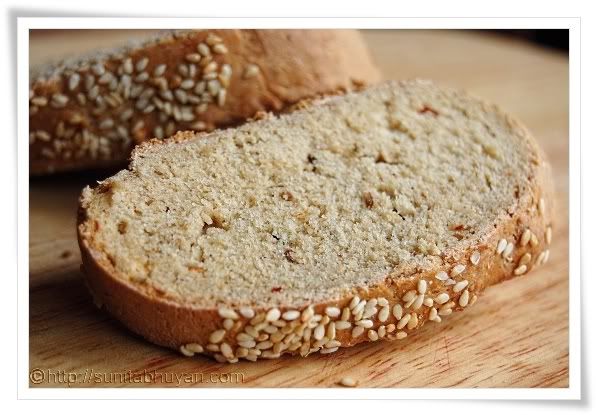 We enjoyed slices of this crusty oat bread…
with some salmon and mixed beans soup for a hearty meal.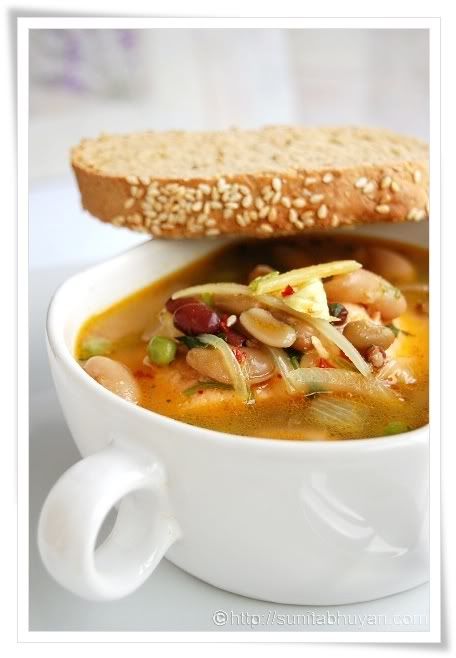 With the weather cooling down considerably, this was a very satisfying combination.
Enjoy!