Although I enjoy the beauty of all the seasons, I sometimes find it amazing as to how a spell of bright weather can uplift the hearts of so many. The gorgeous weather that I mentioned in my last post is still continuing. We've been enjoying unbroken sunshine for quite a few days now. The sky is clear with fair clouds floating like balls of cotton wool…the leaves and the flowers, swayed by the gentle breeze and glistening in the bright sunshine…the birds singing away to glory…ah, heavenly! Of course one has to deal with more inects, but hey, that's a small price to pay !
As for the people, they seem to have come out just like the ants. Shorn of heavy winter wear (which, surprisingly, we've had to keep on till last week), our cycle path seems to be as busy as ever…talk about making hay while the sun shines

Now let's step indoors and into the kitchen

I made this oil free chicken curry quite some time ago and wuld like to share with you.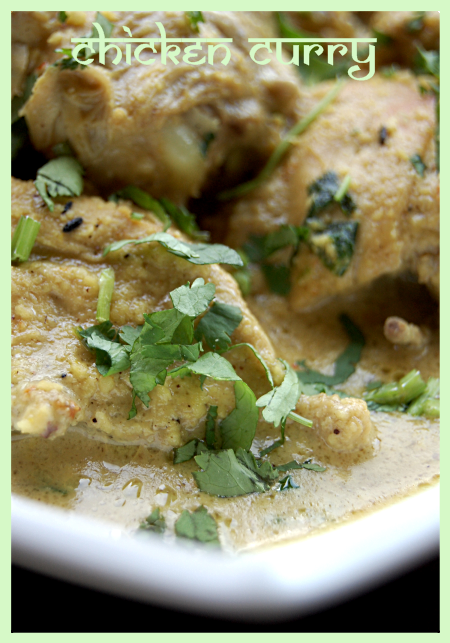 The curry has a rich gravy of yogurt and cashewnuts, so I decided to skip the oil. And since we liked the outcome,here's the recipe…
What's needed-
10-12 pieces of chicken, skinned(I used a mixture of various pieces from a whole chicken)
6-7 tblsp of plain yogurt
2 handfuls of cashewnuts, ground to a thick and slightly coarse paste with a few tblsps of water
1 tsp crushed red chilli flakes(more or less, as per taste.)
1 tblsp roasted and ground cumin
1 tblsp garam masala powder
a large pinch of saffron
2 C water (may need more later on )
3-4 cloves of garlic, crushed
2 bay leaves
1/3 tsp turmeric powder
salt to taste
a bunch of coriander, chopped( for garnishing)
How to-
Rub the chicken with the rest of the ingredients, (except the coriander, of course)in a bowl and transfer to a pan.
Place the pan over heat and bring the contents to a boil.
Stir and cook covered over low heat till the chicken is done, stirring often in between.
While cooking, if the gravy tends to dry out, keep adding little water gradually, as the chicken will leave its juices too.
When the chicken is cooked completely, raise the heat and bring to a boil again for a few seconds.
Remove from heat and garnish with the chopped coriander.
Serve hot with rice or rotis/puris.
We had ours with roti and a fresh salad… and no, we didn't miss the oil at all.
Have a great weekend everyone!!