"Is it healthy, mummy?" Yes, that is a question that I am asked at least a couple of times during mealtimes , and I say to myself, "well, you asked for it".
Once the children started going to school, I, like all moms, tended to worry as to whether they will eat well at school ; whether, left to their own device, they will still choose the healthier options. Will they miss out on the veggies and fruits that I painstakingly try to incorporate in their diets ? But, inspite of my fears, I did trust them to make the right choices.
Actually, I firmly believe that it is never too early to make children see the goodness of healthy food and it is never too young to make them realise this. Even when they were quite young, if they fussed about any particular ingredient, I tried my best to make them see how it was good for them and how every fruit and vegetable and milk and many other ingredients were important in their own way. They now know names like protein and carbohydrates and calcium and vitamins and fats…can even relate these labels to most of the food. Of course, they do it in their own way…like, they love to say, while sipping milk from their cups, that it has calcium and will make their bones and teeth stronger. They even try to convince me that theirs have already become so after drinking it. I think children like to relate to things like that. They are also aware that if they eat more healthy food, the occasional sweetie will not harm them.
Of course, all this did not come easy, especially for Agastya. Well, he was quite good with vegetables and would happily munch on broccoli and cabbage and cauliflower and what not. But there were certain things, especially fruits that he was not at all keen on. And of course, I, like every other mom used to worry about this. To such an extent that I used to spend many a minute with a single grape or a piece of apple or a banana in my extended hand. I tried playfulness and at times a little cajoling and firmness. I heaved a sigh of relief every time he took a bite. Gradually, the one grape became many more, the one piece of apple has definitely increased in number. Nowadays, he happily enjoys his fruits and I don't worry if he does not feel like having every variety…well, at least he is eating nine out of ten. The boy who used to cringe at the sight of fresh tomatoes and fruits now happily gorges on them.
As for Rengoni, well, touchwood, but she has never been too fussy…absolutely loves fruits snd would happily munch on raw carrots and cucumbers anytime, and the few vegetables that she does not like…well, what is the age old sneaking trick that mothers resort to, for?
I love talking about food with them, especially when they too show an eagerness for it. And they love watching the different cooking techniques…watching how a roti puffs up over naked flames, the flipping of their favourite pancake, having a feel of the dough, watching the muffins and cakes rising up like magic, the biscuits and cookies, spreading while baking. And I really enjoy the looks of wonder on their little faces. Many a time, they ask me how I made or baked something, which I am all too eager to answer as simply as I can.
Of course, all this said, they are still too young, have miles more to go, and the temptations to make them digress are far too many… just hope that I can still try to help them make the right choices today for a healthier tomorrow.
Now, very often, we indulge in little baking sessions. The li'l ones really enjoy assembling the ingredients, adding them one after the other, trying to remember all that went in, having a go at breaking an egg or whisking the batter, or shaping the cookie dough… yes, they love it. And what better way to talk about food than when cooking something. Of course, it does get a little messier than usual, but the enthusiastic and joyous faces make it worthwhile.
I made the following chocolate chip cookies with my little helpers during their last Easter break.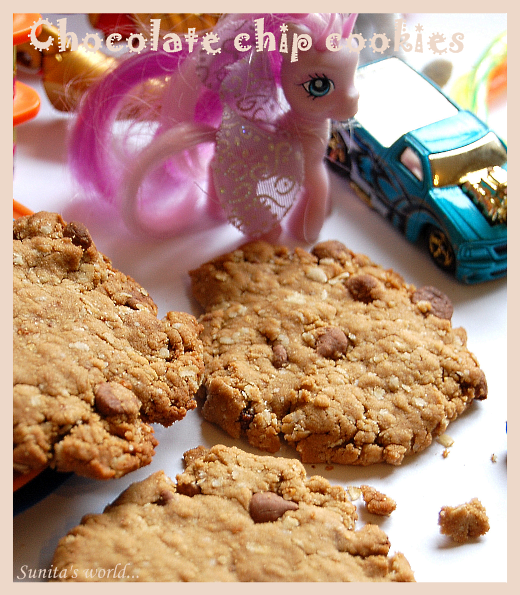 They are very basic and not too sweet and we had a great time making and eating them.
What's needed-
1and 1/2 C whole wheat flour
1/2 C rolled oats
a pinch of salt
1/3 tsp of bicarbonate of soda
3 and 1/2 tsp dark brown sugar
5 tblsp of oil
7-8 tblsp of milk
a handful of chocolate chips
How to -
Pre heat the oven at 170 deg C and line a baking tray.
Mix together the sugar, oil and milk.
In another bowl, mix together the flour,oats, soda , salt and chocolate chips.
Pour the milk mixture into the flour mixture and mix together ( the mixture will be quite crumbly).
Make 16 -17 balls (again, may not be very smooth) from the mixture and place them a little apart from each other on the prepared tray.
Flatten the balls, keeping them quite rough looking.
Place the tray in the centre of the pre heated oven and bake for 10-12 minutes or till firm and golden round the edges.
Cool on the tray for a couple of minutes and then transfer to a rack to cool completely before storing in air tight containers.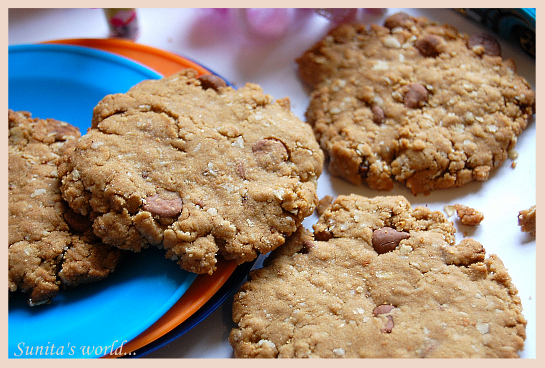 That's it! The cookies are now ready to be served to two budding and "a little impatient to lay their hands on the cookies" chefs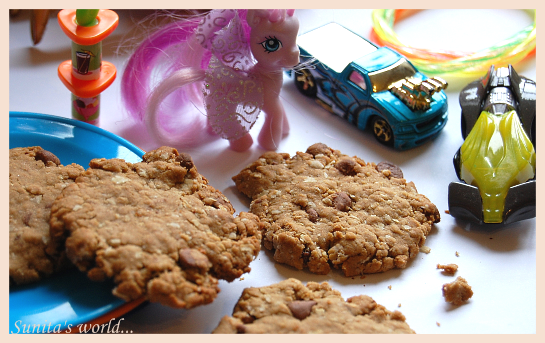 As for the answer to "is it a healthy treat, mummy?"… I ponder, and then, biting into one of the cookies, I answer, "well, darlings, I think it is."