From our Indian 'puri,' 'roti', 'naan' ,'paratha', etc., to French 'crepes', to the Italian 'foccacia', to the Ethiopian 'Injera' and many, many more, the list too long to mention here, probably every region in the world has it's own version of flatbreads.
One such is the Mexican tortilla (pronounced tortiya), a type of thin, unleavened flat bread, made from finely ground maize (corn) or wheat flour.The traditional tortilla has been made of corn or maize since Pre-Columbian times.The wheat flour tortilla was an innovation after wheat was brought to the New World from Spain while this region was the colony of New spain.
(more here)
I made some whole wheat tortillas a couple of days ago.
Actually, to be entirely honest, I was about to make rotis , but since tortillas have a great similarity with them, and also because a dear fellow blogger has been urging us to cook Mexican, the transition from roti to tortilla was swiftly made

I have made tortillas once before but while surfing the net, found this version from a homesick Texan, which I quite liked and adopted it immediately… so thanks a lot.
The original recipe uses only plain flour which I substituted for whole wheat flour. In the following recipe, I have included my measurements but with the instructions from the original recipe that I refferred to…
What's needed-
3 C whole wheat flour
1 and 1/2 tsp salt
2 and 1/4 tsp baking powder
3 tsp vegetable oil
1 C warm milk
How to-
Mix together the flour, baking powder, salt and oil.
Slowly add the warm milk.
Stir until a loose, sticky ball is formed.
Knead for two minutes on a floured surface. Dough should be firm and soft.
Place dough in a bowl and cover with a damp cloth or plastic wrap for 20 minutes.
After the dough has rested, break off 12 – 13 sections, roll them into balls in your hands, place on a plate (make sure they aren't touching) and then cover balls with damp cloth or plastic wrap for 10 minutes. (It's very important to let the dough rest, otherwise it will be like elastic and won't roll out to a proper thickness and shape.)
After dough has rested, one at a time place a dough ball on a floured surface, pat it out into a four-inch circle, and then roll with a rolling pin from the center until it's thin and about eight inches in diameter. Don't over work the dough, or it'll be stiff. Keep rolled-out tortillas covered until ready to cook.
In a dry iron skillet or comal heated on high, cook the tortilla about thirty seconds on each side. It should start to puff a bit when it's done.
Keep cooked tortillas covered wrapped in a napkin until ready to eat.
Can be reheated in a dry iron skillet, over your gas-burner flame or in the oven wrapped in foil.
You can store the leftovers in the fridge tightly wrapped in foil or plastic for a day or so.
The tortillas came out really well…just as they should be…Dinesh glancing at them and enquiring if I had been out shopping for them, probably says it all

As to what they were served , well, with some rajma (Indian style red kidney beans)…in the day of fusion food, here's an Indo-Mexican combination

)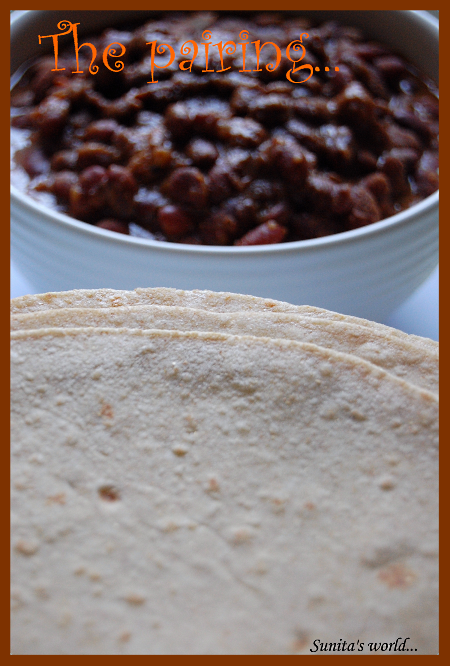 This combination rushes off to dear DK for her A.W.E.D. event where she is showcasing Mexican cuisine.
Related posts-
Quesadilla
Paneer and mushroom enchiladas