Another new week, another new day. After quite a hectic weekend, I must say, that, it is really nice to get back to some sort of routine. Although, that does mean, no more early morning snoozing. The heart, does want to catch those few extra minutes under the cosy duvet (yes, its chilly again)…but the mind rules against it, and wins.
And, then, the next few hours of madness start… the phrase "hurry up, please!" being dominant in almost every other sentence, and accompanied by the frequent glances at the time. I have two, but my ma had three kids… and not a moment passes when I don't salute her!
In all the hectic rushing through the long list of things to be done for the children and myself to get ready and ride to their school, it's a wonder that I manage to squeeze in my breakfast as well. Although, it is usually done in bits and always standing, while rushing through and trying to be at a million places at the same time. I know, all you moms out there must be nodding your heads in agreement at the familiar scene

Now, talking of breakfast, I made these orangey wheat squares filled with the goodness of fruits, nuts and seeds.
They make for a great breakfast on the run and are filling as well. Keeps one going for quite a while. Rengoni and Agastya also like to have them as 'after school snacks'.
Here's how I made them…
What's needed-
2 C of wheat flakes
3 tblsp porridge oats
4 and 1/2 tblsp of dark brown sugar
4 tblsp oil
a handful of raisins
a handful of hazelnuts, chopped
7-8 dates, pitted and chopped
2-3 tsp of mixed seeds(I used pumpkin, sesame and sunflower)
juice and grated zest of two oranges
1 egg, lightly beaten
How to-
Pre heat the oven at 180 deg C and line an 8 inch, square baking pan.
In a bowl, mix together the raisins, dates, nuts, orange zest, seeds, wheat flakes and oats.
In another bowl, whisk together the sugar , oil and orange juice.
Add the orange mixture to the wheat flakes mixture and mix well.
Add the beaten egg and mix well.
Tip the mixture into the prepared pan and bake in the centre of the pre -heated oven for 30-35 minutes or till firm and a toothpick inserted through the centre comes out clean. The top will be lightly browned and the edges will be slightly crisp.
Cut into squares and cool completely on a rack before storing in air tight containers.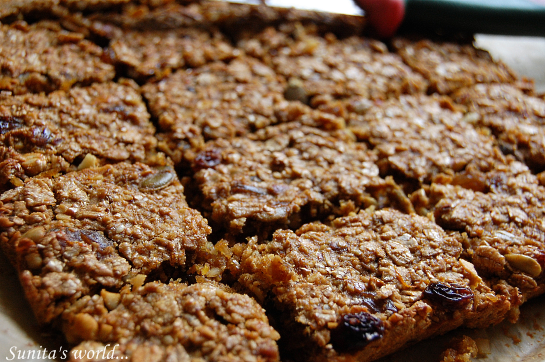 Your 'on the run' breakfast/snack is now ready to be enjoyed. They are soft and chewy, and I guess , guilt free.
Have them on their own ; or, if you are not rushing around, and are feeling indulgent, have them in style…crumble a few squares, and top with yogurt and honey! Yummy!!!