"Have you made any cookies today, mum?"…this question has been falling on my ears for quite a few days. And it's true, I haven't baked any cookies for quite a while now; actually a good few months, to be honest.
With temperatures dropping considerably, the kitchen with a warm oven is quite a pleasant place to be nowadays.So, a couple of days ago, the oven was promptly switched on and ingredients assembled to bake some cookies. I had quite a few dates which I was meaning to put into a cake. As the cake was nowhere near materialisation, I decided to put them into the cookies instead. Now, the li'l ones are a bit fussy as far as dates are concerned. So instead of just chopping and adding them, I pulsed them. Sneaky? You bet! So the dates and the other ingredients went towards the making of these delightful spiced oats and dates cookies.
What's needed-
15 dates, stoned and roughly chopped
slightly more than 1/2 C of milk ( about 9 tblsps)
4 tblsp of sunflower oil
2 tblsp of honey
1/2 C of oat flakes
1C whole wheat flour (atta)
1/2 tsp ground ginger
1/2 tsp cinnamon powder
1/2 tsp bicarbonate of soda
2 tsp ground flax seeds (used the brown ones)
a little granulated sugar to roll the balls of cookie dough ( I used organic raw cane sugar)
How to-
Puree the dates with the milk, mix in the oil and honey and keep aside.
Place the granulated sugar in a bowl and keep aside.
In a bowl, mix together the flour, oats, soda , flax seeds, ginger and cinnamon powders.
Make a  well in the centre of the  flour mixture and tip in the dates mixture.
Mix lightly with fingertips till everything  just comes together into a ball. Cover the bowl with plastic wrap and chill for at least an hour.
Pre heat the oven at 180 deg C and line a baking tray with foil.
Divide the mixture into 17-18 equal sized portions. Shape each portion into a ball and roll in the sugar.
Arrange the balls in rows, on the prepared tray, leaving spaces between each. Flatten each ball with your fingertips or with the flat botom of a glass. Do not worry about slight cracks on the sides.
Place the tray in the centre of the pre heated oven and bake for about 15 minutes. The cookies will be slightly soft at this stage but firm further on cooling. Cool them in the tray for a few seconds and transfer to a rack to cool completely before storing in air tight containers.
The cookies were an instant hit in our household. The slightly chewy and mildly sweet interior with a hint of spice, and the firm bite and crackle of the exterior was a sheer delight.
" I love them ", declared Rengoni and Agastya and Dinesh managed a rare  "fantastic" too. No one questioned the presence of the "not so popular in our household" dates ( yours truly is the only one who absolutely adores them).Well, no one asked, and I did not feel obligated, on this occasion, to enlighten them; no way was I going to play "guess the ingredients game". Some things are best left unsaid.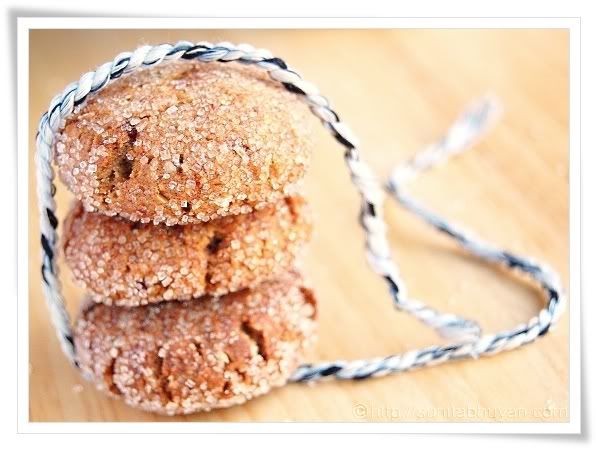 As I too tuck into one of the cookies and look lovingly at the two little happy faces in front of me, asking for more;
as I gently chide them that they had enough for one day, I couldn't help feeling a bit smug and hide a knowing smile, shake my head in amusement and sigh "ignorance is bliss"!