I have always loved soya chunks ever since I was a child and can never stop from picking up a pack even now. But which ever way I prepare it, it always seems to get a lukewarm response from the other two-thirds of my family, as they are not at all enthusiastic about the ingredient. No one says anything, but their quiet and 'not too eager' faces, speak more than a thousand words.
This time, when I went shopping, I picked up a pack of soya (yet again! But this time round, it was minced)…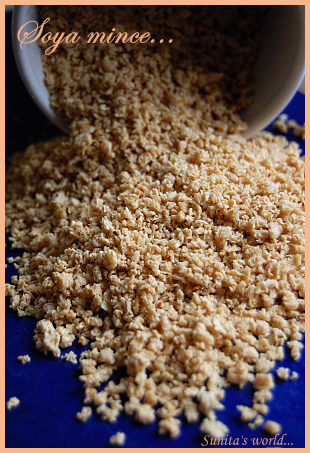 … with nothing particular in mind. While taking out the flour to make rotis the other day, my eyes happened to fall on the pack. Well, time to do something about it. So the pack was taken out, and since I was already in the mood to make rotis, decided to include the soya in it. And I must say, I was not disapointed. And this time, the other two- thirds of my family did seem to be happy enough to go for seconds…even thirds. And yes, this time, there were eager faces all around.
Soy protein is good for you too…
It is a good source of fiber. Soy protein is very healthy: it is rich in protein (about 70 %), very low in fat, contains no cholesterol and contains phytochemicals. These phytochemicals are strong antioxidants but have many other properties. Soy protein and its associated phytochemicals seem to reduce heart disease, osteoporosis and risk of cancer(from here).
What's needed-
1 C soya mince, soaked in hot water for 5 minutes and strained
1 red pepper,thinly sliced (about 1 and 1/2 inches long)
1 small onion, finely chopped
1 carrot, grated
1 level tsp cumin seeds
3 pods of garlic, finely chopped
1 tsp garam masala powder
1/2 tsp roasted and ground cumin
salt to taste
4 tblsp of plain yogurt
3 and 1/2 C whole wheat flour( a little extra for dusting and rolling)
2 tblsp of oil
How to-
Heat the oil in a pan and add the cumin seeds. When they splutter, add the onions and fry till translucent.
Add the garlic,red pepper, carrot and stir fry over medium heat for 2-3 minutes.
Add the soy mince along with the garam masala , roasted and ground cumin and salt.
Fry for another 3-4 minutes, remove from heat and cool a little.

Transfer to a bowl, add the flour and yogurt and knead till everything comes together (it will be a sticky dough).
Cover the bowl with plastic wrap and let the dough rest for 10 minutes.
Divide into 18-19 portions, shape each into a ball, slightly flatten and rioll in the extra flour.
Roll out on a floured surface to about 6-6 and 1/2 inches in diameter.
Place one on a griddle over slightly less tyhan medium heat and cook for about 20 seconds on each side and again for about 4-5 seconds on each side, or till brown spots appear.
There! The vegetable soya rotis are now ready to be enjoyed. We had ours with some tomatoey baby potatoes curry and a cucumber salad.
The directions for the curry is as follows…
What's needed-
500 gms of baby potatoes, halved and boiled
3-4 tomatoes, chopped
4 cloves of garlic, chopped
1 onion, chopped
1 small bay leaf
1 tsp roasted and ground cumin
2/3 tsp turmeric powder
1 tsp garam masala powder
5-6 whole peppercorns
1/2 tsp crushed red chillies(more or less)
1 inch stick of cinnamon
3 cloves
a small bunch of coriander, chopped
1/2 C water
1 tblsp oil
salt to taste
How to-
Place the tomatoes, cloves, cinnamon, garlic, onion, peppercorns, 2-3 pieces of boiled potatoes and bay leaf in a pan, along with the water and 1/3 tsp of turmeric and salt. Cover and simmer over medium heat till the tomatoes are cooked.
Transfer to a food processor and pulse everything together ( whole spices included). Keep aside.
Heat the oil in a pan and brown the potatoes along with the rest of the turmeric and the roasted and ground cumin. Season with salt.
Add the gravy to the potatoes and simmer for 2 minutes.
Add the crushed red chillies, garam masala powder and half of the coriander, and simmer for about 30 seconds.
Remove from heat and serve hot with rotis/nans/puris.
Garnish with the rest of the coriander.
This is a very quick and easy curry to make, and does equally well on the taste front. We had ours with the soya rotis. The combination worked quite well…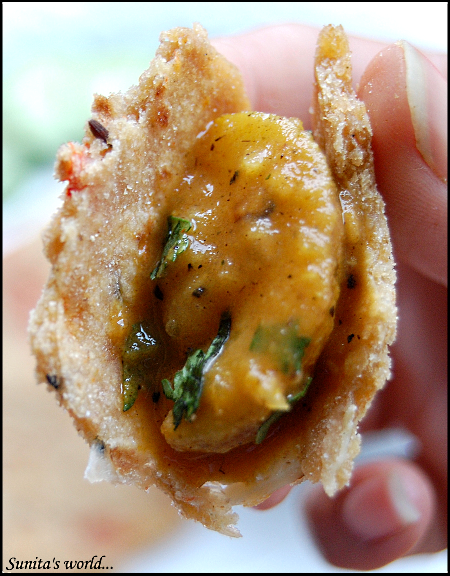 …so I'm sending the rotis for dear Srivalli's 'roti mela'.
An update-
My posts don't seem to be updating at Taste of India yet again…so please feel free to subscribe to 'Sunita's world', using the button on my side bar or fill in the form to receive post updates through email.
Related posts-