We, like so many others, are great pasta lovers. This, of course, does not mean that we gorge on it every other day. No, we have it, maybe, once a week, sometimes even after longer periods; but , when we do have it, we thoroughly enjoy it.
We love all sorts and shapes of pasta, and love trying out different recipes with them. But the ones that are more often seen at the table are penne, fusili, and tortiglioni, in that order. And, our favourite way of enjoying them is by adding them to a red looking chunky sauce (oh no! not store bought) and baked with layers of cheese. And yes, I shamelessly make it as cheesy as I can. Hey, we don't have it every day, and what's a bit of indulgence, now and then. But, yes, I do add an assortment of vegetables and mushrooms. We love the vegetarian versions of pasta more than their meaty counterparts.
A bowl of pasta cooked in the above manner is also comfort food for us. Hot out of the oven, with the melting cheese and the assortment of vegetables, we eat to our hearts content.
In brief, here's how I made the cheesy tortiglioni the other day…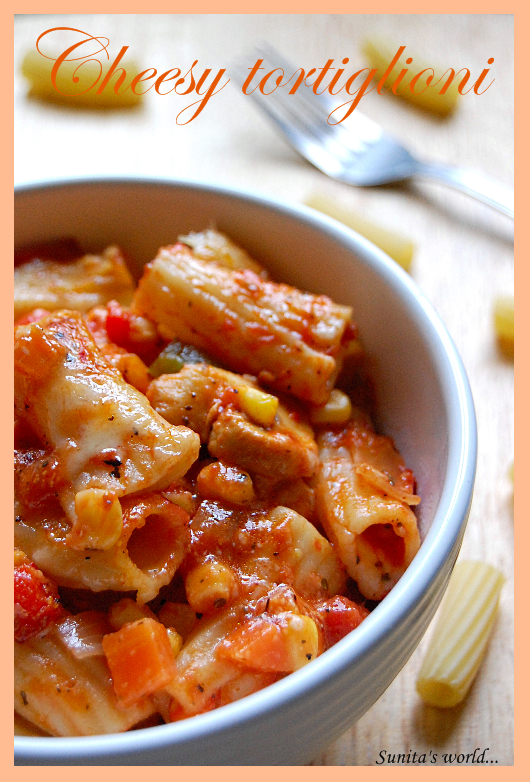 … please do excuse me for the short cut, but I seem to be strolling in Lazy town today

The recipe-
Boil 250 gms of

pasta

(preferably penne, tortiglioni, fusili or riccioli) in enough salty water and a tblsp of

oil

, till cooked al dente(firm to the bite). Drain, wash with cold water and keep aside.
Heat 2 tblsp of

extra virgin

olive oil

in a deep pan and add 1

carrot

, half of a

green and red pepper

, 1

onion

, 4-5 pods of

garlic

( all chopped into small pieces), 2 C of

sweetcorn

, and 7-8 sliced close cupped

mushrooms

. Toss around for 1 minute.
Add 10-12 chopped ripe

tomatoes

(or 2 cans of tinned tomatoes), 2 tblsp of

mixed herbs

(rosemary, thyme,oregano,basil, sage , parsely….can give some of the herbs a miss; though the oregano is highly recommended). Season with salt and generous amounts of freshly ground pepper. Cook till the tomatoes lose their shape.
Pre heat the oven at 200 deg C.
Add the pasta to the chunky sauce and mix in. Remove from heat.
Place half of the pasta in an ovenproof dish and sprinkle 100 gms of grated

cheddar cheese

. Add the other half of the pasta, along with the rest of the sauce and top with another 100 gms of cheddar cheese (warned you, it's going to be cheesy )
Bake in the centre of the pre heated oven till the cheese melts and the top is nicely browned.
Serve hot and dig in.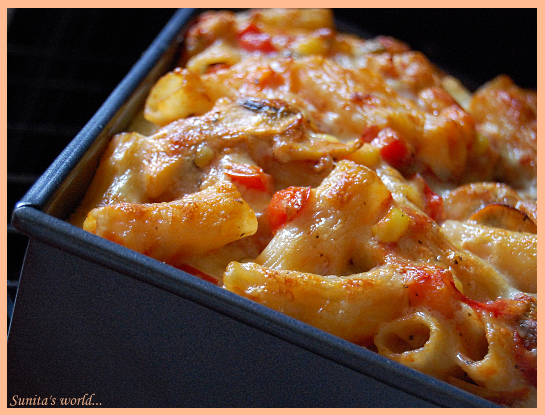 I used to slice the vegetables earlier,but have found, that, chopping or cubing them gives a nicer texture to the sauce. The vegetables can also be varied…I usually add carrots, sweetcorn, asparagus(when in season) , broccoli, various peppers and mushrooms, along with tomatoes, onions and garlic. We like the vegetables to have a bite to them… but if you prefer them fully cooked, stir fry them for a little longer before adding the tomatoes. And do not over cook the tomatoes..add the pasta as soon as the tomatoes lose their shape…does not matter if the sauce is liquidy…the pasta will absorb a lot of it.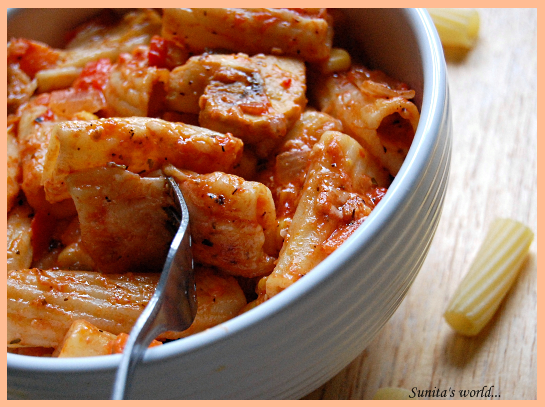 Mmmm, we simply do adore this…
******************************************************
Just want to remind you, dear readers, not to forget to start thinking about this month's Think spice. It's being guest hosted by dear Kaykat of 'Cooking from A to Z'. Her choice of spice will require some thinking, so you better put on your thinking hats. As for her chosen spice, it's "Wasabi". See, I warned you, some serious thinking is definitely required. So, Think spice…think wasabi! The details can be found here…the deadline is 25th of June.
******************************************************
Now, tell me, what is your favourite way of enjoying pasta

Have a relaxing weekend

Related posts-