Come summer, and what we Assamese look forward to in a meal is the tengar jool (tenga-sour; jool-light, soup like curry). This is usually made with a variety of ingredients like lemon, tomatoes, bottle gourd etc, but the best has to be the one with thekera tenga. ( no clues as to it's English version). The thekera fruit is green at the beginning, gets deep purple when ripe and turns deeper purple or almost black when dried.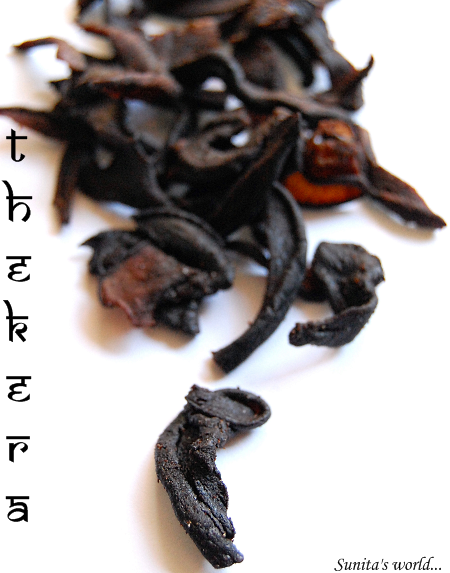 It is a souring agent. It is soaked for a while in water,and used along with the sour water.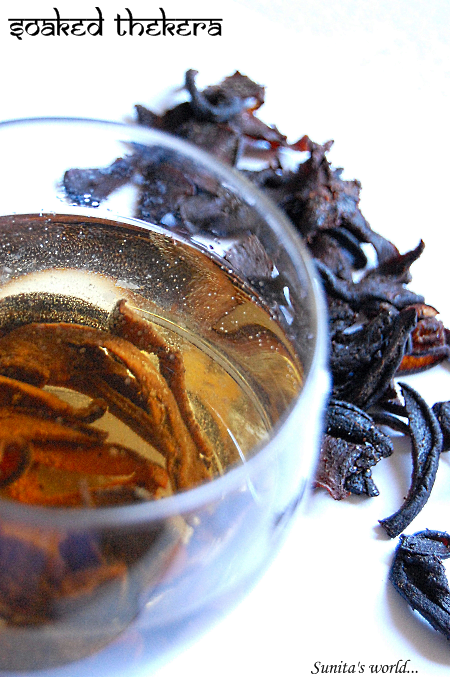 Blog hopping, and a little research has led me to believe that it must be a very close relative of kokum , so probably it can be used too in the recipe that follows( I have neither seen or tasted kokum, except, of course, virtually).
Most of the tenga jools have fish in them. But with thekera, we also add small dalir bor/bora (pan fried lentil fritters).
Tengas are always had towards the end of a meal. So if there is a meat or other lentil dish, those would usually be had before. It is also good for upset tummies and a few pieces of thekera, soaked in water and mixed with a little salt and sugar, forms a great drink to soothe those blues. They also have a long shelf life as only a little is needed at a time.
Ma had sent a pack of thekera with Dinesh when he went to Guwahati a couple of months ago. With temperatures hardly rising, we have not been in the mood to have any tengar jool. But today is an entirely different story altogether. The sun is as bright as ever, and the temperatures have risen many fold…well, at least compared to the last few days. So, the thekera has been taken out of hiding and put to use.
What's needed-
7-8 handfuls of split red lentils,washed and soaked in water for an hour
6-7 pieces of thekera( or maybe kokum), soaked in a glass of water for an hour
2 pinches of turmeric powder
salt to taste
Oil for frying the fritters
a pinch of sugar
1 bay leaf
1/2 tsp paaas puron
1 whole red chilli
1 and 1/2 tblsp mustard oil ( normal oil can be usd, butmustard oil gives it a better flavour)
1 tsp flour
1 small onion, finely chopped
How to-
Drain the water and grind the lentils with 5-6 tblsp of water ( does not have to be too smooth)
Heat the oil for frying in a pan (about 2 mm above the surface of the pan).
Mix the ground lentils with a pinch of turmeric and salt.
Drop tspn fuls of the mixture into the hot oil over medium heat.
When the edges turn golden, turn them over and fry on the other side till both the sides are golden and crisp. Transfer them to a bowl lined with a kitchen towel to drain the excess oil.
In another pan, heat the mustard oil and add the paas puron, whole red chili and bay leaf. When the seeds begin to splutter, add the onions and thekera pieces (which were soaked in water) and fry till the onion is translucent.
Add the water in which the thekera was soaked, along with another glass of water, and simmer for a minute.
Mix the flour with a little water to make a light paste and add to the pan, stirring briskly to avoid lumps.
If serving immediately, add the boras/fritters to the pan ( don't forget to save some for munching ) and simmer for half a minute and remove from heat. If serving later, add the fritters later and reheat, for the fritters will absorb a lot of the liquid.
Serve with rice and other side dishes.
The fritters are great..they remain crisp even when they cool down. I had used 7-8 pieces of thekera as they were quite thin slices, if thick, then lesser amount is necessary. It is always adviseable to check the tanginess of the water in which it is soaked.
And, finally, thanks to Andhra flavours (nice matters, good chat blog), happy cook (artey pico) and JZ (good chat blog) for passing on the following awards …
thanks girls…really appreciate it…and thanks to my dear readers for your constant support