"The smell of good bread baking, like the sound of lightly flowing water, is indescribable in its evocation of innocence and delight."
M. F. K. Fisher (1908-1992)
Yes, the smell that emanates from the oven as the bread bakes is so comforting indeed. The sight of a mound of dough as it rises, browns to form a crust and then the delight of slicing through the crusty exterior to reach the softer crumb within is so very appealing.
My association with bread making, is not very long; probably a couple of years. Earlier, bread always meant either the flat breads of my native country, India, or the yeasted breads found in the bakeries. I have always been in awe of those bakers who could turn out a perfect loaf of bread from their ovens with ease. Yeast was the proverbial beast for me till then.
And then came the time when yours truly joined the daring bakers and had to make cinnamon/sticky buns, more than two years ago. Oh no! It's the beast again! It was then that I thought that enough was enough and it was time to tame the beast. And I must say, that for a first timer, it wasn't a bad result at all. Since then, many a yeasted bread have made their way out of my oven and yeast is not the beast any more but a friend; hmm, probably a temperamental one, but still a friend. I have found out so many possibilities with bread baking.
And as I have come across various cultures, I have realised how much, bread, in some form or the other, leavened or unleavened, is a part of them.
Today, I'm going to talk about a differently leavened bread- soda bread. And before you jump to conclusions, I must mention that I made up this recipe.  It is based on the Irish soda bread, but it has been executed in my way( purists , hear! hear!). I don't know if you add dill to "soda bread", but I did in mine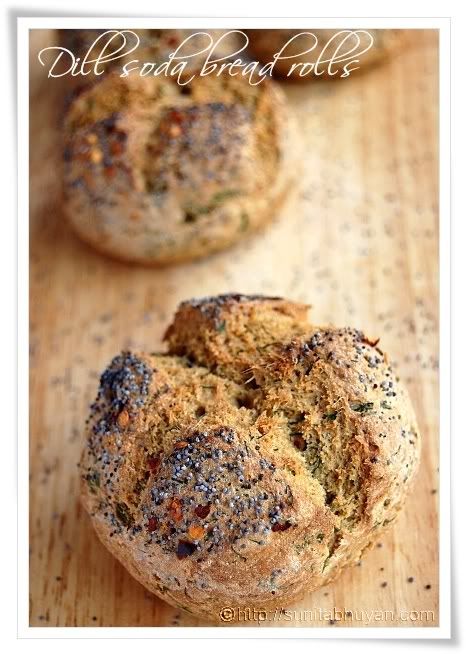 What's needed-
2 C of whole wheat flour (atta)
3/4 tsp of bicarbonate of soda
3/4 tsp salt
3-4 tblsp of finely chopped dill
1 tsp crushed red chillies
1/4 C low fat natural yogurt mixed with 3/4 C water
a little milk for brushing the tops and a little poppy seeds and crushed red chillies for topping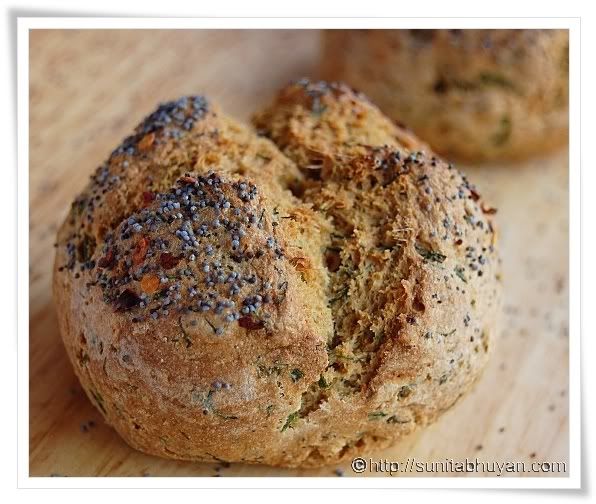 How to-
Pre heat the oven at 220 deg C. Line and grease a baking tray.
In a bowl, rub together with the fingertips, the flour, salt, soda and dill.
Tip in the yogurt mixture and mix quickly with the fingertips till everything comes together into a smooth ball. Do not overknead. The dough should be firm, but not too sticky ( add a little more flour) or too dry ( add a little more yogurt+water mixture).
Shape the dough into a log and cut into five equal portions. Shape each portion into a ball, flatten the bottom and place on the prepared tray, apart from each other to allow room for rising.
Brush the tops with some milk and sprinkle the poppy seeds and crushed red chillies. With a sharp knofe, make a cut a cross across the top.
Place the tray in the centre of the pre heated oven and bake for about 10 minutes. Reduce thew heat to 200 deg C and bake for another 9-10 minutes or till the top is nicely browned and the bottom of the rolls sound hollow when tapped.
Remove from the oven, cool for a few minutes on a rack before serving. Cool completely on the rack, if storing for later.
This is a very simple and easy bread to make.The rolls are best eaten warm on the day it is baked. The rolls can be eaten by just  halving and slathering some butter over them or with a dip, or as an accompaniment , especially with soup.
The crust of the rolls were crisp and the crumb soft; the herbs added their own flavour. Now, off they go to Zorra  at Kochtopf who is hosting  World baking day and my dill soda bread rolls are on their way to join all those wonderful breads from all over the world.
Have you baked your bread today?
Have a great weekend everyone; and for all of you who will be celebrating Diwali, my wishes are with you and yours for a happy and safe celebration.