By the time you read this, I will probably be at the seadside, chaperoning a bunch of Year 2 kids. Well, Rengoni, along with her class mates are going on a trip to the seaside as a part of their current class topic. Parents were requested to help and yours truly voluntered !! Just hope the weather doesn't play truant…the li'l ones have been looking forward to it so much.
Sometimes, I do look back at myself , probably give myself a pinch as well. I can still vividly remember all those school trips I went on as a child…the picnics, the buses into which we were huddled, the sing- song and banter, the smiles and laughs. Now that I'm on the other side, through the children, I feel as if I'm reliving my childhood. Ahh! Not that I have any complaints about the present, but I must admit, those were the really carefree days.
Now coming back to the kitchen, I made these savoury rice and coconut pancakes.
Talking about coconut, it is one fruit that we've grown up on… an inevitable part of our lives. No auspicious occasion is complete without it. Coconut trees are quite a common sight in the back yards of homes, especially in the countrysides. Whether it is the white flesh, chopped or cut into sticks as offerings to god, or the whole green coconut, placed on top of a decorative matir koloh (earthen pitcher) to adorn the gates of a wedding venue; or the dessicated coconut, made into laddoos and used as a sweet filling in various kinds of pithas during festivals, yes, it's always present. But, coconut is very rarely used in savoury Assamese cooking. And coconut oil is used only to strengthen the hair and moisturise the skin!
And regarding pancakes, they are an all time favourite … not the thicker American style ones though ( no offence intended), but the crepe like English ones… savoury or sweet, they do come out quite often out of my kitchen. Ma also used to make savoury pancakes frequently.
Now, here's the recipe for the rice and coconut pancakes…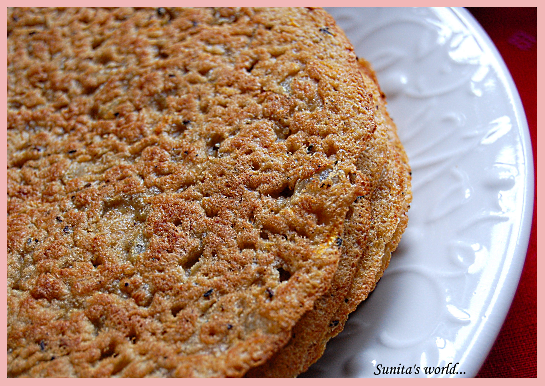 What's needed-
3 C rice flour
2 C dessicated coconut
2 tsp paprika
1/2 tsp chilli powder(more or less)
2 tblsp roasted and ground cumin
1 onion, chopped
3-4 cloves of garlic, smashed
1 tsp salt
2 tblsp of oil and a little extra for greasing the pan
1 large carrot , grated
2 eggs, beaten
3 and 1/2 C of water
How to-
Mix all the rest of the ingredients except the water and eggs.
Add the water and eggs and mix together to form a batter. Let it rest for 15 minutes.
Heat and grease a pan ( cooking spray works well).
Add a ladle of the mixture and quickly tilt the pan to spread out the mixture ( be really quick, for the mixture sets fast).
Cover and cook for 2 minutes over low heat. Turn over and cook covered for another 3 minutes. Repeat with the rest of the batter. I made 10 of them.
Serve hot.
We loved the pancakes. The coconut added a nice bite to them. They were very filling as well and could form a part of any meal during the day. We, in fact, had them for dinner, along with bowls of dal (lentil soup). Our's were mildly spiced… increase the spiciness and heat if you prefer.
I am now going to hand these pancakes over to two lovely fellow bloggers as an entry for their events…namely, Suganya, for her AFAM- coconut ,and Susan, for her Pancake parade. There…killed two birds with one stone. Will mail you ladies with the details very soon