Yes, autumn is well and truly here in our neck of the woods. The cool, crisp air,the colourful leaves adorning the trees and falling as the branches are being swayed by the blustery winds is a pleasure to behold. The "season of mists and mellow fruitfulness" is here to stay!
As the weather gets cooler, those red noses, and numb hands need warming up and hearty, comforting dishes are just the things needed. Autumn brings with it, it's own bounty of natural goodness- squashes, pumpkins, blackberries, figs and so many others, just waiting to be picked up and enjoyed. The other night, a sweet butternut squash was paired with some lamb to make a wonderful pot of stew.
This stew is based on three Hungarian stews; namely Goulash, Pörkölt and Paprikas. These traditional Hungarian stews are considered to be the national dishes of Hungary.
Pörkölt is a stew with boneless meat, paprika, some vegetables and no potato.
Goulash is a s a stew with more gravy or a soup (using meat with bones, paprika, caraway, vegetables and potato or different tiny dumplings or pasta simmered along with the meat);
I had heard of goulash but never made it. In fact, when we brought home a wonderful shoulder of lamb, it was well on it's way to a curry or a biryani. It was then when the bulb lit up, and with the  weather, a bowl of hearty stew sounded wonderful. Armed with the above information and a little input from each of the above stews, a dish started to form which completely blew us away. The stew was inspired in some way from allthe three stews mentioned above.

I would have loved to have added other vegetables too, but as luck would have it, it was just one of those days when there were not too many choices available in the vegetable crisper. So it was just butternut squash and the lamb that played the starring roles in this dish. And my, oh my! How perfectly they played their parts! The pieces of succulent lamb and sweet butternut squash  in the thick tomato based gravy spiced with paprika and cumin along with bay leaves and sprigs of lemon thyme and a hint of heat from chillies. Hmmm, it was heavenly indeed.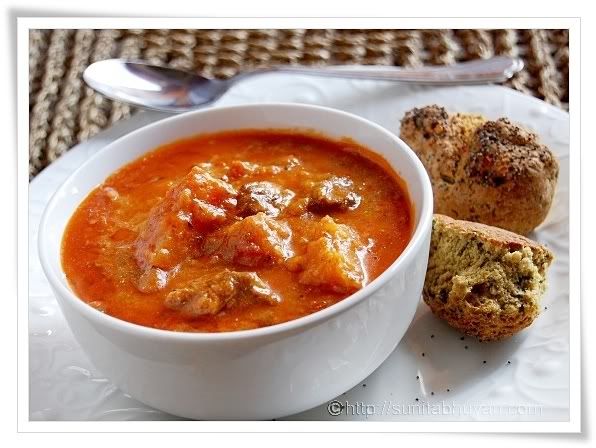 Here's how I made it-
What's needed-
500 gms of butternut squash, chopped
1 kg shoulder of lamb, cut into bite sized pieces
2 onions, chopped
4-5 cloves of garlic, chopped
3 bay leaves
3-4 tblsp of oil
1 tblsp of cumin seeds
2 tsp cumin powder
1 tblsp paprika
1 tsp crushed red chillies
1 can of plum tomatoes (400 gms)
3C of stock ( more or less)
2tblsp of soured cream( or double cream)
salt to taste
How to-
Pre heat the oven at 220 deg C.
Heat oil in a pan and add the cumin seeds. When the seeds splutter, add the lamb pieces and stir till evenly browned.
Add the onions and garlic and cook till the oinons soften.
Add the cumin powder, paprika and crushed red chillies. Stir well.
Add the tomatoes and bay leaves and stir till the tomatoes break down and are soft and bubbling.
Add the stock, lemon thyme and check the seasoning . Bring to a  boil and remove from heat.
Transfer to an ovenproof dish, cover and transfer to the middle rack of the oven for about 35-40 minutes or till the lamb is nearly cooked. Add the squash, stir, cover and bake for a another 10-15 minutes or till the squash is tender. Keep an eye to prevent the squash from turning  mushy.
Stir in the cream and  return to the oven to heat through for a couple more minutes.
Serve hot with bread/ pasta or even rice.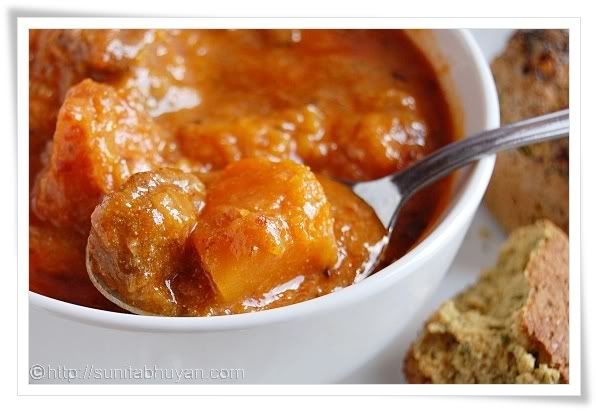 This was a chunky , hearty dish, full of bold flavours. Just look at the colour!  And how we enjoyed it! Straight from the dish , it went into bowls with these dill and soda bread rolls on the side. All four of us were silent, except for the  "yums" and sighs over the dish. A perfect autumnal dish- warm and hearty.
The lamb was cooked just right and the squash held their shape and added it's sweetness. The gravy was sensational. It was a filling meal and I had made quite a generous portion. So, the next day, we looked forward to lunch with the same eagerness and the swooning and sighing began all over again. Probably, never in the history of leftovers have there been so much of swooning and sighing as we did on that afternoon over the bowl of leftover lamb and butternut squash stew!