The 2009 October Daring Bakers' challenge was brought to us by Ami S. She chose macarons from Claudia Fleming's The Last Course: The Desserts of Gramercy Tavern as the challenge recipe.
Dating back to the 18th century, the macaron is a traditional French pastry, made of  egg-whites, almond powder, icing sugar and sugar. This sweet pastry came out of the French courts' baker's oven as round meringue-like domes with a flat base.
Macarons, also anglicized "macaroons", are not to be confused with a similar pastry also called 'macaroons'. Macarons are sandwich-like pastries made with two thin cookies and a cream or ganache between the cookies. Macaroons are dense cookies made either with coconut or with a coarse almond paste.
The macaron's origin isn't clear, but it may have been brought to France from Italy as early as 1533 by Catherine di Medici and her pastry chefs. Macarons gained fame in 1792 when two Carmelite nuns seeking asylum in Nancy during the French Revolution baked and sold macarons in order to support themselves, thus becoming known as "the macaron sisters." The macarons they made were a simple combination of ground almonds, egg whites, and sugar. No special flavors and no filling.
It wasn't until the 1900s that Pierre Desfontaines of Parisian pastry shop and café Ladurée decided to take two cookies and fill them with ganache. Today Ladurée continues to be one of the first stops for macaron-crazed fans in Paris. No longer a humble almond cookie, the macaron turned into a versatilely flavored treat with a thin, light crust briefly giving way to a layer of moist almond meringue following by a center of silky smooth filling.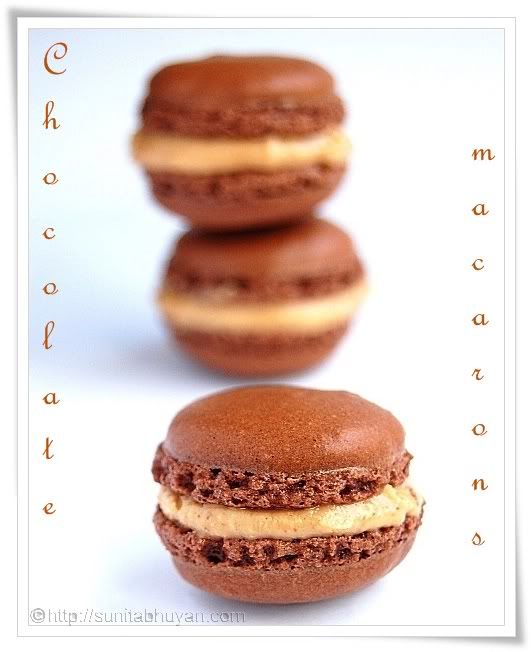 Oh dear! That was my first reaction when I  read about the challenge for this month's daring bakers. For a long time now, I have been an ardent admirer of this pretty French dessert. I have been drooling for so long  at all those lovely macarons on Helen and Aran's blogs, each time wondering if I ought to give it a try. I usually take up a challenge, but the stories of disasters with this pretty but so temperamental dessert has always made me take a step back. Can't blame me though! Blame those feet! Reading the recipe, one probably cannot imagine that something which seems pretty straightforward can also give disastrous results.
Now, what's the "feet" that I'm talking about. Look carefully at the base of the macarons. Those are called feet, and, god forbid, if you're unlucky,  instead of those "feet", you will have something, which might still taste good, but will not look like a macaron should.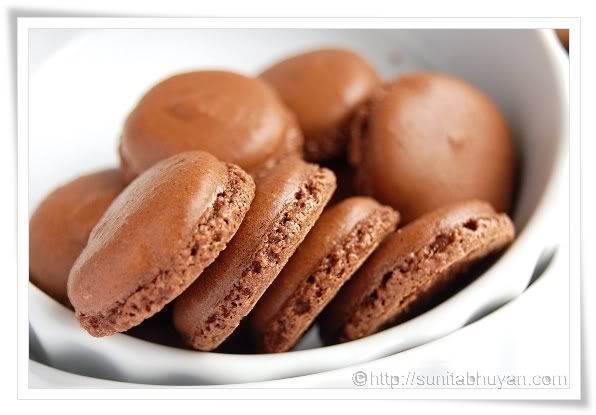 I must admit, I was very much intimidated by all this. And there are so many technicalities, aging egg whites, letting the unbaked shells rest for a while etc. But, I am really glad I took up the challenge. And, of course,there were all those lovely people pushing me on.
The following is the recipe that we had to follow-
Ingredients
Confectioners' (Icing) sugar: 2 ¼ cups (225 g, 8 oz.)
Almond flour: 2 cups (190 g, 6.7 oz.)
Granulated sugar: 2 tablespoons (25 g , .88 oz.)
Egg whites: 5 (Have at room temperature)
Directions:
1. Preheat the oven to 200°F (93°C). Combine the confectioners' sugar and almond flour in a medium bowl. If grinding your own nuts, combine nuts and a cup of confectioners' sugar in the bowl of a food processor and grind until nuts are very fine and powdery.
2. Beat the egg whites in the clean dry bowl of a stand mixer until they hold soft peaks. Slowly add the granulated sugar and beat until the mixture holds stiff peaks.
3. Sift a third of the almond flour mixture into the meringue and fold gently to combine. If you are planning on adding zest or other flavorings to the batter, now is the time. Sift in the remaining almond flour in two batches. Be gentle! Don't overfold, but fully incorporate your ingredients.
4. Spoon the mixture into a pastry bag fitted with a plain half-inch tip (Ateco #806). You can also use a Ziploc bag with a corner cut off. It's easiest to fill your bag if you stand it up in a tall glass and fold the top down before spooning in the batter.
5. Pipe one-inch-sized (2.5 cm) mounds of batter onto baking sheets lined with nonstick liners (or parchment paper).
6. Bake the macaroon for 5 minutes. Remove the pan from the oven and raise the temperature to 375°F (190°C). Once the oven is up to temperature, put the pans back in the oven and bake for an additional 7 to 8 minutes, or lightly colored.
7. Cool on a rack before filling.
We were given the freedom to choose the flavour of the macarons and the filling. We could also use other nuts apart from almonds.
What I did-
On my first try, I followed the recipe  exactly as given.  Disaster struck and they cracked at all places. Next time, I followed David Lebovitz's recipe for chocolate macarons. This time, I did not bake all the macarons at once. I put in a few into the oven,but this batch cracked too. For the next batch, I let the piped shells rest for a while till they felt dry to the touch and formed skins. The given temperature of 180deg C was reduced . And lo and behold; peeking through the oven door, I could see those happy macaron feet starting to appear!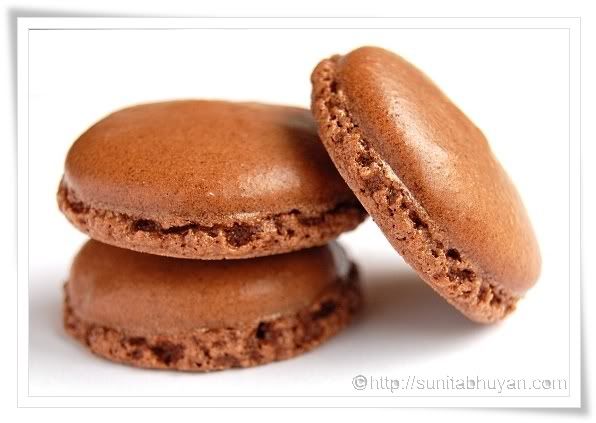 I was alone in the house but that did not stop me from "yaaay "ing and dancing, jumping all round the house, yes, I was a bit carried away. As soon as Dinesh arrived, I probably drove him crazy, or maybe half deaf by showing off my macarons , explaining all the technicalities, all the things that could go wrong, how I have always been scared of trying to bake them. I'm not sure he was very interested in all that, but I told him anyway! Even Rengoni and Agastya were not spared with the details of my "macsperience"! Yes, when I remember that day, I still feel that I'm on cloud nine.
For the batter, I used David Lebovitz's recipe. For baking the macarons, I reduced the temperature of the oven from 180 deg, as it proved to be too much. The first batch cracked, but the second batch ( with the same batter and with some resting) produced great results. I pre heated the oven at 170 deg C and lowered to 150 deg C . The tray with the piped shells was then baked in the centre of the oven for 10 minutes. I rotated the tray and baked for another 5 minutes.
My macarons were filled with the following  coffee – mascarpone mousse.
Ingredients-
6 tblsp of mascarpone cheese
9-10 tblsp of double cream
2 tblsp of honey
2 tsp of coffee powder (  I used espresso. You can use more or less coffee, mine had a mild coffee flavour)
Method-
Mix together the mascarpone, honey and coffee till fluffy.
In another bowl, beat the cream till it forms stiff peaks.
Fold in the mascarpone mixture.
Chill the mousse before filling the macarons.
Notes-
A few things that I found out and followed (from here):-
The ground almonds from the store were not fine enough. So, I pulsed them in the food processor together with the cocoa powder and the icing sugar. This was passed through a sieve three times to make sure there were no lumps.
Old egg whites- I used egg whites kept at room temperature for three days.
The final macaron batter should have the consistency of magma. The batter should not be too liquidy, nor too stiff. If you form a peak, it should slowly and completely sink back into the batter. If the cookies form peaks on their tops after piping, flatten them with a wet fingertip.
I also drew circles on the other side of the parchment to keep the sizes uniform.

I let the piped shells sit at room temperature for about an hour. Lebovitz's recipe, which I followed, does not mention this step, but I followed it anyway, just to be sure.
The recipe called for the macarons to be baked at 180 deg C. I found this to be too high. I pre heated the oven at 170 deg C and lowered it to 150 deg C before placing the tray in the oven. I baked them for 10 minutes, turned around the tray and baked for another 5 minutes.
To remove the macarons from the parchment, I lifted them along with the parchment, cooled them on the rack for about 8 -10 minutes and peeled the parchment .
To be honest, I am not a great fan of the taste of macarons, a bit too sweet for me. But I am a great fan of cooking/baking techniques. And I was really glad I went along; the appearance of those "mac feet" did wonders for the ego ! I had many flavour combinations in mind, but, they will probably have to wait for another day.