I am trying…trying really hard. At what? At using up the hoarded ingredients before they run out of time. Every time I rummage through the pantry, I am ashamed at the amount of unused ingredients that stare back at me. So many things crying out to be picked and transformed into delicious goodies. This time, it was a pack of pasta flour. Do I even remember at what point in time it made it's way from a shelf along the aisles of the supermarket? Of course…no

(
Let's leave all that aside…for, the pack of pasta flour that was rescued from it's exile was transformed into a very light and summery meal…ravioli style, samosa shaped bicoloured pasta filled with mushrooms, onions, garlic and peanuts. Of course, I did start out with something in mind but, churned out something entirely different. But, that does not matter…as long as what's served at the table tastes good. By the way, am I babbling? Please ignore me…
I have tried my hand with pasta once before…made ravioli, but the pictures were too gory to be posted. This time, I used type 'O' pasta flour, which is basically a mixture of wheat and durum flour. This light flour is high in protein and can also be used for pizza and bread making.
I made two balls of dough with the flour…one kneaded with spinach juice and the other with beet juice. The two were brought together to form a bi- coloured roll of dough , which was then, divided, rolled, filled, shaped, boiled and brushed with a flavoured oil and a sprinkling of spices. Regular flour works fine too.
Now, let's jump to the recipe for the bi – coloured, triangular, filled pasta (don't know what to call it, really)

Ahh, but what's in a name , anyway??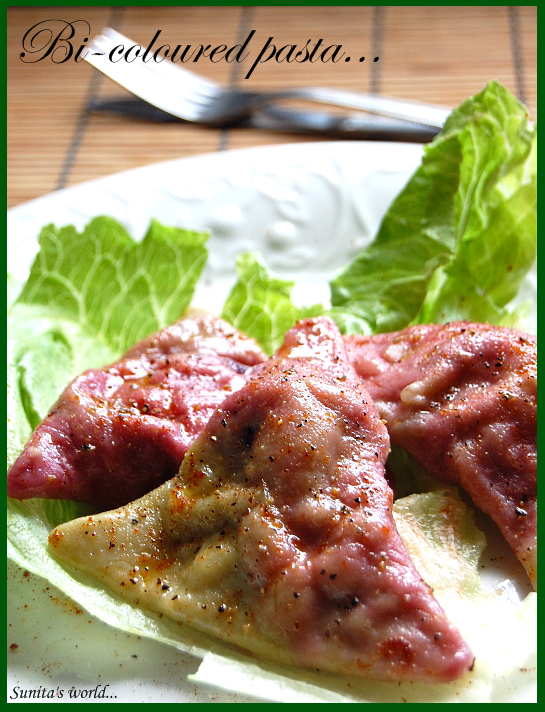 What's needed-
For the doughs-
2C + 2C pasta flour(I used Doves Farm organic pasta flour) or regular plain flour, or a mix of plain and whole wheat flour
2C spinach leaves, pureed with 1C water and strained
3-4 cooked beets(uncooked ones are fine too), pureed with 1C water and strained
1 egg, beaten and divided into half
1 tsp salt
For the filling-
1 and 1/2 C peanuts
1 red onion, finely chopped
6-7 cloves of garlic, finely chopped
8-9 chestnut mushrooms, sliced
1/2 C extra virgin olive oil
1 tsp crushed red chillies
3 tblsp of dried oregano
Others ( for sprinkling at the end)-
paprika
freshly ground pepper
How to-
The doughs ( both are prepared the same way)-

Divide the flour into two bowls, with 1/2 tsp of salt in each and make a well .
Add half beaten egg into each well of dough and mix with the flour.
Add the liquid (spinach in one and beet in the other), a little at a time( may or may not need the entire amounts).
Knead till the doughs are smooth. They should be soft, but not sticky. If the doughs is too dry, add a little water.
Cover and leave to rest for half an hour.
The filling-
Heat the olive oil in a pan and add the onions, garlic, peanuts, chillies and oregano, and cook, stirring continuously over medium heat till the onions are soft.
Add the mushrooms and cook till they soften. Keep aside to cool, separating the solid bits from the extra oil…save the oil for later use.
Assembly and cooking-
With floured hands,make two long, sausagy bits of dough ( one from each).
Entwine one around the other.
Cut the roll into small portions ( I made around 24) and roll each out on a floured surface to about 4 inches in diameter and about a mm in thickness.
Place a little of the filling in the centre and shape as shown below.

Ready the plates to be served in, with some fresh salad. ( I served on a bed of lettuce)
Drop them , a few at a time into boiling water and cook for 4-5 minutes.
Drain and brush with the leftover flavoured oil from the filling. Arrange on the plates and sprinkle a little paprika and freshly ground peppeer.
Serve immediately and enjoy an elegant meal, while taking in the sunshine…well, even if there is no sunshine
And wait! I haven't finished yet… if you feel that you might like a little sauce with it…what is pasta with no sauce…or you have two ravished, cheese loving kids, then hurry. In a pan, add some tomato puree, a tsp of chopped garlic, finely chopped red pepper, a handful of sweetcorn and some oregano, with enough water, salt and freshly ground pepper, stir and transfer over heat. Simmer for 2-3 minutes and add 1/2 a tsp of cornflour. Simmer for a minute and a nice and light sauce is ready to be drizzled over the pasta. Grate a little cheese over it and there….everyone is happy

So, I'll end with this happy ending and hope you all have a relaxing weekend