It's been a very busy week, and at times, I feel as if  I'm runing around like a headless chicken.Rengoni and Agastya are at home this week as it is their half term. In between keeping them occupied, getting their school projects done, and attending to other engagements, we've nearly come to the end of the week already! Where did the time fly?
I am also running out of time with blogging commitments. I had joined the #Great Hallow Tweet with great enthusiasm, even changed my header.   But only one post has made it so far. Renee,I promise, I'll make it up to you. Look! I'm posting two recipes today! Wondering what it is all about? Check out my sidebar to know all about it!
A couple of days ago, Rengoni and Agastya asked if they could help make some cupcakes and I said "why not". Soon after that, two pairs of eager hands were helping to carry ingredients, mixing and spooning batter into moulds; and yes, also gorging on the finished products. I am going to do a little cheating here. The recipe for the cupcakes is the one I made up earlier for the mini walnut, chocolate and banana muffins. This time, I made regular sized ones, and when they had  cooled, covered them with some melted chocolate. Once the chocolate had set, some icing sugar was mixed with a little warm milk to make a thick paste. With this, some spiders ( big fat ones

) were piped on top.  There you go Renee! One done!
As for the other, I guess, one spooky recipe is enough for the day. This one is more a celebration of  autumn. Ripe , luscious apples, lightly spiced, made their way into this deliciously sweet and sticky dessert. I thought of calling it cake, but, is it? Hmm, call it whatever you want, but it was nice though; and very easy to make too. Caramelised apples, spiced with cinnamon and cloves are arranged at the bottom of two mini quiche pans and a batter poured over it and baked, which is, later, turned upside down.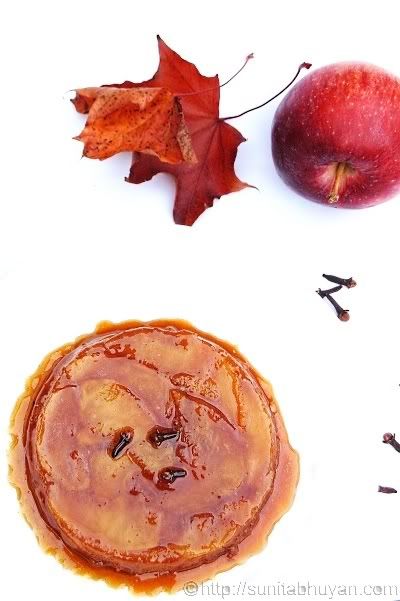 I have used jaggery to sweeten the dessert instead of any other sugar.
Jaggery or "gur" as it is called in Assam, is  a traditional unrefined non-centrifugal sugar consumed in Asia, Africa and South America. It is made for direct consumption. This type of sugar is a concentrated product of cane juice without separation of the molasses and crystals, and can vary from golden brown to dark brown in color. They usually come in lumps or moulded shapes and can easily be found at the Indian grocers, or even in the Asian aisle of supermarkets. Jaggery ranges from mustard yellow to deep amber in colour depending on the quality of the sugar cane juice. It is sticky but an be crumbled easily. It is made up of big lumps which melt to form a thick gooey paste. Jaggery has a heavy caramel like aroma which is slightly alcoholic like sweet sherry or port. The taste is very sweet and musky. Jaggery is a rich source of iron due to the process involved, using iron utensils. It is considered by some to be a particularly wholesome sugar and, unlike refined sugar, it retains more mineral salts. Moreover, the process does not involve chemical agents.To store make sure that the container is dry or the jaggery will go mouldy. Use within 6 months. Read more about jaggery here .
If you cannot find jaggery, you can use dark muscovado sugar.

As for the recipe,

What's needed-
For the caramalised apples-
1 and 1/2 C of jaggery shavings ( or dark muscovado sugar)
2 firm apples, cored, peeled and thinly sliced
5-6 cloves
1 and 1/2 tsp cinnamon powder
4-5 tblsp of water ( use less for muscovado sugar)
For the batter-

3 tblsp of whole wheat flour (atta)
a pinch of  bicarbonate of soda
1/3 tsp of baking powder
1 egg
2 tblsp of honey
3 tblsp of vegetable/sunflower oil
How to-
Except the apples, place all the rest of the ingredients for the caramelised applkes, in a thick bottomed pan.
Place the pan over heat, and when the jaggery begins to melt, arrange the apple slices, gently, in a single layer on the pan. Cook over low heat, all the time, spooning the syrup over the apple till the fruit softens slightly and the surup thickens. It should not dry out completely. Arrange the apple slices at the bottom of two mini quiches, spooning 2/3 of the syrup over both. Save the remaining syrup and let the apple cool to room temperature.
Pre heat the oven at 180 deg C.
In a bowl, whisk together the flour, baking powder and bicarbonate of soda.
In another bowl, whisk together the milk, egg, honey and oil.
make a well in the centre of the flour mixture and tip in the liquid mixture. Whisk gently to make a smooth batter. Tip this batter over the cooled apple. Tip the dishes against the counter and place the dishes in the centre of the pre heated oven and bake for about 20 minutes or till a toothpick inserted through the centre comes out clean. Of course, some syrup may stick on it and the top will be a bit puffy.
Run a spoon round the sides of the dishes. Place a plate, over one of the dishes and carefully turn it upside down. repeat for the other pan.

Slightly reheat the reserved syrup and spoon over the tops. Serve warm. Do not serve hot, as it will burn.
This is a seriously sweet recipe.  We loved this warm, sweet, sticky dessert.
We had them on their own, but, probably, a dollop of whipped cream or vanilla ice cream won't do any harm.