After a weekend of tennis overdose, it's time to start another new week…hope you all had a great start to it. We were greeted by howling winds and lashing rain. At times, the sun does seem to peek out of nowhere for a few seconds…probably reassuring us of it's existence. Sonny boy was not in the highest of spirits today, has come down with a slight cold, but, was raring to go back to school. They've still got a couple of weeks to go before breaking up for the summer holidays…really looking forward to it!
But, now , the best part. I had made a few mini pot pies quite some time ago ( make that 3-4 months).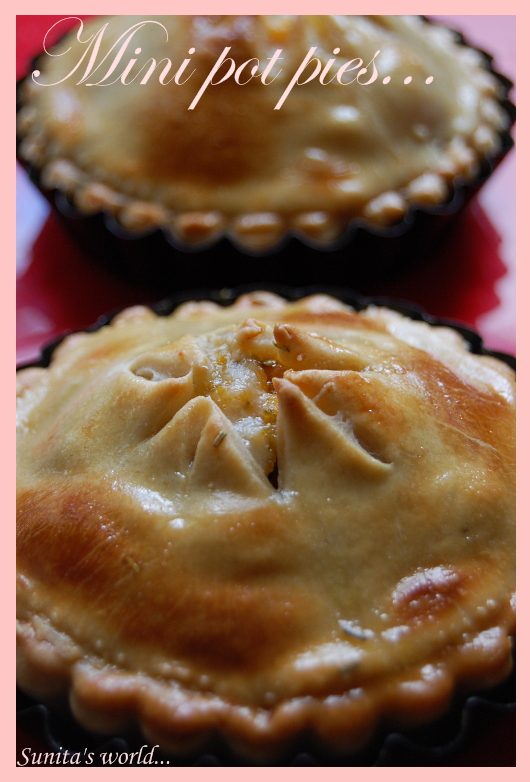 A pot pie is a type of baked savory pie with a bottom and top completely encased by flakey crusts and baked inside a pie tin to support its shape (more here). But, although enjoyed long ago, I still remember the way in which we relished them and how much joy they gave us. In fact I thought that I had posted them and have been ransacking the archives to revisit them…seems almost criminal not to have shared them. The brain does seem to be playing tricks nowadays…I must be getting old

While grazing around, I also found this interesting bit on pastry, and I quote…
Today pastry is a form of dough which can be made using a variety of different ingredients. However the main ones seem to be flour, butter, shortening, eggs as well as baking powder and will then be used to make a variety of different dishes.
In most cases today pastry will be rolled out using a rolling pin in order to be the base for a variety of different baked foods including pies, tarts and quiches. So in order for a person to make perfect pastry they must time the time to blend the ingredients correctly. It is important that the flour and fat are mixed together thoroughly before any liquid is added. By doing this it will ensure that the flour coats the fat adequately and prevent the production of gluten which can cause the pastry to become tough as it cooks.
But pastry has been around for many centuries now and was originally used by those living in the Mediterranean regions of Europe during ancient times. However it was until the crusaders began to return home from the wars that pastry begun to become much more popular in the Western parts of Europe including Britain. But as well as the people of the Mediterranean using pastry in their cooking there is strong evidence to show it was also being used by Egyptians, Greeks, Phoenicians and Romans as well.(more here)
I usually try to keep away from the butter in most of my pastries. The pastry for these pies were olive oil based and did come out quite nice.
Now, before the brain plays havoc again, here's the recipe for the pot pies…
What's needed-
For the crust-
2 and 1/2C of whole wheat (chappati) flour
1/4 C chilled water(more or less)
7 tblsp of plain yogurt
1 tsp salt
6 tblsp of extra virgin olive oil
1 tblsp of dried rosemary
1 egg, beaten
For the filling-
3/4 of a medium sized butternut squash, chopped, boiled and peeled
1 C peas
5-6 spring onions, chopped
1 inch ginger, finely chopped
3-4 cloves of garlic, finely chopped
3 stalks of asparagus, chopped
1 tsp cumin seeds
1 tsp each of dried rosemary and sage
1/2 tsp crushed red chillies
1/2 tsp sugar
a few raisins
2 tblsp of olive oil
100 gms of grated cheddar cheese
How to-
Mix together the flour, salt and rosemary.
Add the yogurt and oil and rub in.
Add the water, a little at a time and knead very lightly to make a dough ( you may need slightly more or less water, just add enough to form a soft and smooth ball of dough.
Wrap the dough in plastic wrap and chill for an hour.
Meanwhile, make the filling…heat the oil in a pan and add the cumin seeds.
When the seeds splutter, add the peas, spring onions,ginger, garlic and asparagus and fry for 2 minutes.
Add the squash, roughly crumbling it, along with the salt, pepper,chilli, rosemary, sage and sugar.
Stirring constantly, cook over medium heat for 5-6 minutes. Keep aside and cool completely( a hot filling makes for a soggy crust).

Pre heat the oven at 200 deg C.
Divide the dough into five portions.Roll out each portion into about 2mm in thickness and line the bottom and sides of mini tart pans of 4 and 1/2 inches. Trim the edges and keep aside the trimmings.
Prick all over gently with afork and bake in the centre of the pre heated oven for approximately 10-12 minutes or till lightly browned, and keep aside to cool If it puffs up while baking, gently press it down.
With the trimmings, roll out some 4 and 1/2 inch discs and make a4 intersecting cuts in the centre.
Fill the crusts in mounds, with the butternut squash mixture and sprinkle some cheese over it.
Brush the sides and of the crust with the egg and cover them each with a disc, taking care to seal. Brush the tops with the rest of the egg…

and bake in the centre of the oven (200 deg C) for about 20-25 minutes or till nicely browned and bubbly.

Cool in the pan for a minute and remove to a rack to cool completely if saving for later. Reheat before serving.
Apart from the ones in the pans, I also made a couple of free form(not made in a pan) pies. So you need not fret if you do not have the pans

. I rolled out the dough into 4- 4 and 1/2 inch discs, pricked them all over with a fork and baked them on a lined tray till very lightly browned and cooled them. The filling was placed in mounds in the centre,sprinkled with cheese, the edges brushed with beaten egg, covered with another disc with cuts like in the other tarts and the edges sealed with a fork; they were then brushed with egg ; I also cut out small leaves with the tiny bits of leftover dough and stuck them onto the lid…not seen in the following picture, though

.
They were then baked till nicely browned and bubbly. They came out equally nice…so not having the pans should not be a reason, but the filling has to be a dry one.
I can vividly remember how crazy we all were about these cute pies…great for a snack, and along with some salad makes for nice meal too. They can also be packed for picnics and lunchboxes. These are very versatile too and is quite forgiving with various fillings.