Hope all of you have had a lovely wekend. We did; in fact the whole of last week just flew by. Rengoni and Agastya were home for their half term and have gone back to school today. All of a sudden, just like every other break, the house seems to be very quiet. The kids have taken their banter, their laughs and squabbles away with them, and the house lies quiet, their things sitting  just where they had left them.
As much as it is  nice to have the house back, and not pick up things a zillion times duriong the day, I do miss their banter. I do miss their coming up to the kitchen, and enquiring "what's for lunch mummy?" Actually, I love it when they begin to dissect the food placed in front of them. They eat it up alright, band, I have really begun to respect their  opinions and suggestions. Sometimes, they do come up with some brilliant ideas. I love to look at the food through them.
I love the way their eyes twinkle when I ask them what they thought of a dish and they sit up and look all important; turn the food in their mouths  and pass judgement. And when I put these orange and almond cookies in front of them, my little critics gave them a 'double' thumbs up. Their happy faces made me smile. The cookies also received glowing remarks from the li'l critics' dad.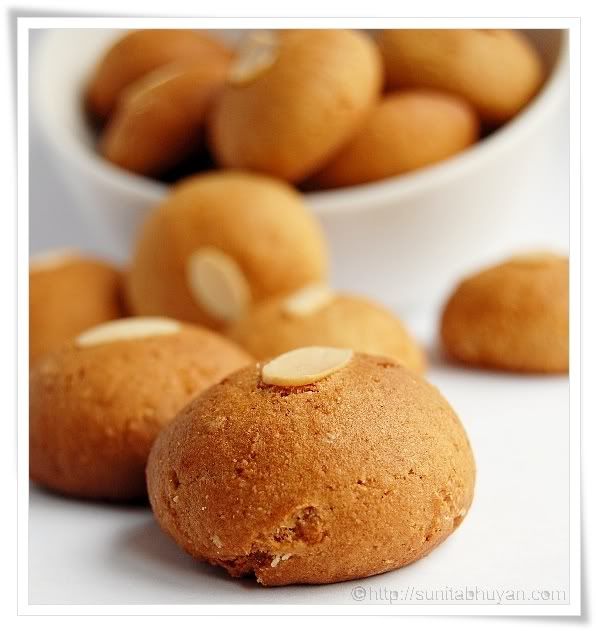 So, here I am, sharing the recipe for these orange and almond cookies which were a great hit with our family-
What's needed-
2 C whole wheat flour (atta)
3 tblsp of ground almonds
1/2 tsp bicarbonate of soda
2 tblsp of orange zest
5 tblsp of sunflower or vegetable oil
5 tblsp of icing sugar
1/2 C of milk
almond slivers for topping
How to-
Rub together the flour, soda, almonds, icing sugar and zest with the fingertips till they resemble fine crumbs.
Mix together the milk and oil. make a well in the centre of the flour mixture and tip in the milk mixture.
Fold in quickly, with a rubber spatula or fingertips, till just mixed.
Cover the bowl with a plastic wrap and chill for at least 30 minutes.
Pre heat the oven at 180 deg c and line a baking tray.
With slightly damp hands, make 25 balls of the dough and arrange them on the tray, a little apart from each other. Flatten the balls a little with the fingertips and press an almond sliver on top.
Place the tray in the centre of the pre heated oven and bake for about 22-25 minutes or till the tops are light golden.
Cool on the tray for a couple of seconds and transfer to a rack to cool completely.
They were crispy, not overtly sweet and with a hint of orange.
They are not fancy, but very wholesome and homey kind of cookies. The kind that you would want on your plate beside a cup of tea/coffee or a glass of milk.