The other day, while shopping, my eyes fell on some quince. You know, those fruits with yellow skin and  hard,strongly perfumed flesh, and which, when cut open looks somewhat like a pear. Or is it like an apple?
Somehow, this fruit has always escaped my shopping basket. So, this time, I bought  home, four of these sunny skinned fruits. I didn't have any idea as what to expect if I cooked with them. A little bit of research was definitely in order. And I did find out quite a few interesting facts along the way, which I want to share with all of you.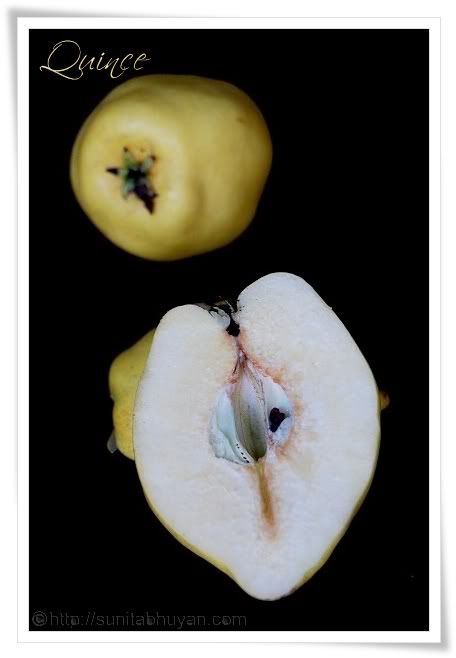 The quince is native to warm-temperate southwest Asia in the Caucasus region. The quince tree is native to Iran, Armenia, Azerbaijan, Georgia, and was introduced to Croatia, Turkey, Serbia, Republic of Macedonia, Albania, Greece, Romania and Bulgaria. In Europe, quinces are commonly grown in central and southern areas where the summers are sufficiently hot for the fruit to fully ripen.
It is a small deciduous tree, growing 5–8 m tall and 4–6 m wide, related to apples and pears,  which is bright golden yellow when mature, pear-shaped, 7–12 cm long and 6–9 cm broad.
Cultivation of quince may have preceded apple culture, and many references translated to "apple", such as the fruit in Song of Solomon, may have been to a quince.Among the ancient Greeks, the quince was a ritual offering at weddings. The Romans also used quinces; the Roman cookbook of Apicius gives recipes for stewing quince with honey, and even combining them, unexpectedly, with leeks.
Most varieties of quince are too hard, astringent and sour to eat raw unless 'bletted' (softened by frost and subsequent decay). They are used to make jam, jelly and quince pudding, or they may be peeled, then roasted, baked or stewed. The flesh of the fruit turns red after a long cooking time. Quince have high pectin content in them.

Recipes for quinces started to appear in the UK in the 17th century. "Quince is a fruit for the patient", it has been said, and some even call it " an inconvenience fruit". Only long, slow cooking of this hard fruit makes it palatable. Cooked, it can be anything from a pale pink to a glorious deep amber.
Quinces have long been used as a herbal medicine as an infusion to treat sore throat, diarthoea and haemorrhage of the bowel. It is effective against inflammation of the mucous membranes, intestines and stomach. They are also used in the cosmetic industry and for medicinal cosmetics.

The fruits ate so fragrant that a single fruit can fill a room with its rich fruity scent; indeed, quinces were often studded with   popular as room deodorisers.
While buying quince, choose ones that are hard (this is comtrary to  instinct when choosing fruit , but a soft quince is on its way out and will be mealy). Don't worry if the yellow skin looks imperfect because it has brown spots on it: that does not affect the fruit , and that's how they come. Avoid any that are wrinkled or brown all over.
Store apart from other fruit as the other fruit may absorb the strong perfume from the Quince. If the Quinces you buy have not completely yellowed yet, then they need to ripen. Keep them out of the refrigerator until they do go yellow all over and start to give off a perfumey aroma. When they hit this point, you need to use them right away so that they don't keep on ripening and go mealy, or refrigerate for up to two more weeks before using.( sources- here, here, here and here)

In warm, temperate and tropical regions, the fruit can become soft, juicy and suitable for eating raw; but in cooler temperate areas like Britain, they do not ripen so far. Here, raw quince fruits are hard, gritty, harsh and astringent, but after a few weeks of storage, the flesh softens to a point where some people find them edible.
I wanted to try to make some jam, but, as my fellow blogger buddies pointed out, four quinces were not enough. But I wanted cook with them so much, that in the end, I decided to settle on a quince and apple crumble. Warm  autumnal fruits cooked with a medley of spices,  topped with oats and seeds, baked and served with a drizzle of cream- yes, I was very much liking  the picture that was forming in my mind. It is said that it is best to keep recipes with quince simple.  So simple it shall be. Ladies and gentlemen, allow me to present my humble, but oh so delicious quince and apple crumble.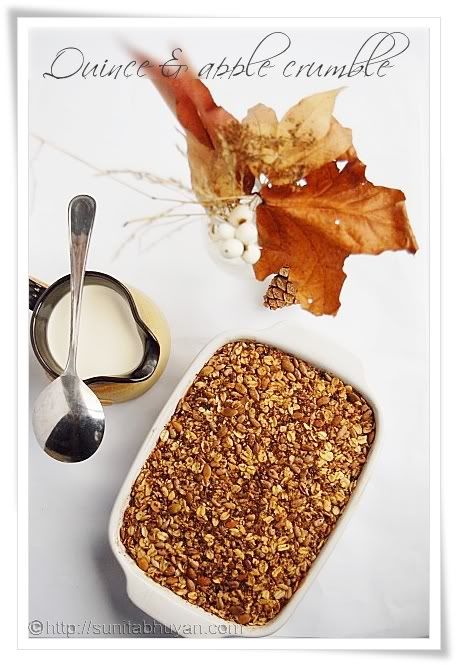 What's needed-
2 quinces, cored, sliced and cut into small pieces ( about 4C)
6-7 tblsp of honey
1 tsp cinnamon powder
1/4 tsp ground nutmeg
6-7 cloves
1/4 tsp crushed red chillies ( more or less)
1/3 c of water
2 firm apples, cored, peeled and chopped , a little bigger than the quinces ( about 1 and 1/2 C)
For the topping-
1C jumbo oats
1C mixed seeds (I used pumpkin, sunflower and linseed)
3 tblsp of dark brown sugar
4 tblsp of vegetable/sunflower oil
How to-
Put the quince, cinnamon, nutmeg, chillies, cloves, honey and water in a wide, thick bottomed pan. Stir and place over low heat. Cook covered for about 10 minutes, stirring now and then, till the fruit can easily be cut with a spoon.
Add the apple, stir and cook for another 10-12 minutes or till the apples soften a little.
Increase the heat and stir till most of the moisture has evaporated ( do not dry it out completely).
Transfer and spread this mixture to a baking dish ( 5 and 1/2 inches by 7 and 1/2 inches). Discard the cloves.

Pre heat the oven at 180 deg C.
Mix together all the ingredients for the topping and spread over the quince- apple mixture. Press the top lightly.

Place the dish in the centre of the pre heated oven and bake for about 30-40 minutes or till the top is nicely browned and the fruit is hot and bubbly. If the top browns too quickly, cover the dish lightly with a piece of foil.
Our after dinner dessert of a spicy quince and apple crumble went down very well with all four of us . I served it warm with a drizzling of  cream.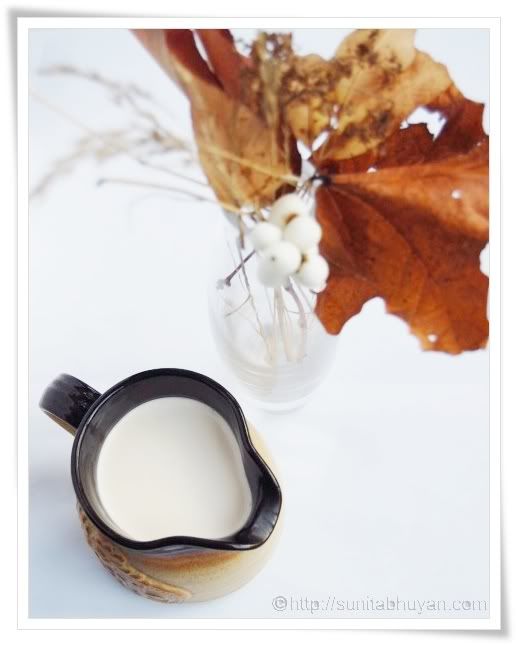 The fruits were cooked to perfection; just soft and yet held their shape and the oats and seeds added the crunch.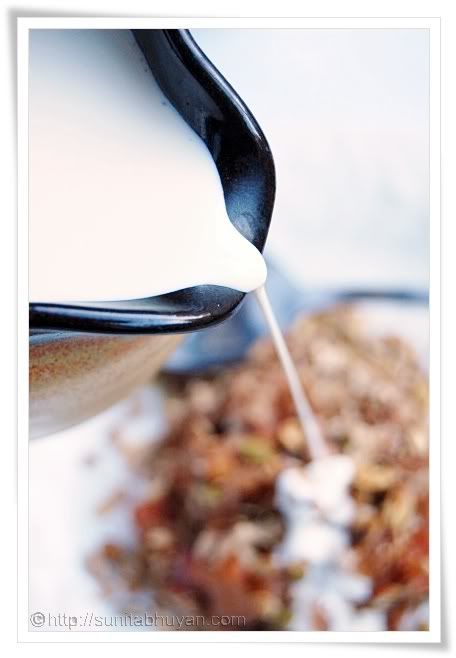 If you do not want to use seeds, add some chopped nuts instead.
The kitchen was filled with the aromas emanating from the crumble as the fruits bubbled away to glory. And yes, my quinces experienced the characteristic change of colour. After the full cooking and baking time, they turned into this lovely shade of pink.  A perfumed dessert? Oh yes!
It's official! I love quince. Now , let's see, what I can make with the other two quinces. Hmm.
Have a great weekend everyone !