The days are getting cooler and cooler. The coats, hats and scarves have been  dusted, ready to be put on. Today was a foggy morning. Myself, Rengoni and Agastya took the walk instead of the cycle path to their school.  We like doing that sometimes; days when we ditch our bikes and get our feet going in a different way.
The path was strewn all over with leaves in myriad hues. People in front of us were disappearing into the thick morning fog. Fog gives out such an element of mystery; a sense of the unknown. Agastya ran ahead, and Rengoni exclaimed as to how he seemed to vanish into the "smoke". It was cold, but we walked on, keeping each other warm with laughter and sharing stories, taking in our surroundings. I find that so rejuvenating. Probably nature has that effect on people.
As I was coming out of the kids' school, I got talking with one of the mums. You see, we meet each other every day and Rengoni and her daughter are in the same class and are quite close friends. Not just because of that, Sally and I get along well probably because we have the same outlooks and values towards life too. But, we hardly get to talk to each other a lot, both rushing off to attend to other needs and duties after dropping the kids. Today was different though, today we talked for a long time without realising how long we had been standing and talking, as if frozen to the spot. Isn't it nice to be able to share your thoughts with someone who has the same perspective as you. It can be so uplifting, so encouraging. Thank you Sally, you gave me a wonderful start to the morning. I was smiling all the way home, head brimming with ideas.
Yes, inspiration can come from all sorts of places. The inspiration for today's meal is Jamie Oliver himself. Actually, Dinesh bought some monkfish the other day. I had never worked with it and wanted some inspiration to cook this meaty fish. This is where Jamie came to the rescue. I love his fuss free and manageable recipes. This simple meal of  roasted monkfish with a black olive sauce and lemony mash on the side was a perfect lunch for us.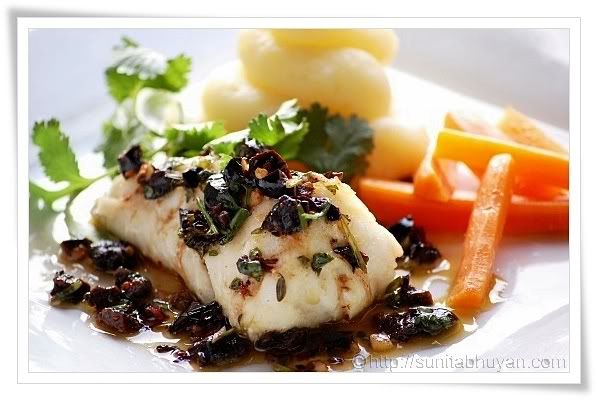 As Jamie says,
"Monkfish is a lovely meaty fish to cook. However, it does contain a lot of milky juices. This can sometimes be a pain because they tend to come out during cooking, so instead of roasting, grilling or frying, you end up almost boiling the fish in its own juices. So what I tend to do to stop this is season the fish with salt about an hour before cooking. This draws out any excess moisture – then I just pat it dry and get cooking. If you want to grill your monkfish, ask your fishmonger to butterfly the fillets for you."
As I have more or less followed the exact recipe, I will request you to please head over to the original recipe to see how it is done. The only thing I did differently, is that I used coriander, where it was asked for other herbs, and our plate also had some blanched carrot sticks on the side for that dash of colour.

These carrots were bought a few days ago from a local farmer's house.

The sauce was really very tasty. I'm already thinking of other things that could be done with it. Dinesh and I couldn't stop ourselves from having spoonfuls of it on its own.
All in all, my first experience of cooking with monkfish turned out to be a very nice one indeed. The meaty fish with the olive sauce, the soft mash and crunchy carrots went down very well.  So, Jamie, I guess, thanks are in order