Yes, I know, I know, many of you will probably not want to hear the "C" word yet. So, sorry, if I've reminded you that you've got a hundred and one things that need to be done before it arrives; getting gifts, planning trips!
I love festivities, I feel it brings a spark back to our lives.And please do not get me wrong. By festivities, I do not mean the commercialisation that seems to go along with them, nowadays. For me, it is more the heart warming feelings, the banter with your near and dear ones, and, of course, the special foods that are prepared on such occasions.
Now, if you go by most of my baking recipes, you will notice that I have a very soft corner for fruits and nuts. Every other cake or cookie recipe has them in some form or the other. I was in town the other day and seeing the brightly decorated streets and shops inspired me to bake this fruit and nut cake. Now, Dinesh is not a fan of fruitcakes. "Too rich", he says! But I so desperately wanted to make one! So, when he asked what I was up to, creating an uproar with my electric whisk  with about an hour to go before midnight, 'a cake' was the just what he got as a reply. Fruit cake , on the whole, gets so much of bad press, time to set things right and make my very own!!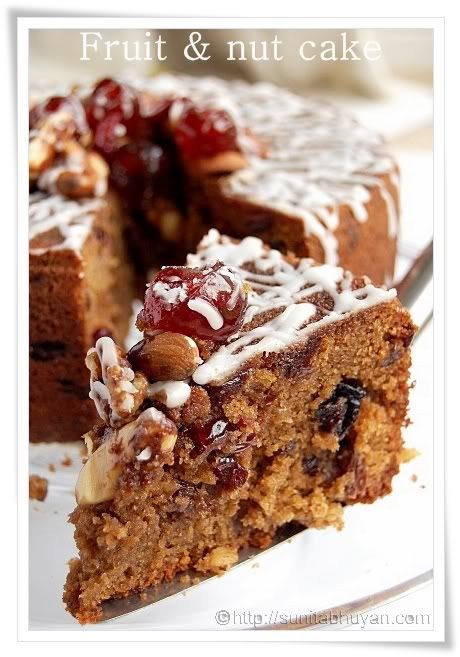 And into the night, I baked the cake, taking in the wonderful aromas that emanated from the kitchen. I left the cake to cool completely overnight (not that there was too much of a night left  at this stage, but you get the drift!) I decorated it in the morning and served as a mid morning snack.
Fruitcake (or fruit cake) is a cake made with chopped candied fruit and/or dried fruit, nuts and spices, and (optionally) soaked in spirits. In the UK, certain rich versions may be iced and decorated. Fruitcakes are often served in celebration of weddings and Christmas.
This was all I needed to get me started on my cake and before I begin, I must mention that this is my very own take on the classic fruitcake. Ideally, the  dried fruits are soaked in  fruit juice or alcohol, sometimes for months at a time, to get that flavour. The cake is also left to mature its flavours, for days. But I did not want to wait that long. Instead, I cooked the fruits in rum and fruit juice and they were soft and juicy. The cake was spiced with cinnamon and nutmeg. And we had it the very next day

Here's how I  made it-
What's needed-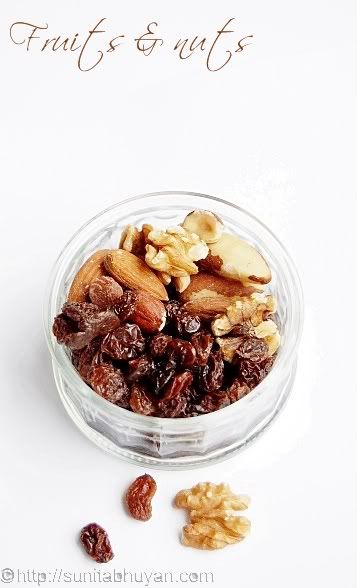 2 C of dried fruits (I used raisins, sultanas, cranberries)
1/2 C of  fruit  juice (I used red grape juice)) mixed with 5-6 spilling tblsps of rum ( you can use just rum, if you like)
zest of 1 orange
5 eggs ( medium sized)
1 and 1/2 C dark muscovado sugar
2 tblsp + 1/4 C of rum
1 and 1/2 c of vegetable/sunflower oil
2 and 1/4 C whole wheat flour (atta)
1/2 C ground almonds
1/4 C roughly chopped hazelnuts
2 and 1/2 tsp baking powder
1/2 tsp bicarbonate of soda
2 tsp cinnamon powder
1 tsp nutmeg
To decorate-
fruits and nuts of choice
a little melted chocolate to fix the fruits and nuts on to the cake.
a few tblsp of icing sugar mixed with some warm milk( thick, but pouring consistency) to drizzle over the cake.
How to-
In a small saucepan, soak the dried fruits in the juice and rum mixture for about 20 minutes. Place the pan over very low heat, and stirring gently, cook the fruits till they soften and the liquid has evaporated. Remove from heat, mix in the orange zest and keep aside to cool completely.
Pre heat the oven at 140 deg C and grease an 8 and 1/2 inch spring form pan.
Beat the eggs till fluffy. Add the sugar and beat till they are well incorporated. Beat in the oil and 2tblsp of rum.
In another bowl, mix together the flour, ground almonds, chopped hazelnuts, baking powder, soda, cinnamon and nutmeg.
Add the flour mixture to the egg mixture, in 3-4 batches and fold in.
Fold in the fruit mixture.
Spoon the thick batter into the prepared tin and bake for about 15-20 mins or till the top is nicely browned. Place a piece of foil over the pan and bake for another 55mins – 1 hr or till a skewer inserted through the centre of the cake comes out clean.
Cool the cake in the pan for about 10minutes. remove from the pan and place it upside down on a rack. Drizzle the 1/4 C of rum over the cake and also brush some of it on the sides. Cool completely. ( I left it overnight)
An hour before serving, decorate the top. Stick on the fruits and nuts with some melted chocolate and drizzle with icing.
Notes:
Feel free to substitute the given nuts and fruits with others of your choice.
You can substitute the rum with any fruit juice of your choice.
Ideally, a fruit cake should be kept for a month, or even months to develop the flavours. We were impatient and had to give it a try. Moreover, we do not celebrate Christmas, so did not have to worry about keeping it till that time ( my excuse). But yes, I must agree that the flavours get better with each passing day. Today is just the third day after I made my fruit and nut cake, and I can already feel the difference in the taste. This is called "ripening".  After the cake has cooled completely, wrap in liquor-dampened cheesecloth, and store in airtight containers in a cool, dark place. The fridge is fine, but don't transfer cakes to the freezer until the flavors have ripened and mellowed.
To store  fruit cakes for a long period of time, wrap the cake in brandy or wine soaked towels, and then wrap in either plastic wrap or aluminium foil.  Non liquor soaked cakes may be kept in a cool place or in refrigerator for short term storage or a freezer for long storage. Be sure to ripen fruit cake a few weeks before freezing.
If you are decorating the cake, then do so a little before serving.
The only thing I might do a little differently next time is to reduce the oil as there was enough oil from the nuts in the batter as well.
There you go!  Another fruit cake recipe to give a try. Did we love it? Without a doubt! The cake was all it should be, rich, but not too much; sweet, but not overtly. And yes, it was fruity alright. I'm sure to try this cake again, as we really loved it. I wouldn't bother icing the cake the next time. It tasted great as it was. This time, I just got a bit carried away; can't blame me though! The cake was a bit crumbly, but, mind you,  these are great tasting crumbs indeed!
A slice will go very well with a cup of tea/coffee.
And did I mention that we have a convert in our house; ever since he had a slice of the cake,  Dinesh has been hovering over the cake container all too frequently. And this was the man who didn't like any fruits in his cake!!
What about you? Are you a fruitcake person?