Yes, the holidays are on in full swing…the voices ringing through the house, are definite proof of it. The sounds of giggling, laughing, and of course, of small feet running down the stairs with a complaint. But, hey, what is childhood without a little squabble with your sibling

But, seriously, I am sometimes amazed at the close bond that seems to be developing between Rengoni and Agastya…they seem to have become really good friends. Although, they still do have their differences now and then, they are easily outnumbered by the number of times that they get along…sharing a joke, playing chase in the garden, poring over books and laughing or being bewildered at their contents; ganging up, in whispers, to creep up behind me and give me a scare,(although the whispers are always loud enough for me to hear and forcing me to stifle a laugh)…yes, the house is very much alive these days. And yes, like every other long holiday, makes me wonder as to how fast childhood flies by. Hope they cherish these days forever.
Now, a few days ago, I made this Orangey bread pudding which I really liked…
and would like to share with you. With a slightly citrusy flavour and a crunchy topping, it was a delight. Here's how it was created…
What's needed-
3 eggs
zest of 1 orange
1/2 C fresh orange juice
3/4 C milk
2 large slices of wholemeal bread
4 tblsp of honey
a handful of dates, chopped
a generous helping of almond flakes for topping
How to-
Pre heat the oven at 180 deg C and grease an 8 inch round pan.
In a bowl, tear the bread into small pieces. Add the orange zest and juice. Mix well and keep aside.
Whisk together the eggs, milk and honey.
Tip the egg mixture into the bread mixture and whisk till smooth.
Mix in the chopped dates.
Pour the mixture into the greased pan and sprinkle the generous helping of almond flakes on top.
Place the pan in the centre of the pre heated oven and bake for 30-40 minutes or till nicely browned and a toothpick inserted through the centre comes out clean. It should be firm round the edges and slightly soft round the centre.
Serve hot or cold with a sprinkling of icing sugar (optional)
*note-
It may puff up a bit while baking, but will settle down on coming out of the oven.
the slices of bread that I used were quite large and thick, if your's are thin, increase the number, but not by too many…the mixture should not be thick.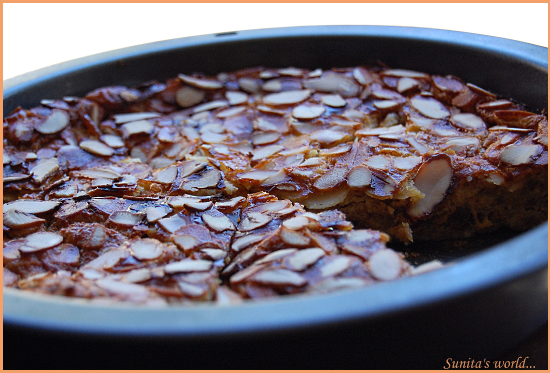 A simple , but yummy dessert is now ready to be enjoyed…a hassle free satisfaction for sweet cravings. And, if in the mood for indulgence, serve with a dollop of whipped cream. We liked ours simply like this…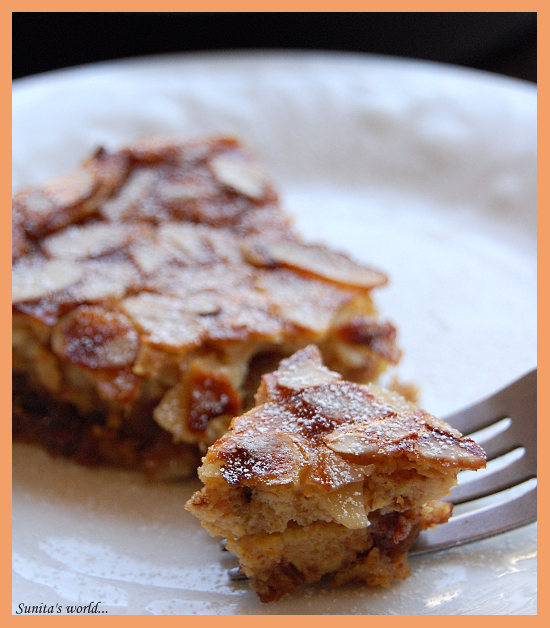 Enjoy!