A few days ago, we enjoyed bowlfuls of pasta with some almond, roasted tomatoes and bell pepper pesto.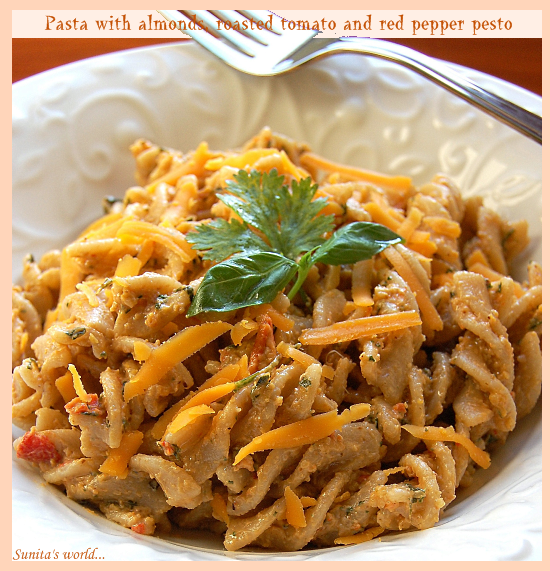 I did set out to make the usual one with basil, nuts, olive oil, cheese and garlic…and then decided to add some roasted tomatoes and bell pepper…and I am really glad I did. The extras made the pesto all the more rich and indulgent.
What's needed-
1/2 red pepper, deseeded and chopped
1 ripe tomato, chopped
a small bunch of coriander leaves
50 gms of fresh basil leaves
2 cloves of garlic, chopped
1 tsp of extra virgin olive oil+ more for pulsing
a small handful of almonds, chopped and lightly toasted
1/2 tsp crushed red chillies (more or less)
50 gms of Red Leicester or cheddar cheese, grated
250 gms of cooked pasta ( I used wholewheat fusili )
salt and freshly ground pepper to taste
How to-
Pre heat the oven at 250 deg C.
In a baking dish, toss together the tomatoes, red pepper, garlic, 1 tsp of extra virgin olive oil, salt and freshly ground pepper. Place the tray at the top rack of the pre heated oven and roast, turning them over now and then. When the tomatoes soften and lovely aromas emanate from the oven, they are ready ( rather vague, I know, but forgot the exact number of minutes…should'nt be too many, so, please do keep a watch)
Meanwhile , pulse the basil, coriander, almonds, crushed red chillies and half the cheese.
Add the roasted vegetables and pulse, pouring in enough olive oil to make a thick paste. Check the seasoning.

Toss the pasta with the pesto, serve in bowls and sprinkle the rest of the cheese on the top.
This is quite a filing dish, but we enjoyed it immensely.
Am sending bowlfuls of the above pasta dish to three dear ladies…
Ladies, hope you enjy it

******************************************************************************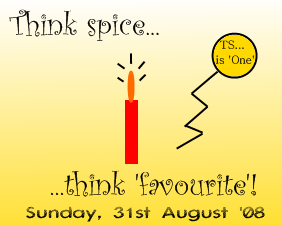 'Think spice…'
turns 'One' this month. To celebrate, the choice of spice has been left to you. All that needs to be done is to cook up
a dish with your favourite spice
, taking care not to drown it with too many others, and send them over. The
last date
to send in entries is the
31st of August,08.
The rules for participation can be found here. Non- bloggers are welcome to join in.