That was what got me when I went to check the daring bakers' challenge for this month. The daring bakers were not "baking " this month. Instead, we were supposed to be deep frying. We do not deep fry often at our home, but this being a challenge, I, like most of my fellow daring bakers, embraced it .
The November 2009 Daring Bakers Challenge was chosen and hosted by Lisa Michele of Parsley, Sage, Desserts and Line Drives. She chose the Italian Pastry, Cannolo (Cannoli is plural), using the cookbooks Lidia's Italian-American Kitchen by Lidia Matticchio Bastianich and The Sopranos Family Cookbook by Allen Rucker; recipes by Michelle Scicolone, as ingredient/direction guides. She added her own modifications/changes, so the recipe is not 100% verbatim from either book.
The recipe is pretty straightforward and I did not have any problems with it. In fact, we were given quite a lot of freedom , especially regarding the filling, and I do like that. The only hitch was that I did not have the  typical cannoli tubes to make the shapes. But again, fellow daring bakers came to the rescue with plenty of options. And Idecied to use dried pasta to wrap the rolled pieces of dough. I made mini sizes with some dried penne pasta ( inspired by her).
Instead of plain flour, I used whole wheat. I made half of the given amount  and from that, I divided it into half again. I made a sweet portion by adding some cocoa powder to the dough.
I spiced up the other portion with some paprika, cumin seeds, black sesame seeds and crushed red chillies to make savoury cannoli; did not add any cinnamon to the savoury version.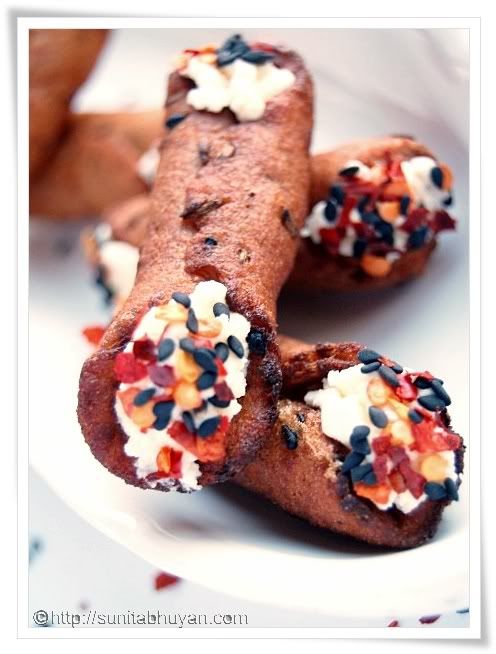 I shaped the savoury ones in the typical cannoli shape and the sweet ones rectangular . I filled the savory version with some soured cream and dipped the edges in a mixture of crushed red chillies and black sesame seeds.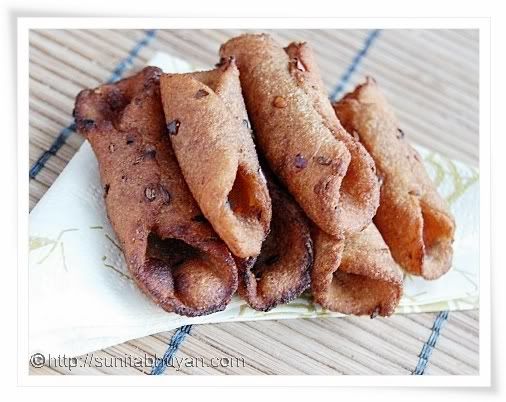 The sweet version was stacked with a mixture of whipped cream and a layer of orange pieces. A few orange pieces were also placed on the top and the whole dessert was dusted with icing sugar.
We adored the savoury version. All the spices had really perked up the cannoli shells and the simple filling with the heat and bite from the chilli and sesame seeds added the final touch.
You can find the recipe here.
Thanks Lisa for this lovely challenge.
Now I need to pack my bags for the Food Bloggers Connect in London tomorrow. Those of you who are attending, hope to catch you there. Have a great weekend and I will see you next week.