It has definitely cooled down in our neck of the woods. Even when the sun is shining, the rays don't strike you as harsh. With the rains coming on and off, temperatures have not had that much of a chance to soar, for quite a while, now.
The kids holidays are on in full swing. We haven't been running around like crazy…just letting things be , taking each day as it comes, being lazy at times…just enjoying the feeling of being together. Only a couple of weeks to go before returning to the bustling routine…better make the most of it.
Talking of the kids, Rengoni and Agastya have been reminding me about the pizza that I had promised to make for them, for quite a couple of days. They had been on their best behaviour for quite a while … been also helping in clearing out 'a lot' of their clutter. I was actually amazed that they managed to let go of so many of their things as "too babyish". Hmmm, they must be really growing up!
Last Friday, I wanted to surprise them with the promised pizza for lunch. But, clearing out their clutter did take an awful lot of time, and by the time we were done, it was late morning…and I had not readied the dough. I felt bad…looked around and grabbed the jar of baking powder for a quicker solution than the yeasty one for the base. And I was so very pleased that I did so… a delightful crust was ready in a a jiffy. And, after a short while, the pizza was made and devoured.
What's needed-
For the crust-
1C wholegrain spelt flour or wholemeal flour
1 and 1/2 C plain flour
1/2 tsp salt
1 level tblsp baking powder
3 tblsp of extra virgin olive oil
1 tsp dried oregano
1 and 1/4 C water (a little more if using wholemeal flour)

For the topping-
1/2 C of tomato puree
1 carrot, finely chopped
small red onion, finely chopped
3-4 cloves of garlic, finely chopped
3-4 close capped mushrooms, sliced
1 tblsp extra virgin olive oil
3/4 C sweetcorn
1 tblsp of dried oregano
salt and freshly ground pepper to taste
100 gms of cheddar cheese, grated
How to-
Pre heat the oven at 230 deg C and line a baking sheet.
In a bowl, mix together the flours, baking powder, salt and oregano. Rub in the oil.
Pour the water and knead quickly( a little longer if using wholemeal flour) into a soft dough. If it is very sticky, add a little more flour, but not too much…the dough must be soft.
Roll out the dough on a floured board, into a circle of 11 inches in diameter. Transfer the rolled out dough to the lined baking tray and poke lightly over the surface with a fork. Place the tray in the centre of the pre heated oven and bake for 8 minutes. Remove from the oven and keep aside.
While the crust bakes, prepare the topping. Heat the oil and add the carrots, sweetcorn, onion and garlic, and fry for a minute. Add the mushrooms and oregano and cook for another couple of minutes, till the mushrooms soften slightly. Season with salt and freshly ground pepper and remove from heat. Cool slightly.
Spread the tomato puree over the base of the crust, leaving a border of about 1 inch, and follow with the cooked topping, taking care to avoid adding the juices. Sprinkle the cheese and follow with a little more ground pepper.
Return the tray to the centre of the pre heated oven (230 deg C) and bake till the cheese melts and is golden…approximately 8-10 minutes.
Now what? Cut into wedges and serve hot, especially to two hungry kids and their mom (leave a couple of slices for the dad to taste) and watch their faces light up

The pizza was wonderful…the soft crust made me, in fact all of us, very happy indeed. I served the pizza along with glasses of mango and saffron milk for a delightful lunch…
and was greeted by four, little, raised thumbs.
Sonny boy, holding it up for a closer inspection!

Related posts-
******************************************************************************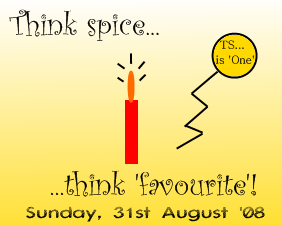 'Think spice…' turns 'One' this month. To celebrate, the choice of spice has been left to you. All that needs to be done is to cook up a dish with your favourite spice, taking care not to drown it with too many others, and send them over. The last date to send in entries is the 31st of August,08.
The rules for participation can be found here. Non- bloggers are welcome to join in.