Didn't I tell you in my last post that the weather is definitely cooling down. Look at those leaves up there…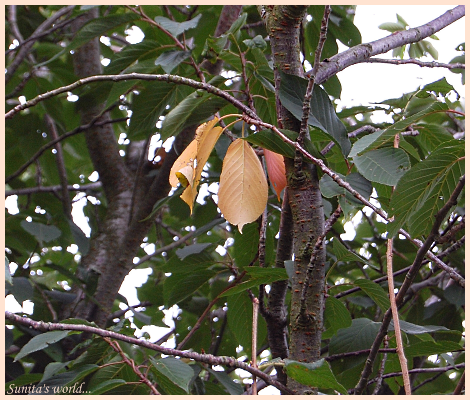 and also these ones…
which were strewn across our garden, picked up the li'l ones.Yes, autumn seems to be creeping in quietly.
Now, recently, on the kitchen front, I have been using wholegrain spelt flour in quite a few recipes and have really enjoyed the experience. I have used it in pizzas, pancakes and in a loaf.
'Spelt flour is the name for the original wheat grain that was grown before modern farming techniques, selective breeding and genetic modification took place. It is much easier to digest than modern day wheat and is usually fine for people with an intolerance to modern day wheat flours and products. It has a lovely nutty flavour and also makes excellent pastry, cakes and biscuits with normal wheat recipes.'
I made the loaf of bread with spelt a couple of days ago, and we really enjoyed it.
Regarding the use of spelt in bread, the following should be kept in mind…
'Spelt has an

"extremely fragile" gluten content

. While that may be a negative from the perspective of getting your bread to rise, it is also what makes spelt bread easier to digest. Spelt does not rise quite as high as wheat flour. But, it tastes so good, you probably won't even notice that your bread is underinflated .
You must use the

correct amount of water

. Too much, and the dough is sticky and weak and will not be able to hold the gasses that are produced during the fermentation process. Too little, and the dough will be dry and dense. It will not rise properly because the water never fully gets into the protein and there is nothing to hold the loaf up. Also, the dense loaf is too tight to allow the yeast gases to expand the loaf.
You must also

mix it just right

. Too little mixing causes the dough to be crumbly (one of the problems you mention) and it will not develop the necessary protein to cause it to expand properly. A dough mixed too long will break down the fragile protein strands that hold in the gases. The first few minutes of mixing are critical. From the moment you add the water to the flour, you should take no more than 4 minutes to mix the dough completely.

The best way to get a better risen loaf is to

make a starter

. Spelt flour is high in complex carbohydrates, which should be reduced to simple sugars so that they feed the yeast. By creating the starter in advance, you boost this process, and your bread should have better cell structure, greater loaf volume, and a lighter crust.'

(sources- here and here )
I tried to follow all the above, but must admit that I didn't make the starter (plain lazy) and proceeded as normal. The end product was still very tasty.
I used Dove's farm Organic wholegrain spelt flour, which I found in the local supermarket.
This is how I baked our loaf of bread packed with the goodness of spelt…
What's needed-
2 and 1/2 C wholegrain spelt flour and a little extra for dusting and kneading
1c plain flour
3 tblsp fast action dried yeast
1/2 tsp salt
1 tsp vegetable oil
2 C warm water
2 tsp of sesame seeds for topping
1 tblsp of melted butter for brushing the top
How to-
Mix the flours together.
Mix the yeast with half the water, add to the flours and mix roughly with preferably a wooden spoon.
Mix the salt with the rest of the water and add to the flour. Mix well.
Add the oil and knead for about 4 minutes. add a little more flour if the dough is too sticky, but not too much, a tblsp at a time.
Transfer the dough to a clean and oiled bowl and roll it around to coat with oil. Cover with plastic wrap and leave in a warm place to let the dough rise for an hour or till doubled in volume.
Transfer the dough to a floured board and knead for a couple of minutes. Shape into a loaf and place it in an oiled 9 inch loaf pan. Sprinkle the sesame seeds. Cover with an oiled plastic wrap and leave to rise for another 20-30 minutes.
Pre heat the oven at 220 deg C.
Place the loaf tin in the centre of the pre heated oven and bake for 15 minutes. Place a piece of foil over the pan and bake for another 15-20 minutes. This prevents over browning of the crust.
Brush the top with the melted butter. Run a knife lightly around the edges and take out the bread. Cool completely on a rack before slicing.
We really loved the nutty flavour of this bread. I made some sandwiches with the bread, which, we had outdoors, to enjoy whatever little bit of summer was still left.
Spelt bread sandwiches with a spicy poached salmon, sweetcorn and cucumber filling,mixed together with some greek yogurt.
Am sending this bread over to Susan at Wild yeast, as an entry for Yeastspotting.
******************************************************************************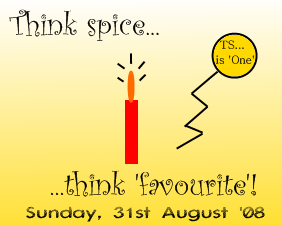 'Think spice…' turns 'One' this month. To celebrate, the choice of spice has been left to you. All that needs to be done is to cook up a dish with your favourite spice, taking care not to drown it with too many others, and send them over. The last date to send in entries is the 31st of August,08.
The rules for participation can be found here. Non- bloggers are welcome to join in.