Yes, after all the talk, it was finally time to pack and hop on the train to  attend the Food Bloggers Connect in London, the first ever food bloggers' conference  in this part of the world. I was leaving the kids for an overnight stay for the very first time since they were born. But after a few initial querries, they took it in their stride; Rengoni even offered to help me pack, which I subtly refused though

This event was the brainchild of Jamie, Hilda, Bethany and Mowie; four very talented bloggers in their own right.
Before I go further, let me thank all those numerous people who carried my rather large suitcase up the stairs in tube stations without even been asked to. Some even insisted with a smile. I usually like to carry my own luggage, but I must admit that on this occasion, I was more than happy to be helped. This also made me fall in love with the world again and made me feel that all is not lost yet. There is still plenty of kindness being showered around. So, to all those good Samaritans out there, thanks again, everyone! It's people like you who make the world a better place to live in !
Now, getting back to the FBC, I must admit,  that inspite of all the enthusiasm, there was a slight apprehension too, in some corner of my heart. The 'what if' question seemed to be  getting louder in my heart as I approached  my destination. We went along so well in the virtual world; but will we in reality? Before leaving home, even Rengoni marvelled at the thought of  me spending time with so many people whom I've never met before and even sharing a room with two of them. But, all those nagging doubts soon disappeared into thin air once we met, and we got along as if we had always known each other. Hugs and cheerful banter was the order of the day. There were about 50 of us, few I've known for a very long time and some were new faces. But it did not matter; food was the common thread that bound us all together.
See those smiles? It's like they've always known each other! Clockwise from top- Pam, Davina, Ozoz and Kerrin exchange pleasantries
First , there was mingling,

From left- Kerrin, Alessio, Nic, Myself, Claire, Deeba and Pam( photo credit-Davina)
and then it was lunch time. The event was held at the Lebanese restaurant Levant.
The buffet was fabulous; we ate to our hearts' content. A few snapshots; well, you didn't expect a food blogger to eat without taking pictures first, did you!
From left- myself, Deeba, Nic and Pam sharing a laugh.(photo credit- Davina)


Aromatic mint tea being poured with a flourish!

Reaching out for the sugar fix!

These gorgeous cupcakes were sponsored by Lola's ( through Davina's efforts).
This was folllowed by presentations by Kang ( social media and low light photography) and  Meeta (photography basics), Jamie and Jeanne (copyright and writing voice) and each one did a great job; so many tips and tricks to be learnt; thanks to all four of you.
Clockwise from top left- Kang, Jamie, Meeta and Jeanne
So, after all the eating and chatting and collecting our goodie bags,
it was time to say goodbye to most of the people; but if you thought the fun ended there, then you are truly mistaken! Well, that was just lunch, dinner was yet to come! A little later, a small group of us who were staying over, headed towards Vivat Bacchus ( Jeanne had found this lovely place for us in Central London). There were just 11 of us this time and it was once again a light hearted atmosphere with everyone chatting away to glory. And then the food arrived, and without a cue, cameras came out from everywhere spontaneously!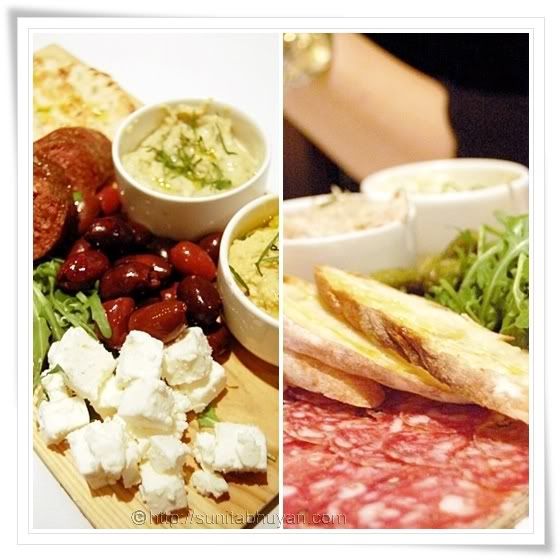 Clockwise from top- Mowie, Meeta and Alessio deep in conversation and later Alessio shares a laugh with Jamie.
No, please do not leave yet; there is still more to come! That was just Saturday, Sunday's story is yet to be told! In the morning, me and my room mates, Pam and Deeba left our hotel and headed to Baker street to join the group for a Marylebone Village Food Lovers' Walk.

Me and my room mates( myself, Deeba and Pam)
The weather was miserable, but  there was too much of good food and good company around,to care !  I love farmers' markets and this one had some great items and plenty of home made goodies for us to oggle at.
No rain can dampen the spirits of this jolly bunch!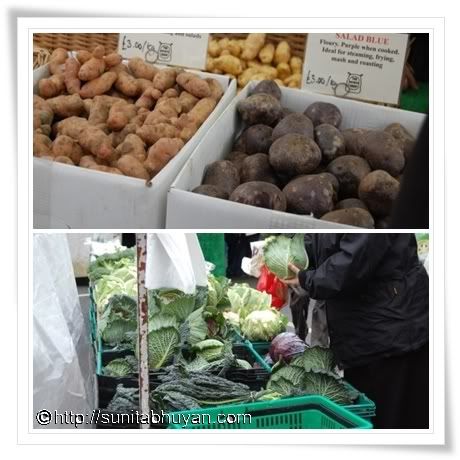 From left- Sarah, Deeba, Jamie, Alessio, Pam, myself, Mowie and Bethany(Photo credit- Ozoz)
This specialist cheese shop , that we came across on our way to lunch, caught our fancy pretty quick and we found it  too irresistable not to step in and look around. They had a cheese room, and it was not long before we started clicking away. If you are a cheese freak ( which I am), this is the place to be. Meeta ( another cheese freak) and I thought we could almost live here forever!
We were  thoroughly famished by now and frantically hunted for a place that would sit all thirteen of us together . We found a place and the eating ( and clicking) began all over again!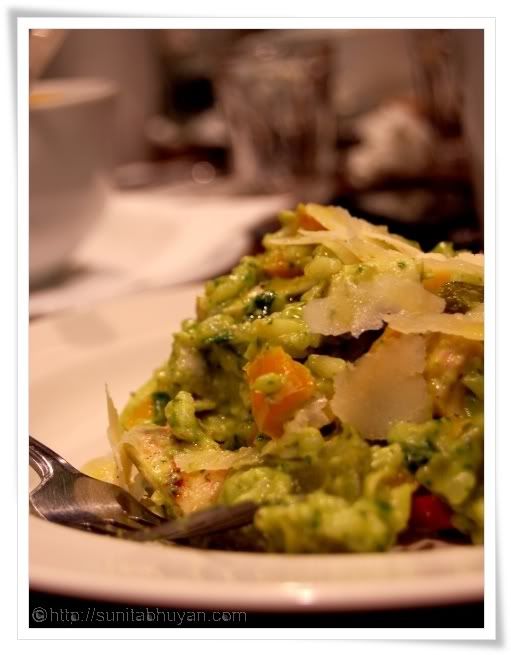 Finally, it was time to say goodbye, and me, Pam and Deeba headed towards our hotel to collect our luggage and head towards home. Yes, it was the end of our weekend( Pam did stay longer) and I must say that I was sorry to be parting from all those amazing people. It  felt as if we've always known each other.
And yes, I was showered with so much love from different parts of the world; Meeta, Pam, Deeba, Alessio, Hilda, Mowie, Claire, thank you so much everyone, for those amazing gifts; Christmas came early! The kids are on a candy high

Phew! Hope I haven't over fed you, but I thought it was better to get it out of the system before I forget everything. It was such a surreal experience  to meet those people whom I've only known virtually, and give them a real hug. The weekend passed by in  a daze, and though I had lots of fun, at the end of it all, it was nice to see the hubby waiting at the station to take me home.
I'm now looking forward to next year , with even more enthusiasm. Do keep checking the FBC website for more details on this and forthcoming events!
Take care, and stay tuned for my next post for a give away on a special occasion!