Firstly, the li'l guy (and of course, his mom) thanks all of you who took the time to drop by and leave warm wishes on his special day…we do appreciate it very much.
On another note, chicken is the meat that is mostly found on our plates, but not that often.We usually have it just once a week, well, sometimes, not even that at all. We are more a 'fishy' type of family(now, wipe off that smirk from your faces….you know what I mean

)
The creamy cashew chicken that is featured in today's post is definitely not one for the faint hearted…
is liberally doused in butter, cream and cashewnuts. If this has scared you, you better make your quiet exit now, I'm not looking

But, if you've been good with your health for quite a while, and wouldn't mind in indulging in a rich and creamy chicken curry, for a treat, then, you're most welcome to join me in the journey.
This is one curry which we indulged on, after how many days? Well, I simply don't know…let's say 'ages'. But, it was truly a treat…chicken, slow cooked in a mixture of fresh and ground spices and ending with a rich cashew and cream mixture, resulting in a heavenly gravy.The ingredient list is a bit long, but this is supposed to be an indulgence, remember? The process, is also relatively simple, but, with uncompromising results in the taste department. Here's how I made this decadent and creamy cashew chicken .
What's needed-
750gms of chicken pieces (I used mixed pieces from a whole chicken)
3/4 C of cashewnuts, soaked in water for 15-20 minutes and ground to a slightly rough paste(using enough water)
4-5 (more or less) dried red chillies, slit,deseeded and soaked in hot water for 15-20 minutes
2 onions, chopped
4-5 cloves of garlic, chopped
1 and 1/2 inches of ginger, chopped
2 tblsp of butter
3-4 tblsp of cream, mixed with the ground cashews and kept aside
1 tblsp of sugar
1 tblsp cumin seeds
2 bay leaves
1 whole red chilli
3 pods of cardamom
2 cloves
1 inch cinnamon stick
1 tblsp tomato puree
1 tsp turmeric powder
1 tblsp kitchen king masala
1 tsp garam masala powder
salt to taste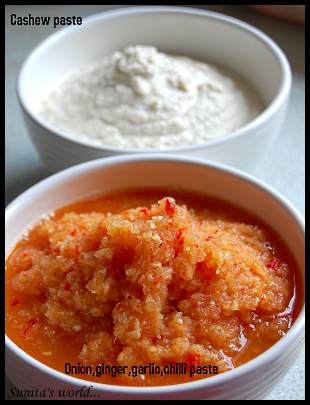 How to-
Grind together the onion, ginger, garlic and soaked red chillies to a rough paste and keep aside.
Heat the butter in a pan, over medium heat, and add the bay leaves, cumin seeds, whole red chilli, cinnamon, cardamom and cloves.
When the spices begin to release their aroma, add the sugar. When the sugar melts and begins to caramalise, add the onion, ginger, garlic and chilli paste. Add the turmeric powder, kitchen king spice blend and tomato puree, and fry, stirring continuously till the moisture evaporates and the mixture becomes lumpy.
Add the chicken and season with salt. Stir well, cover and cook over low heat, stirring now and then, till the chicken is very nearly done and the juices have reduced to half.
Add the cashew-cream mixture and the garam masala powder. Stir, and simmer over low heat till the chicken is completely done. If the gravy thickens too much, add a little water.
Remove from heat and serve hot with rotis/naans/puris or plain rice and some fresh salad.
That's it…not too hard to make, is it! I got our rotis made while the chicken was cooking away to glory over low heat. As this is a rich curry, there were some left for the next day, which tasted even better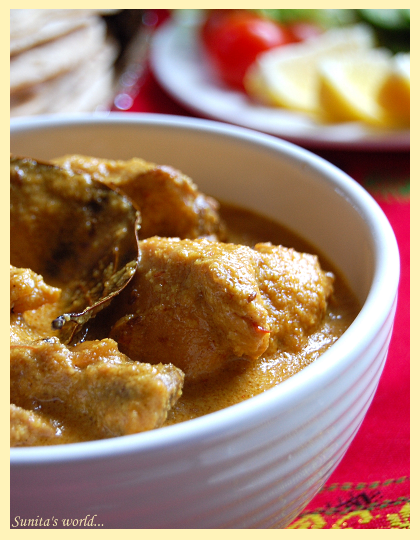 Enjoy!
******************************************************************************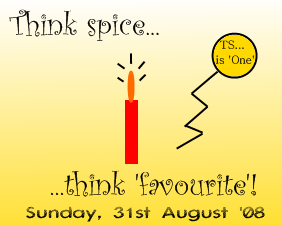 'Think spice…' turns 'One' this month. To celebrate, the choice of spice has been left to you. All that needs to be done is to cook up a dish with your favourite spice, taking care not to drown it with too many others, and send them over. The last date to send in entries is the 31st of August,08. Hurry… 6 more days to go!
The rules for participation can be found here. Non- bloggers are welcome to join in.