It's back to school today…and once again, I found myself a bit hesitant to enter the house…the quiet and grim house… after dropping the kids off at school. It seems so different after six weeks of non stop hustle and bustle, laughter, and of course, the squabbles.
But, on the brighter side, it was nice to see them so enthusiastic and ready to start another new year in a new class and, of course, in smart new uniforms…don't they grow out of their clothes so quickly

Yes, it was nice a nice ride to their school, taking in the slight nip, which accompanies the air, at this time of the year.
Some time back, I was on a peanut butter and nutella high. It seemed as if I couldn't have enough of them… gorged on them like there was no tomorrow….and the waistline shows it all

Now, let me share a very simple recipe with you today. The following crispy nutella squares…

were made over the holidays. They are very easy to make and is a nice treat.
What's needed-
1C wheat flakes
3 and 1/2 tblsp whole wheat flour(atta)
1/4 tsp bicarbonate of soda
a pinch of salt
4 tblsp nutella
2 tblsp oil
3-4 drops of vanilla essence
5 tblsp hot water
How to-
Pre heat the oven at 180 deg C and line an 8 inch square pan with aluminium foil.
In a bowl, mix together the wheat flakes, flour, salt and soda.
In another bowl, mix together the nutella, oil and vanilla and water.
Add the nutella mix to the flour mix and mix well with fingertips.
Transfer the mix to the the lined pan and spread out evenly, pressing down at the same time ( the mixture may be a bit sticky…damp fingertips will help ).
place the tray in the centre of the pre heated oven and bake for 20-22 minutes.
Cut into 16 squares and cool completely on a rack before storing in air tight containers.
That's it! Yummy , crispy, nutella treats are now ready to be munched.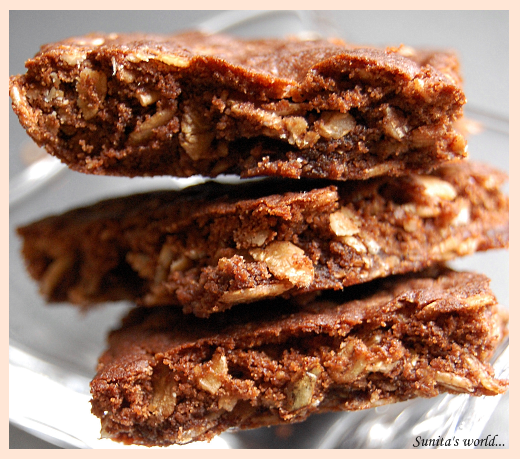 **********************************************************************************
Think spice…
This month's edition of
Think spice…
is being hosted by Kittie of
Kittens in the Kitchen
. She has chosen fenugreek as the spice of the month. Do check out
her space
for the rules. The deadline for the event is the 28th of September.