Moving house? Yes, we are moving house. Where to? Well, just a few streets away. So that must not be too bad? In a way yes, and in other ways , no!
You see, the house that we are living in, is the house, where we have lived together as a family for the most number of years- more than five years now. It was from here that Rengoni and Agastya first attended school; it was here that they lost their first tooth and couldn't sleep from the excitement of the tooth fairy coming to visit. It was also in this house that they progressed in their reading from Enid Blyton's Noddy books to a Famous Five. It was from this house that they first learnt to bike, to let go of those stabilisers. It was from this house that they first went to step into the water and learn to swim.
It was from this house that we would take the winding cycle path every morning and afternoon to and from the kids' school .
I have spent countless mornings and evenings admiring the beauty of the sunrise…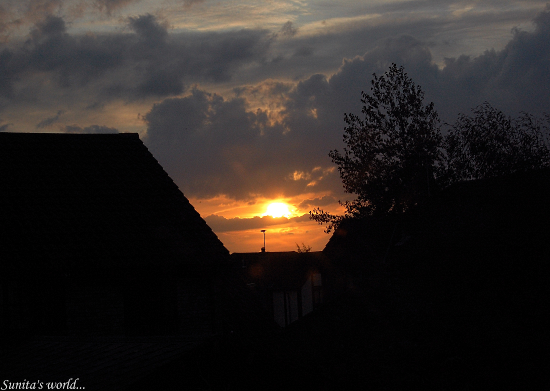 and sunset from my bedroom window;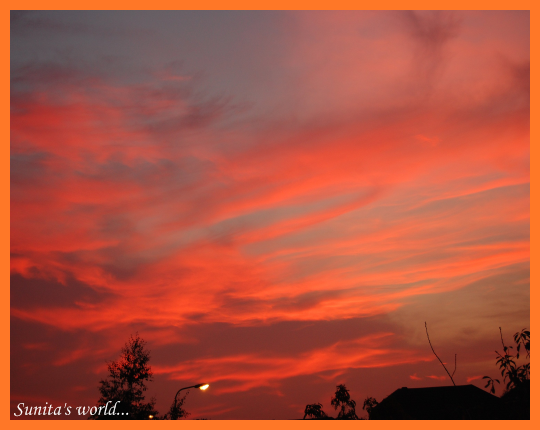 watched so many seasons change -

And most importantly, I started my blog from this house. I have spent countless hours late into the night trying to grasp the intricasies, running around the house and taking pictures. I have learnt so many skills here.
Yes, there are so many memories in this house, it's as if we've grown roots. And yes, we will be sad to leave this house. When we pack up and leave this house for good, we will not only be packing our possessions, but also all the memories of all those happy times that we spent here.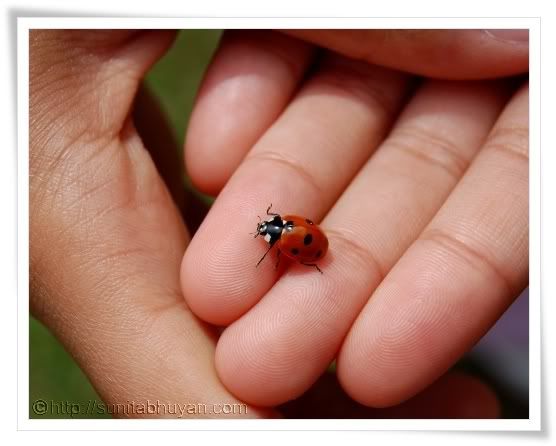 So many sweet little memories
But then again, I am also looking forward to creating new memories in the new house.
There are still lots of wrapping and packing to be done. And while  I do that, you can relax and enjoy this tortilla wrap filled with succulent tandoori style baked chicken, a soured cream spread and salad.
What's needed-
The measurements given below are for one whole chicken ( about a kilo)   cut into 12 -13 pieces. I did not need all of it for this wrap, just a few pieces. With the rest, I made something else, the recipe for which I will share shortly. If you want to make just a few pieces for these wraps, reduce the amounts for the marinade accordingly.
1 whole chicken (about a kilo), skinned, cut into 12-13 pieces and make slight cuts on top
7-8 tortillas ( if you want to make them, here's the recipe)
lettuce
1/2 of a cucumber, cut into thin strips
300 ml of soured cream
a small bunch of coriander, finely chopped
1 tblsp cumin powder
1 tsp crushed red chillies ( more or less)
a pinch of salt
freshly ground pepper
For the marinade-
1 and 1/2 C of plain yogurt
2 tsp paprika( I used smoked)
1/3 tsp turmeric powder
2 tsp garam masala powder
1 tsp chilli powder ( more or less)
a pinch of saffron
3 tblsp of sunflower/vegetable oil
salt to taste
How to-
In a bowl, mix together the soured cream, coriander, cumin powder, pinch of salt and crushed red chillies and keep aside.
Place the pieces of chiken in a bowl and add all the ingredients for the marinade. Mix well. Cover the bowl and keep it aside for at least an hour.
Pre heat the oven at 250 deg C.
Arrange a rack over a wide tray. The tray will catch the drippings from the chicken as it bakes.
Arrange the pieces of chicken on the rack. Place the trayh in the centre of the pre heated oven and bake for about 45 min-1hr or till the top is nicely coloured and the chicken is cooked. Keep brushing the chicken pieces with any left over marinade. Also, turn over the pieces of chicken every now and then. Tear the flesh from the bones of a few pieces of chicken.
At this stage, you can either savour the srumptious pieces of chicken, using the sour cream mixture as a dip and the salad on the side, or continue to the next step

Warm the tortillas. Take one and spread some of the sour cream mixture on it. Do not take it to the very edges. Sprinkle some of the lettuce, followed by chicken and cucumber. Sprinkle some freshly ground pepper and also some crushed red chillies (if desired). Fold the sides a little and roll it up from one of the other sides. Cut into half and serve.
These wraps were really delicious. The succulent and spiced chicken, the crunchiness of the raw vegetables and the creamy spread, all nestled within the folds of the warm tortilla was a delight to bite into.
These wraps would make a wonderful lunch box filler.

All gone!!