What a gorgeous day it turned out to be, today. The sun was in it's full autumnal glory, there was a slight breeze accompanied by that nip in the air, which is so common for this time of the year. Yes, I love autumn.
Now let's talk about parathas. Well, there will probably be very few who are familiar with them and don't like them. We are definitely not among those few. Parathas can hardly go wrong, what with the zillions of combinations that can be rustled up, making them a meal in themselves. Whether enjoyed at home on their own or with other curries or with some yogurt and pickle, they form a nice , filling meal. They also form a fuss free item to pack in the lunchbox.
I don't mind making stuffed parathas, but must admit that I more often resort to adding everything to the dough itself. The following tomato and paneer parathas…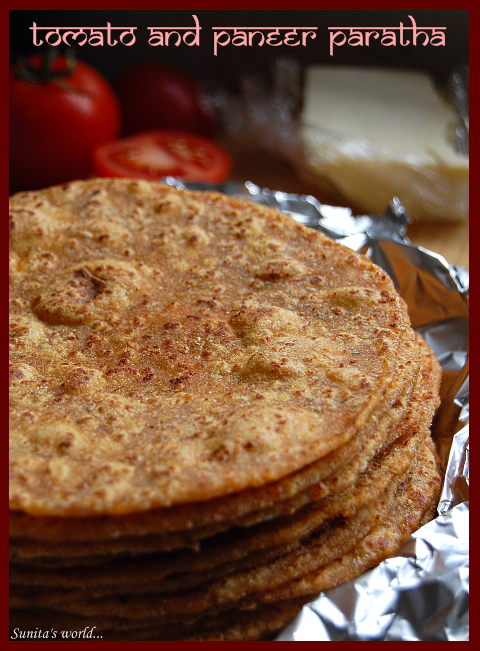 are another one of such.
What's needed-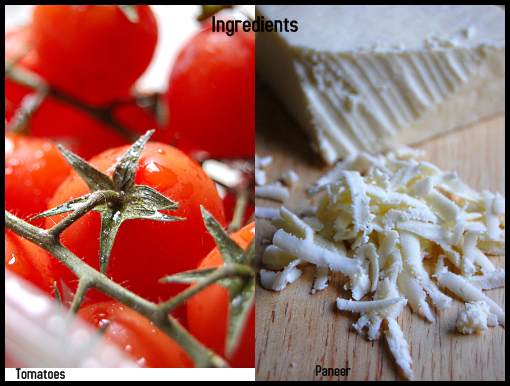 3 ripe, medium sized tomatoes, chopped
4 cloves of garlic, chopped
1inch of ginger, chopped
1 small onion, chopped
4 and 1/2 C of whole wheat flour(atta) + extra for rolling
1/2 tsp turmeric powder
1 tblsp cumin powder
1 tsp cumin seeds
1 and 1/2 tsp garam masala powder
1/2 tsp chilli powder (more or less)
1 tlsp (level) salt
150 gms paneer, grated
2 tblsp oil
2/3 C water
How to-
Blend together the tomatoes, ginger, garlic and onion in a food processor with the water.
In a bowl, mix together the rest of the ingredients.
Tip in the tomato mix into the flour mix and knead well to form a ball of dough.
Cover the bowl with plastic wrap and let the dough rest for at least half an hour.
Divide the dough into 16 equal portions, and slightly flatten them. Roll the balls in the extra flour.
Roll out each ball into discs of about 6inches in diameter.
Grease a griddle ( I used non stick spray) and place a rolled out disc onto it. Cook over medium heat for 10-11 seconds. Turn over and repeat. Turn and cook again on each side for 4-5 seconds or till dark brown spots appear. Repeat for all the other balls of dough.
Stack them, one atop the other and cover with foil, if using later.
Serve hot with dal, curries, or just with yogurt/pickle.
We had yogurt/pickle with the parathas for dinner.
My choice- yogurt!
Related posts-