We woke up to a very foggy morning today. It was quite cold, but we did not mind. It is nearly the end of December, and we've hardly experienced this kind of cold, this year.
We do not get snow in our neck of the woods during this time of the year. But, usually,  the grounds would be covered with frost. The kids ride their bikes over the crisp frozen grass just to hear the sound of the blades of grass crackle under their wheels. The leaves glisten and shimmer with their crystallised look. It is all a part of the nature that we've got used to.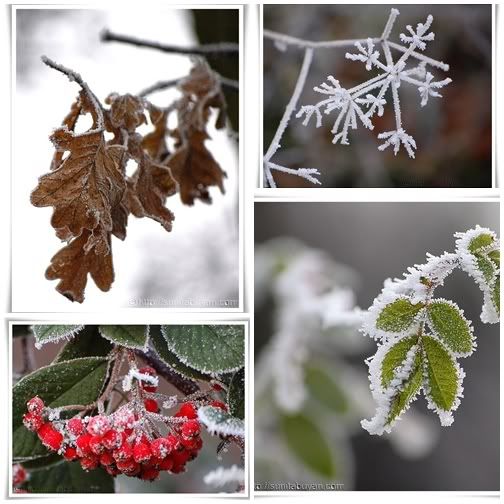 But this year has been a different story altogether with hardly any frost. Actually it is a bit worrying, don't you think, when nature does not behave as it should?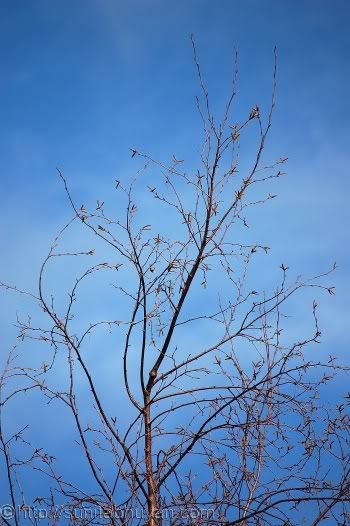 But, cold or not, the festive feeling that can be seen during this time of the year has definitely made it's appearance all around us. Shops are decorated, houses are being illuminated beautifully and the people are rushing around to get everything associated with the festival, done.
It's the Christmas fair in Rengoni and Agastya's school today. I have been busy yesterday, making lots of cupcakes to donate towards it. We've handed them in today and they "can't wait"  for the fun in the evening. We do not celebrate Christmas at home ( though Santa does pay his visit so that they do not feel left out) but the festive spirit is so contagious, how can they not want to join in!
And talking about Christmas, a couple of weeks ago, it was as if it came early. I returned from the FBC '09 loaded with goodies from some of my favourite fellow bloggers. One of them was a pack of pfeffernusse ( translated as pepper nuts), a German spiced cookie. It came from the very talented Mowie.
From the very moment, I took that first bite into one, I knew, I would be making this cookie very soon! The taste was something which I find quite appealing- a dark, soft cookie laden with spices.
And yes, I did make the cookie.
I would rather call this an inspired cookie than a pfeffernusse, just in case a traditionalist comes barging in

. I took the taste of the cookie and worked out a combination for mine, which was very close to the intense taste of the original. From what I've heard, at the time when the pfeffernusse finish baking, the cookies are quite hard and they soften gradually. Mine were slightly soft when they came out, hardened a little on cooling and then, on storing, came soft again, just as I wanted them to be.  Mowie's cookies were coated in icing, while I just rolled mine in icing sugar. They taste nice even without it, but  did I not tell you a short while ago about the contagious nature of the festive spirit?
What's needed-
1 and 1/4 C of whole wheat flour ( atta)
5-6 tblsp of jumbo oats
2/3 tsp ground cinnamon
1/3 tsp ground nutmeg
3/4 tsp ground black pepper
1/4 tsp ground cloves
3/4 tsp bicarbonate of soda
5 tblsp of blackstrap molasses (or use 4 tblsp closely packed dark brown sugar mixed with1 tblsp of water )
4 tblsp of sunflower/vegetable oil
1/3 C of milk
icing sugar to roll the baked cookies
How to-
In a bowl, whisk together the flour, oats, cinnamon, nutmeg, pepper, cloves and soda.
In another bowl, whisk together the milk, molasses, and oil.
Make a well in the centre of the flour mixture and tip in the milk mixture. Fold in, preferably with a rubber spatula till everything comes together. Do not over mix.
Cover the bowl with plastic wrap and chill the mixture for at leats two hours.
Pre heat the oven at 170 deg c and line a baking tray with foil.
Scoop[ out tspn fuls of the mixture and shape into balls (lightly oiled hads will help). The mixture will yield about 26-27 cookies.
Arrange the balls, slight apart from each other on the tray.Very slightly flatten the tips of the balls.
Place the tray in the centre of the pare heated oven and bake for about 22-24 minutes.
Cool the cookies in the tray for about five seconds and transfer to a rack to cool completely.
Once cooled, roll the cookies in icing sugar and store in airtght containers.
These cookies are so addictive. I should know as I've been reaching for the container all too frequently.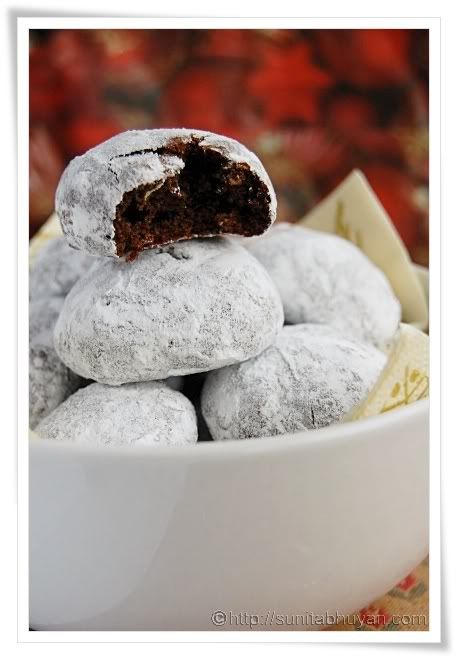 In fact, I enjoyed a couple as I wrote this post! The spices in the cookie tingle the taste buds. Pepper plays an important part in this cookie and takes it to an entirely different level.  I will be making these cookies quite often.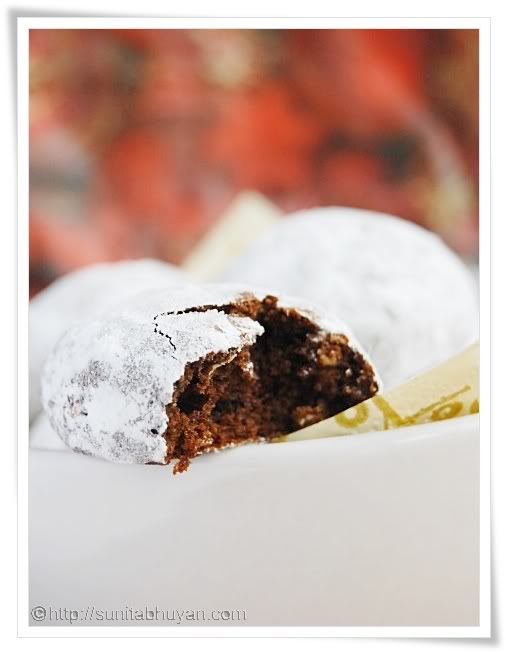 As we have all loved these cookies so much, am sending some over to dear Susan as an addition to her Eat Christmas Cookies event. The ongoing round up can be found here.
Have a great weekend everyone!