Hope you all had a great start to the week. Ours was a grey one, but it does feel more and more autumny(?) now.The wind and rain lashed and the ground was scattered with quite a few colourful leaves and we could actually feel the leaves and twigs crunching beneath the tyres of our bikes, while taking in the chill morning air.
Now, those of you who are familiar with my humble world, know all too well, my love for the oven. I love to bake, and simply adore the lovely aromas that emanate from the oven. Whether it is a cake or a bread, or cookies or other savouries, baking gives me a high.
But wait, I don't bake for breakfast, lunch and dinner. I also love the stove top as well. Standing over a pot of food, stirring and sniffing the wonderful flavours give me a high too. There is also something about cooking with spices…something about all those whole spices touching the oil, spluttering and sizzling, and releasing their aromas…something about all those colourful powders , which when added, turn an ordinary dish into a 'spicilicious' one.
I felt the same gratification while making the following chicken pulao ( a one pot rice and chicken dish)…
something I was making after a long time. Dressed up with an assortment of spices turn this dish into a delightful one pot meal. Of course, this is my way of making it…there are probably a zillion methods of preparing a pot of chicken pulao.
Do not be intimidated by the list of ingredients…it is quite easy to make the dish and the end product is very satisfactory.
What's needed-
10 pieces of chicken, with incisions on them(I used mixed pieces from a whole chicken)
1C of plain yogurt
a large pinch of saffron
2 tblsp of lemon juice
1 onion, chopped
1 tsp sugar
1 tsp cumin powder
1/2 tsp turmeric powder
chilli powder (as per taste)
2 tblsp dessicated coconut(optional)
1 tsp garam masala powder
3 C basmati rice, washed in several changes of water and drained completely (leave it on a sieve to drain further and till needed)
2 tblsp of ghee/butter
salt to taste
3 and 1/2 C of water (approximately)
To be ground together-
1 onion, chopped
2 inch piece of ginger, chopped
4 cloves of garlic,chopped
2 ripe tomatoes,chopped
for tempering-
1 whole red chilli, split
1 bay leaf
1 tsp cumin seeds
3 cloves
3 cardamoms, split
2 inch stick of cinnamon
How to-
Marinate the chicken with the yogurt, saffron and lemon juice for about 1/2 and hour.
Heat the ghee/butter in a big and thick bottomed pan, and add the ingredients for tempering. When the spices release their aroma, add the sugar and let it caramelise.
Add the chopped onions and cook, stirring continuously till translucent. Add the ground paste, along with the coconut, turmeric, cumin and chilli powders. Cook, stirring constantly, till all the moisture evaporates and the mixture gets lumpy.
add the chicken pieces, along with the marinade. Season with salt, stir and cook for 5-6 minutes over medium – high heat.
Reduce the heat to medium low, cover and cook till the chicken is cooked 3/4ths of the way.
While the chicken cooks, in another pan, dry roast the rice for a few minutes till the grains are crispy. Remove from heat and save aside for later.
Increase the heat for the chicken, and stir till dry enough. Add the rice, water and garam masala powder , stir well and bring to a boil . Reduce the heat, cover and cook till the water has evaporated. But do check… if you see the rice grains have cooked and there is still quite some liquid left, then raise the heat and stir constantly till all the moisture evaporates. We do not want the rice to overcook and become mushy. Remove from heat.
Serve immediately with raita or yogurt. If serving later, let it cool completely( stir it a bit to quicken the cooling process) and then cover. If the cover is put on immediately after removing from heat, it will make the rice cook a bit more.
While cooking the chicken, if you feel that it has dried out too much and there is still a long way to go before it gets cooked 3/4 of the way, you can always add a little water…just remember to let it evaporate later.

Next time, I am going to add a little less water as the rice cooks quite quickly.

This dish can easily be turned into a vegetarian one…just substitute the chicken with something else..maybe soy chunks, paneer,cauliflower, potatoes…perhaps you could give me some ideas

We enjoyed ours with some boondi raita (mix of plain yogurt, boondi, cumin powder, chilli powder and salt) on the side.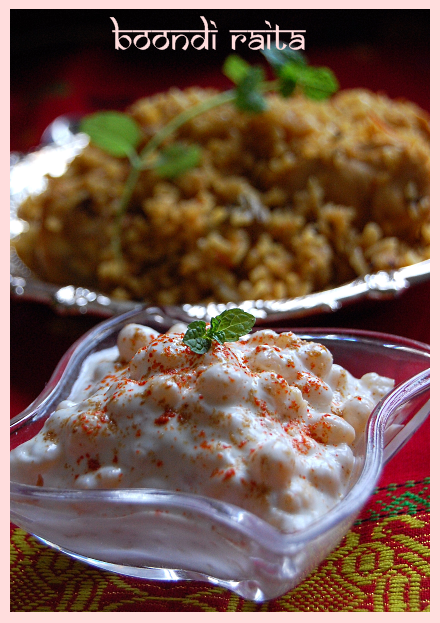 All in all, this was one yummy dish, and as we were having it after a long time, it added to the pleasure. All four of us tucked in with great gusto. The heat from the pulao was wonderfully complimented by the coolness of the raita…a marriage made in heaven. And yes, I enjoyed cooking it and taking in the delightful fragrances that emanated from the pot.