How often, if any, do you have leftovers from a meal? Do you always use them in the same way for another meal? Or do you mix and match and make different creations? Does it bother you if you have leftovers?
If I had to answer those questions I would say yes, I do have leftovers quite frequently. I very, very rarely use them in the same way for another meal…mix and match, yes, I do it all of the time. Bothered? Not at all. In fact, most of the time I intentionally make a little extra. With the exception of a few dishes, most of them are reinvented. Which also means less of those looks and expressions at the dining table, which say "Oh no! Not again!"
So, have left over rice? Fry them, as in here with an assortment of vegetables and make a meal out of them. Or make a few patties like here. Got left over dal? Make bread as in here. There…you get the flow…I'm sure many of you must have some brilliant ideas of your own.
Now, why talk of leftovers? Because our last night's meal was also made with leftovers. In my present state, it was such a life saver. Not wanting slave over the stove top too much, I ransacked the fridge and found a bowl of adai batter sitting snugly in a corner…hmm, time to do something with it.
After being acquainted with adai in so many of my fellow bloggers' hubs, which for a layman…no, laywoman like me, is a crepe made with a batter of ground rice and an assortment of lentils (prevalent in South India?). I have been drooling over quite a few of them, like this and this, and so many others, and wanted to try it out myself a couple of days ago. Please bear in mind that I took the inspiration and concocted my own recipe. The adais were greatly loved by all of us and formed a filling meal. So thanks to all those lovely adai makers out there for the inspiration.
For the adai, I had washed and soaked 1C rice(mix of basmati+wild rice) and 2C of mixed lentils(split red lentils, tuvar, moong) for 6-8 hours and ground them with a small bunch of mint leaves and 4 cloves of garlic and 2 inches of ginger. I added a little water, but not too much, just enough to make it of a thick, yet spreading consistency. To this batter, I added 1 grated carrot and 1 finely chopped onion. I did not measure the whole amount of this batter (be my guest, figure it out yourself

).
Adai, however, is not the recipe that I want to talk of today. It is what I made out of the leftover adai batter that is going to occupy the limelight. The reason for citing the above, is that I used 2 and 1/2 cups of this adai mixture for the following savoury cake.
What's needed for the savoury cake-
2 and 1/2 C of the above adai mix (remember, the above measurements yielded more than these 2 and 1/2 cups)
1 tsp sundried tomato paste
3 tblsp Greek yogurt
a handful of dessicated coconut
1 C chopped walnuts
1 tsp roasted and ground cumin
a pinch of chilli powder (more or less)
How to-
Pre heat the oven at 200 deg C. Line an 8 inch round pan with foil, big enough to cover the bottom and come all the way up the sides of the pan, and grease well (preferably with a non stick spray).
Mix the first four ingredients and 3/4 c of the chopped walnuts.
Tip the mixture into the lined and greased pan. Smooth the top and sprinkle the rest of the nuts on top.
Place the pan in the centre of the pre heated oven and bake for about 50-55 minutes or till a skewer inserted comes out clean. The sides will pull away from the pan and will be slightly crisper than the centre.
Cool in the pan for a minute and then lift it out of the pan with the foil to a rack. Cool for a few minutes and then gently peel off the foil.

Cut into wedges and serve hot. If serving later, cool completely on the rack. Re heat before serving (in the microwave, or wrap it completely in foil and heat in a pre heated oven.
We had our wedges with some boiled split red lentils (with some chopped cloves of garlic and some turmeric). The veggies, added to it towards the end, were leftovers from here and they added a wonderful flavour to the dal.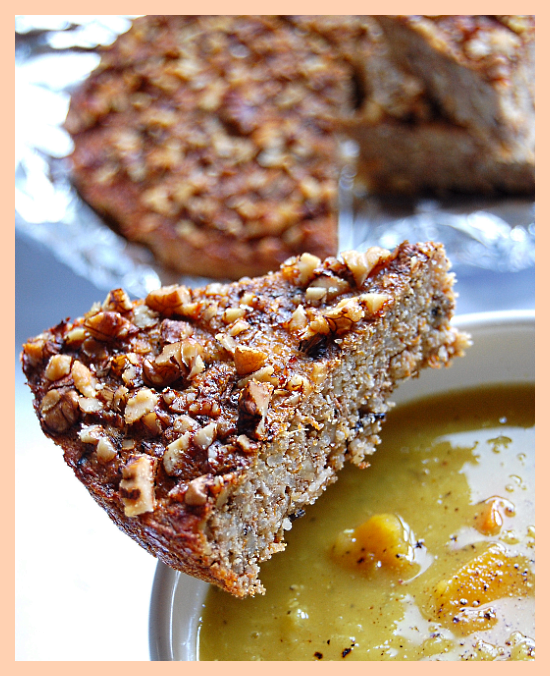 The cake can also be served with other light soups, some spicy chutney, or maybe some raita, or just plain yogurt. It is indeed very filling.
The whole meal was a delight, especially when taken into consideration how little effort went into the making. The cake was surprisingly moist and the nuts added a nice crunch. I would have loved to have added a bit more sun dried tomato paste, but a teaspoon was all that I had, so…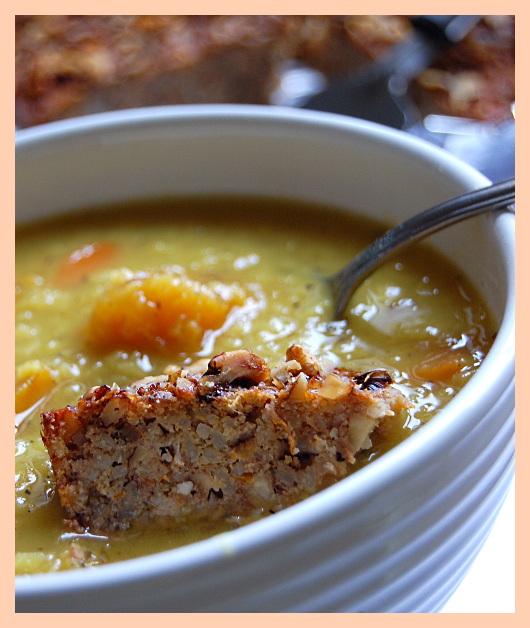 Enjoy your weekend !