Me and the kids were back on our bikes again today. The snow and ice in our neck of the woods have finally gone to reveal the paths below. Agastya , no, doubt, loves the snow, but he was really pleased to see it go too. And of course he had his own reason;  his new bike! He had outgrown his previous one and we got him a new one . But, the poor guy hasn't been able to sit on it ever since we bought it, which was quite a while ago.
The new year is already half way through its first month, and I'm trying to get this space in order. I have cooked and baked as usual, just seem to have lost my mojo when it came to posting. But I plan on getting back into action now, and fingers crossed, hope to get back to it pretty soon and with the same vigour.
Now, crackers are something that I make quite often and are quite popular in our household. They are very quick and easy to make and are great as healthy snacks for kids and grown ups alike. Rengoni and Agastya's faces light up at the very mention of crackers. Sometimes I also serve them with soup as in these feta cheese  crackers.
This time, my crackers had another favourite ingredient- coconut. Dessicated coconut  was added to the dough along with some freshly roasted cumin seeds to add an earthy flavour. I had made these crackers shortly after we moved house.
What's needed-
10 tblsp of whole wheat flour (atta)
4 tblsp of dessicated coconut + a little extra for topping
1 tsp salt
a pinch of sugar
3/4 tsp baking powder
1/2 tsp of crushed red chillies
1 tblsp of roasted and cooled cumin seeds
3 tblsp of vegetable/ sunflower oil
7 tblsp of low fat natural yogurt
a little milk for brushing the tops
How to-
Pre heat the oven at 180 deg C. Lightly dust a baking tray with flour and keep aside.
In a bowl, mix together the flour, coconut, salt, sugar, chillies, cumin seeds and baking powder.
Add the oil and rub in with the fingertips.
Make a well in the centre of the flour mixture and tip in the yogurt. Quickly bring everything together to make a craggy dough.

Shape the dough into a rough ball and and roll out to about 5mm in thickness. Cut out 2 inch diameter circles and arrange on the baking tray. Gather the trimmings into a ball and repeat the rolling and cutting till all the dough has been used up. Makes about 26-27 .

Brush the tops with a little milk and sprinkle a little dessicated coconut on top.

Place the tray in the centre of the pre heated oven and bake for about 20-25 minutes or till the tops are nicely browned.
Transfer the crackers to a rack to cool completely before storing in air tight containers.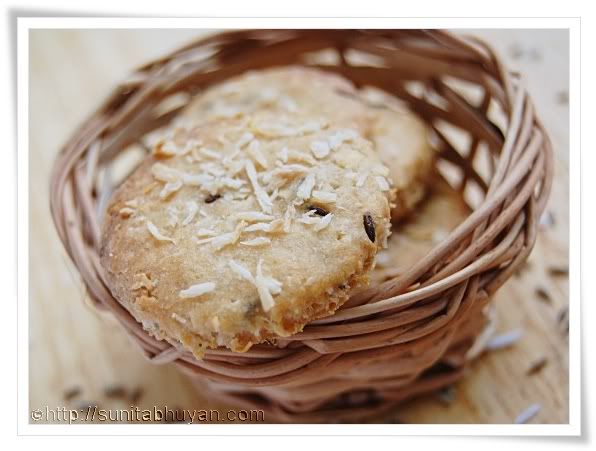 The crackers had the bite from the coconuts, the warmth from the cumin and the slight heat from the chillies.
All of these flavours coming together in these small rounds were really loved by us.
Now, coming back to the giveaway. In my third blog anniversary post, I had announced to give away a copy of the Blogger aid cookbook to one lucky reader of Sunita's World, as a gesture of thanks for all yiur valuable feedback and for helping in make this place what it is. All of you deserve a copy, but at the moment the purse can accomodate just the one. I used the random number generator(random.org) to draw the lucky winner and it is comment number 54, left by Hélène of La cuisine d' Hélène. Hélène, please email me your postal address at sunitasworld@yahoo.co.uk and the cook book will be on it's way to you very soon. Hope you enjoy it.