Hope all of you had great start to the weekend. I found it even cooler today, though the sun is out there in full force.
The following recipe for a fish and vegetable pie is one which we really enjoyed a lot. It is not loaded with butter and the little cheese that I have used can easily be given a miss.
With the vegetables and fish, it does not need lots of accompaniments to make a complete meal. It has a few little steps,none of them daunting at all. It can be made either in individual portions or in one single pan. But, I suggest making the individual portions…makes it easier to eat without too much mess, and it is definitely all the more appealing , visually.
What's needed-
1/2 kg of salmon, cut into small pieces
9-10 medium sized potatoes, quartered, boiled and peeled
1 and 1/2 C peas
1 carrot, finely chopped
1/2 red pepper, finely chopped
1 small onion, finely chopped
3-4 cloves of garlic, finely chopped
1 bay leaf
1+1 tblsp olive oil
3C +1/2 C milk
50 gms of Red Leicester cheese or cheddar cheese
1 and 1/2 tblsp plain flour
salt and freshly ground pepper to taste
How to-
Mash the potatoes with the 1/2 C of milk and 25 gms of cheese. Keep aside.
Heat 1 tblsp of olive oil . Add the onion, peas, carrot, garlic and red pepper, and cook for a minute.
Spread them at the bottom of the pan and arrange the pieces of fish on top with the skin side down. Pour the milk. Add the bay leaf and season with salt and freshly ground pepper.Bring everything to a boil. reduce the heat and simmer for about 2 minutes (the fish would have cooked through by now). Strain the milk in a bowl and save aside, discarding the bay leaf.
Heat the other tblsp of oil and add the flour. Stir constantly for a minute over medium heat and add the strained milk. Use a whisk and whisk continuously to prevent massive lumps. Bring to a boil. When it starts to thicken ( should take a few seconds), remove from heat and pass through a sieve into a bowl. Mix the sauce with rest of the cheese.
Pre heat the oven at 220 deg c and grease 6 ramekins.
Fill the ramekins with the fish ( slightly crumbled) and veggie mixture .Spoon the sauce over this and top with the mashed potatoes.
Bake in the centre of the pre heated oven and bake till it is bubbly and the top browns. Serve hot, though be very careful if serving to little ones, it's going to very hot , especially under the potatoes.
You must have noticed the orangish hue of my pies…this is due to the Leicester cheese that I used. Cheddar cheese will not give this hue, but will not affect the taste.
This formed a wonderful lunch…wholesome and filling at the same time. We had ours with some fresh salad and some steamed beans.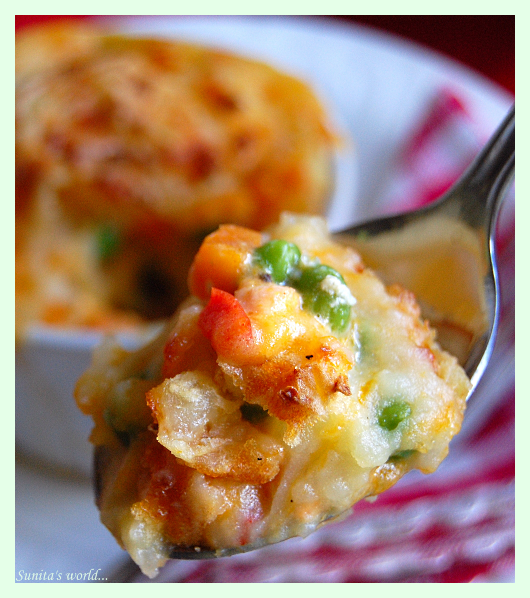 Am sending this over to dear Ivy for her savoury pie event.