What make's one's mum's dishes so special? Probably, it is the familiarity which one acquires while growing up with something. That special way of cooking, which only your ma can. It may not in be in the record books as the best dish in the world, but to us, it is. Probably it is the love and the care that goes into the dish that makes it so special. The tastes and smells that one grows up with, are very hard to forget.
And it is not only the familiarity, but the association of a particular dish to those early days. Remember when ma made that awesome chicken curry and those three siblings looked at each other's plates just to check if the other has got a bigger piece. Remember that little girl who would save the best parts of the meal till the last and her older siblings would hover around her, teasing and pretending to take it away? Remember all those festivities when ma would literally be in the kitchen the whole day, making one dish after another. Remember that gangly  teenager who would be forced to sit down by her ma and grab a decent meal before she left for college in a hurry. Remember, how even when the teenager had grown into her twenties, (and now was a teacher herself), she would still love it when her ma fed her a morsel from her plate; now how delicious that was, somehow her ma mixed her rice and curries in that extra special way which made the same ingredients seem out of this world.
I can go on and on; amazing how a simple thing can open a floodgate of memories. Interesting things, these  memories are, all the while we are creating memories for tomorrow , and we don't even realise it. Every simple thing that we are doing today is going to be a memory in the days, months and years to come.
Another thing that comes to my mind, is when ma made her pulao.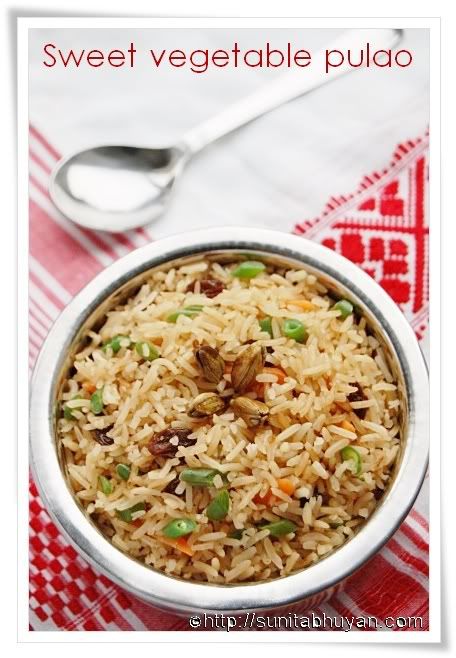 It was usually made on special occasions. It was very simple and easy to make but with it's own special charm. The rice had to be washed in several changes of water, and left in a colander to drain the excess liquid. Then, it would be spread out on layered sheets of news papers to absorb the extra moisture from the rice. This is important if you wanted the grains of rice to remain separate and not go mushy. As I grew older, my job was to keep the rice turning on the sheets so that they dry quickly. So, the preparation for pulao would begin in the morning itself, if it was to be cooked for the evening. But, apart from this, the rest is very easy to follow.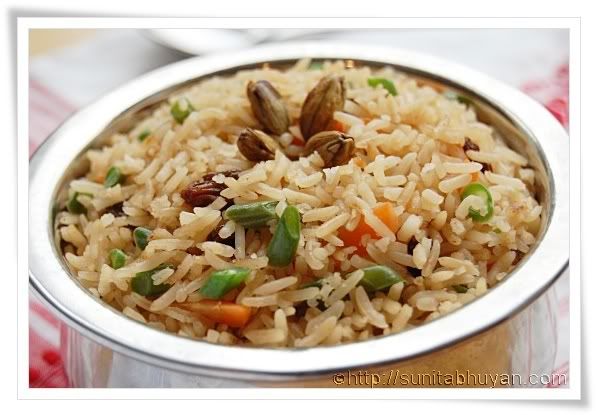 I make pulaos quite frequently, and they are not always in the style ma made them. Probably moving around various places of India has consciously or subconsciously  been responsible for other influences creeping into my way of cooking. But, I often return to this recipe and we absolutely adore it. It has very simple but subtle flavours, and goes well with a hearty curry. We usually have it with a spicy chicken curry. This pulao makes use of just  a few whole spices to impart  their flavours into the dish.
The recipe for ma's sweet vegetable pulao follows-
What's needed-
2 and 1/3 C of basmati rice (back home, ma uses a special aromatic rice called "joha", found only in Assam), washed  in several changes of water till the water runs clear, strained and dried thoroughly over kitchen towels or newspapers.
2 and 1/2 tblsp of vegetable /sunflower oil or ghee/butter
2-3 tsp of sugar
2, 1 inch cinnamon sticks
5-6 cardamom pods, split at one end
1 bay leaf
1 carrot, peeled and cut into very thin pieces
3-4 tblsp of very thinly sliced green beans
a handful of raisins, hydrated in some water
a handful of cashewnuts, lightly roasted and cooled ( I didn't have any at the time)
water
How to-
Heat the oil/ ghee/butter in a pan and add the bay leaf, cinnamon and cardamom.
When the spices begin to release their aroma, add the rice, followed by the sugar.
Stir constantly, preferably with a slotted spoon, till the rice changes colour and is crisp.
Add enough water to come upto 1 and a 1/2 inches above the rice level and bring to a boil. Reduce the heat to low, cover and cook till the rice is done. It should not go mushy, and should have a little bite to it. If the rice hasn't been cooked when all the water has evaporated, sprinkle a little more water over the rice at intervals till the desired texture is achieved. Do  not add lots of water at one go.
Raise the heat and give the rice a nice stir, reaching all the way to the bottom of the pan, till all the moisture has evaporated.
Remove from heat, and quickly mix in the carrots, beans, raisins and cashews into the rice. Cover and let it rest for at least 10 minutes. The steam from the rice will soften the vegetables, but they will still retain their bite.
That's it! A pot of flavoursome  pulao is now ready to be be served .
The rice grains remain separate, the sugar imparts a lovely colour and sweetness, the whole spices add their flavour and the vegetables retain their crunch. I would call this a very elegant dish and it pairs well with almost any vegetarian/non vegetarian curry.   And of course, for me, it is extra special, what with all those memories attached!