Growing up, I had never seen or tasted a broccoli. It was only during our stint in Gurgaon, near New Delhi, about seven years ago, that I first saw it at the green grocers. It was staring back at me from the numerous stacks of vegetables on display. A green cauliflower? I had to give it a go. Try, I did, and since then, it has been one of the much loved vegetables at our dinner table. Amazing how ingredients we've never heard of, becomes a favourite over time.
Broccoli is one vegetable that is very popular in our household. All four of us, especially Agastya's face literally lights up when it is served at the table. This young man, who tends to turn up his nose at some fruits, is, touch wood, very good with his vegetables, and broccoli is definitely one of his favourites. Rengoni didn't like it at first, but has developed a love for it over the years. Dinesh and I love it anyway. Usually, it finds it's way into a mixed vegetable dish served with rice, or added to stir fries and pastas. But the following easy peasy recipe for  a roasted broccoli beats all the others and gives them a good run for their money.
Florets of broccoli tossed together with fresh spices and drizzled with a good glug of olive oil and roasted in the oven, has us reaching out for more and disappears from the bowl in no time. I could have it on it's own, anytime.
What's needed-
a medium sized head of broccoli, cut into florets and the stalks slit from the bottom
4-5 cloves of garlic, chopped
1 inch piece of ginger, chopped
1/2 tsp of crushed red chillies
a good glug of olive oil
salt ( I used coarse sea salt) and freshly ground pepper, to taste
How to-
Pre heat the oven at 200 deg C.
Toss all the ingredients in a baking tray and spread it out in  a single layer.
Place the tray in the centre of the pre heated oven and bake for about 8-10 minutes. Toss  again and bake for another 5-6 minutes or till cooked ( they should retain a slight bite to them).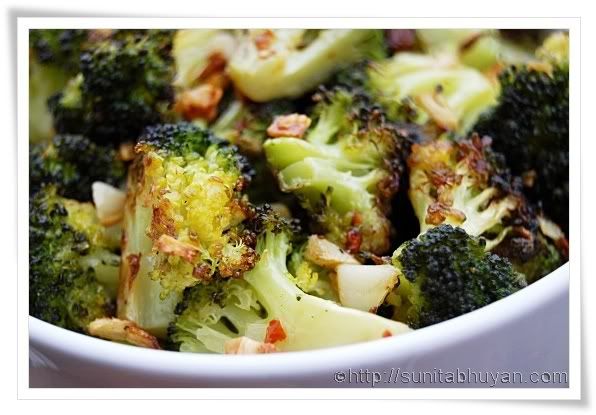 That's it! Wasn't that easy? The florets were wonderfully flavoured with the ginger and garlic( I love to pick them and eat ) and  and the chillies added a very slight heat. Dig in your fork and lap them up. And yes, they are good for you too, very good . This is a very easy dish. It also comes in handy as a side dish, when having guests over for a meal, due to it's fuss free nature. As for us, we love it anytime.