Before you know it, a year has gone by and a new one has already begun to progress at lightning speed. So many things to be done and so little time! It seems just the other day that I looked up the Daring Bakers challenge for the month of January, and lo and behold, the posting date is upon us. I had made a part of the challenge a while ago but assembled the final product just yesterday. The pictures had to be taken too, and I was nearly running out of time. But I did it and the outcome is ready to be shown to the world.
The January 2010 Daring Bakers' challenge was hosted by Lauren of Celiac Teen. Lauren chose Gluten-Free Graham Wafers and Nanaimo Bars as the challenge for the month. The sources she based her recipe on are 101 Cookbooks and www.nanaimo.ca
As Lauren says, "the 2010 Winter Olympics in Vancouver are coming! Being in Canada, I am very thrilled to see them (even just on TV!). In a way to welcome everyone to Canada, we will be making Gluten-Free Graham Wafers and Nanaimo Bar.
Nanaimo Bars are a classic Canadian dessert created in none other than Nanaimo, British Colombia. In case you were wondering, it's pronounced Nah-nye-Moh. These bars have 3 layers: a base containing graham crackers, cocoa, coconut and nuts, a middle custard layer, and a topping of chocolate. They are extremely rich and available almost everywhere across the country".
The other part of the challenge was that we were going gluten free.As Lauren says, "Considering I have Celiac and can't digest gluten, I thought it would be fun to teach everyone how to bake gluten free, if they'd like."
I had almost given up hope on going gluten free ( we were allowed to use wheat) due to time restrictions, when my eyes caught this pack of gluten free  flour blend (Rice, Potato, Tapioca, Maize & Buckwheat) in one of our local supermarkets. I picked it up as quickly as I saw it and smiled all the way home. The crackers were quickly made and half were eaten already by the all too eager kids and the hubby, before the nanaimo bars were made. I had actually pushed the making of these bars, as I found the huge quantity of butter and sugar a bit scary. But, I did want to make something to keep up the first daring bakers challenge of the year. So, I got out my tiniest bowls (2 inches in diameter) and made two mini round ones instead of squares. A pattern of  a maple leaf on top of each, with dusted icing sugar, and I was all set.
The following is the recipe that we had to follow-
For Gluten-Free Graham Wafers
Ingredients
1 cup (138 g) (4.9 ounces) Sweet rice flour (also known as glutinous rice flour)
3/4 cup (100 g) (3.5 ounces) Tapioca Starch/Flour
1/2 cup (65 g) (2.3 ounces) Sorghum Flour
1 cup (200 g) (7.1 ounces) Dark Brown Sugar, Lightly packed
1 teaspoon (5 mL) Baking soda
3/4 teaspoon (4 mL ) Kosher Salt
7 tablespoons (100 g) (3 ½ ounces) Unsalted Butter (Cut into 1-inch cubes and frozen)
1/3 cup (80 mL) Honey, Mild-flavoured such as clover.
5 tablespoons (75 mL) Whole Milk
2 tablespoons (30 mL) Pure Vanilla Extract
Directions:
1. In the bowl of a food processor fitted with a steel blade, combine the flours, brown sugar, baking soda, and salt. Pulse on low to incorporate. Add the butter and pulse on and off, until the mixture is the consistency of a coarse meal. If making by hand, combine aforementioned dry ingredients with a whisk, then cut in butter until you have a coarse meal. No chunks of butter should be visible.
2. In a small bowl or liquid measuring cup, whisk together the honey, milk and vanilla. Add to the flour mixture until the dough barely comes together. It will be very soft and sticky.
3. Turn the dough onto a surface well-floured with sweet rice flour and pat the dough into a rectangle about 1 inch thick. Wrap in plastic and chill until firm, about 2 hours, or overnight.
4. Divide the dough in half and return one half to the refrigerator. Sift an even layer of sweet rice flour onto the work surface and roll the dough into a long rectangle, about 1/8 inch thick. The dough will be quite sticky, so flour as necessary. Cut into 4 by 4 inch squares (I cut mine into rounds). Gather the scraps together and set aside. Place wafers on one or two parchment-lined baking sheets. Chill until firm, about 30 to 45 minutes. Repeat with the second batch of dough.
5. Adjust the rack to the upper and lower positions and preheat oven to 350 degrees Fahrenheit (180 degrees Celsius).
6. Gather the scraps together into a ball, chill until firm, and reroll. Dust the surface with more sweet rice flour and roll out the dough to get a couple more wafers.
7. Prick the wafers with toothpick or fork, not all the way through, in two or more rows.
8. Bake for 25 minutes, until browned and slightly firm to the touch, rotating sheets halfway through to ensure even baking. Might take less, and the starting location of each sheet may determine its required time. The ones that started on the bottom browned faster.
9. When cooled completely, place enough wafers in food processor to make 1 ¼ cups (300 mL) of crumbs. Another way to do this is to place in a large ziplock bag, force all air out and smash with a rolling pin until wafers are crumbs.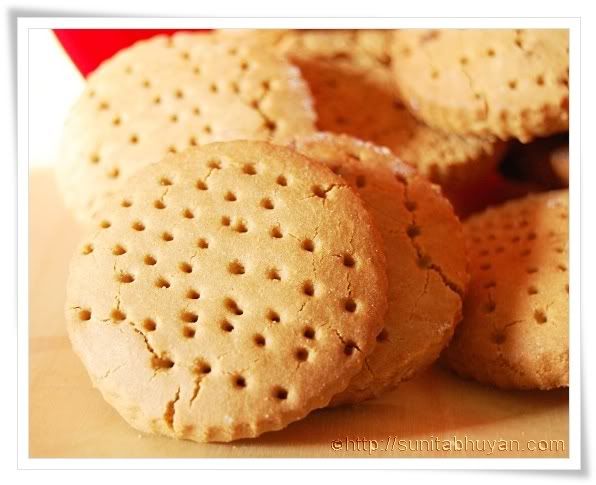 Nanaimo Bars
Ingredients:
For Nanaimo Bars — Bottom Layer
1/2 cup (115 g) (4 ounces) Unsalted Butter
1/4 cup (50 g) (1.8 ounces) Granulated Sugar
5 tablespoons (75 mL) Unsweetened Cocoa
1 Large Egg, Beaten
1 1/4 cups (300 mL) (160 g) (5.6 ounces) Gluten Free Graham Wafer Crumbs (See previous recipe)
1/2 cup (55 g) (1.9 ounces) Almonds (Any type, Finely chopped)
1 cup (130 g) (4.5 ounces) Coconut (Shredded, sweetened or unsweetened)
For Nanaimo Bars — Middle Layer
1/2 cup (115 g) (4 ounces) Unsalted Butter
2 tablespoons and 2 teaspoons (40 mL) Heavy Cream
2 tablespoons (30 mL) Vanilla Custard Powder (Such as Bird's. Vanilla pudding mix may be substituted.)
2 cups (254 g) (8.9 ounces) Icing Sugar
For Nanaimo Bars — Top Layer
4 ounces (115 g) Semi-sweet chocolate
2 tablespoons (28 g) (1 ounce) Unsalted Butter
Directions:
1. For bottom Layer: Melt unsalted butter, sugar and cocoa in top of a double boiler. Add egg and stir to cook and thicken. Remove from heat. Stir in crumbs, nuts and coconut. Press firmly into an ungreased 8 by 8 inch pan.
2. For Middle Layer: Cream butter, cream, custard powder, and icing sugar together well. Beat until light in colour. Spread over bottom layer.
3. For Top Layer: Melt chocolate and unsalted butter over low heat. Cool. Once cool, pour over middle layer and chill.
Notes:-
These bars freeze very well, so don't be afraid to pop some into the freezer.
The graham wafers may be kept in an airtight container for up to 2 weeks.
If making the graham crackers with wheat, replace the gluten-free flours (tapioca starch, sweet rice flour, and sorghum flour) with 2 ½ cups plus 2 tbsp of all-purpose wheat flour, or wheat pastry flour. Watch the wheat-based graham wafers very closely in the oven, as they bake faster than the gluten-free ones, sometimes only 12 minutes.
For the Nanaimo Bars, if making with wheat, replace the gluten-free graham wafer crumbs with equal parts wheat graham wafer crumbs!
What I did-
I must admit that I did reduce the sugar and butter quite a bit. In fact , for the crackers, as well for each layer of the nanaimo bars, I used half the mentioned sugar and butter. I also needed more milk for the dough.
I made all the crackers but just two small 2 inch round nanaimo bars.
I used cashew nuts instead of almonds, in the bottom layer of the bars.
As there was a Canadian theme running through the challenge, I added a pattern of a maple leaf on top of each, with some dusted icing sugar.
This was a really straightforward challenge. The crackers , as well as the bars were made without a hitch. Everything came together very smoothly. The dough was rolled out like a dream and the crackers came out of the oven, smelling and tasting great. I'm definitely going to make them again.  Dinesh and the kids just couldn't have enough of them.
As for the nanaimo bars, it really helped that I made them quite small. And even the tiny pieces were way too rich. So, no, I'm sorry, but I don't think I will making these bars again, in a hurry.
Just a tiny piece for me, thank you.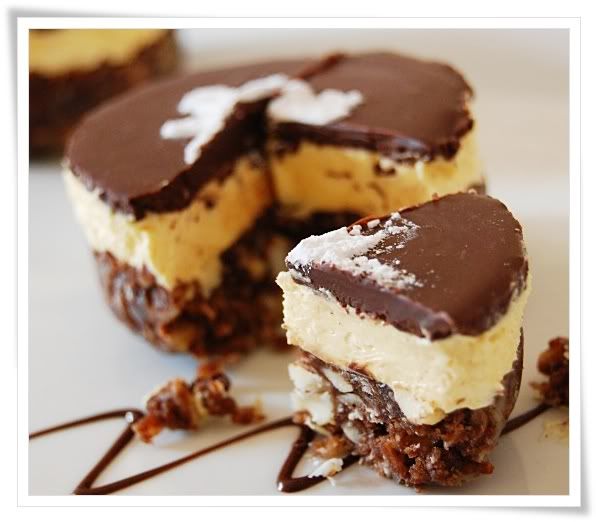 Thanks , Lauren, for hosting, the crackers have definitely won us over.