I didn't post for a whole week! Now, that is some achievement(?). There have been drafts languishing away, just couldn't bring myself to post it. And it has been quite a busy week too, embarking on a new endeavour (it is going to demand quite a bit of attention). But, yes, the little break from blogging did do good.
The trees around us, have been slowly, but steadily changing their hues, making it quite a beautiful sight to behold.
Now, onto a more serious matter. Last night, I watched this programme on the telly, The ministry of food in which dear Jamie Oliver was making a brave attempt to teach people with zero cooking skills how to fend for themselves. And when I mean zero skills, I really mean zero…they have never cooked anything in their entire life. It is overwhelming to see the number of such people that actually exist. What Jamie is trying to do is to teach a group of people some very basic recipes and then urging those people to teach the same to another group of people. The idea is to pass on the baton, and in this way, many more people are using their pots and pans.
Of course, the journey has not been easy. The people have got used to their way of life and can cook up every excuse possible, not to cook in their kitchens. So breaking the barrier has been tough for Jamie. Hence for someone like Mike the miner, who has never handled a pan in his life to do a lovely stir fry and also to teach it to another group of people is such a satisfying thing to see. Or take Sharon, the mom, who breaks out into tears when her daughter, actually likes and compliments her on the pancakes she has cooked. Pancakes! That's no big deal, we might say….but, you see, Sharon has never cooked anything for her child, or for herself till now…well, for that matter, even her mom had never done anything like that. These are people who live on ready made meals. Needless to say, their diet is playing havoc on their health too. Jamie's stepping into their lives has made such a big difference. While earlier, they used to perch on the sofas and eat their readymade meals, they now have a dining table to sit down and enjoy their home cooked family meals. Where one lady's kitchen had just one tiny pan to show for cooking utensils, it now boasts of a whole set of pans of various sizes.
Yes, in days , when cookery shows are aplenty, and the chefs are dishing out delicacies for those who belong to the relatively higher echelons of cooking, Jamie's approach to teach basic cooking skills to real people, to improve thier quality of life, is really to be admired. Of course, he has a long way to go.
Obesity levels are soaring in the developed world, Great Britain, being the third most obese country in the world! Surely, a half hour spent today, is worth all it's weight in gold, for a healthy tomorrow.
Rather than looking at the facts and figures, Jamie urges the people to take it in their own hands to do something about the current situation. A person learns a recipe, teaches it to a few others, those few go on to teach more and in this way, a chain is formed and many more people actually learn to cook. Check out Jamie's website to learn more about this great campaign.
Today's recipe is also a very easy one…one even a novice can whip up. Yes, it is a simple apple crumble.
Apples abound during this time of the year and this is another nice way to use them up. This is how I make my apple crumble…slightly spiced up and not overtly sweet and buttery.
What's needed-
4 apples, peeled , cored and chopped
3 tblsp of honey( or according to desired level of sweetness)s
2 cloves
1 inch cinnamon stick
1/2 tsp crushed red chillies
The topping-
1/4 c of jumbo oats
1 and 1/2 tblsp plain flour
1 and 1/4 tblsp of dark brown sugar(I used muscovado)
1 tblsp ghee/butter, melted
1 tblsp of chopped nuts( I used pistachio)
How to-
Place the apple, honey,cloves, cinnamon and crushed red chillies in a wide pan and mix well. Place the pan over high heat and stir well. Reduce the heat to low, cover the pan and cook till the apples soften. Keep stirring every now and then, to avoid burning. Do this till the apples soften and the juices evaporate. Remove from heat and keep aside.
Pre heat the oven at 180 deg C.
Mix together all the ingredients for the topping.
Divide the apple mixture among four ramekins ( mine were 3 inches wide) and sprinkle the topping over each.
Arrange the ramekins on a large baking tray and place in the centre of the pre heated oven. Bake for approximately 30-35 minutes or till the top is nicely browned and the fruit mixture is bubbling.
Notes-
This is a very forgiving recipe. The sweetness can be adjusted ( according to the tatness of the apples), the amount of topping can be increased or decreased.
It can also be made in one shallow dish instead of individual ramekins …just spread the apple mixture and sprinkle the topping.
In fact, you need not even cook the apples, just mix with the rest of the ingredients and arrange in a baking pan, sprinkling the topping over the fruit(of course, this will give different texture, but tastes good nevertheless).
This can be made with other fruits as well.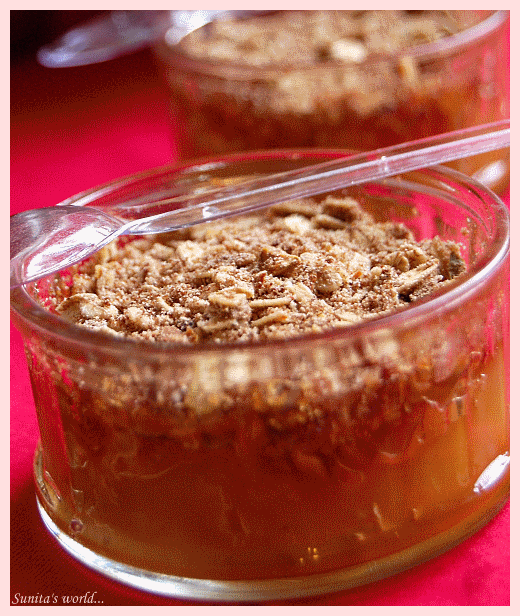 That's it! Serve it on it's own or with some thick cream or custard. We had ours on their own. It was nice digging in…the crisp topping with the spiced, softer fruit within, was a delight.
Update-
Am sending this crumble over to Maninas as a part of 'Eating with the season'.